Protecting your mails and identity is not a choice, rather it's an obligation. The is the reason behind so many people choosing residential locking mailboxes nowadays. Finding the right one, however, is a bit tricky.
With so many options available, you have to choose one that meets all the criteria of a good residential locking mailbox. But no worries for you as I have made of list of some best locking mailbox reviews along with a buying guide, and FAQs. Check the list and see which one is the best for your residence.
Quick Summary for Top 6 Products
Galvanized steel construction, Neodymium magnets, customizable locking system, weather-resistant, stainless steel hinges, 12-disc wafer disc lock, Hassle free installation.
Anti-pry latch locking system, Anti-pry latch locking system, Easy installation, powder-coated and weatherproof, Electrogalvanized steel construction, Innovative Fast-Trak mounting.
Sturdy Construction, Weather and corrosion-resistant, Magnetic door closer, 4″ x 10″ pre-drilled mounting holes, Easy access to the front and rear doors, Robust and secure.
Provide Tight Security, ultra-violet inhibitor finish, sturdy and durable build quality, Customizable security system, large mail storage capacity, Easy to use and install.
FAST-TRAK mounting plate, Solid build quality, Vandal-resistant flags, 3 laser-cut keys, Powder-coated Finish, Stainless Steel Hinges, U.S Post Master Approved.
Build with Durable 16-gauge Galvanized Steel, Anti-pry latch locking system, 12-disc wafer lock, Catchy design, Easy to mount, Simple usage, Super secure.
Top 6 Best Residential Locking Mailbox Reviews in 2021
Security is an important part of everyday life, and it's necessary for many people to protect their mailboxes. Here are the five best locking mailbox options available on the market today!
1. Mail Boss 7508 Curbside Mail Manager – Best Security Locking Mailbox for Home
Highlighted Features
The customizable locking system works for the utmost security for your mails and other properties.
The incoming mail bin receives small packages and mail bundles.
Heavy gauge galvanized steel construction makes the mailbox more robust and durable.
Neodymium magnets keep the door closed and protect your mails from getting wet.

Mail Boss is a highly reputed brand for residential locking mailboxes. A combination of sturdy construct and elegant look makes Mail Boss the first choice for many people in the United States, Canada, and elsewhere.
This mailbox is really secure from thieves, with a 12-disc wafer disc lock and 3 laser-cut keys. It's also able to withstand any drilling or picking attempts through the patented anti-pry latch locking system that features a chrome alloy tempered steel hook cam.
A customizable security system is probably the most attractive feature you can find in a Mail Boss product. What makes it more interesting is its interior that can house several small packages and mail bundles.
No one other than the authorized persons has an access to your mails. your properties are hundred percent protected as you rely on this best locking mailbox for residential.
Apart from that, the weather-resistant, stainless steel hinges come with 4 lag bolts for easy installation onto any wood or metal post. They are compatible with a variety of posts and include clear instructions for mounting them to your existing structure.
2. Mail Boss 7161 Metro Locking Security – Best Wall Mounted Mailbox
Highlighted Features
Anti-pry latch locking system with Anti-pry latch locking system ensures the security of your mails and other properties in the box.
Electrogalvanized steel construction makes it strong and durable.
Weather-resistant powder-coating increases endurance.
Easy installation on almost any surface, especially on walls.
The mailbox package includes drill bits, 4 lag bolts, and 3 keys.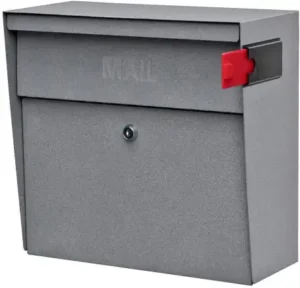 Here is another fantastic locking mailbox from Mail Boss. This mailbox comes with a good capacity and enhanced security for your mails. A 12-disc wafer lock means you can rest assured of the security of your parcels.
This stainless-steel mailbox includes an innovative bracket for quick installation. It is weather-resistant and comes with powder coating to prevent rusting or deterioration.
Besides, a concealed outgoing mail clip keeps the mail safe and secured. There is a vast store for the received mails as well. The neodymium magnets keep the doors securely closed while the wafer lock prevents theft and pry.
Moreover, Mail Boss sets itself apart from the competition with its heavy-duty construction, innovative security features, and reliable Fast-Trak mounting system.
Overall, if you are looking for the best wall mount mailbox, Mail Boss 7161 Metro is probably the answer.
3. Architectural Mailboxes 6300B-10 Oasis 360 – Best Locking Parcel Mailbox
Highlighted Features
There are front and rear doors for providing easy access to your mails.
Heavy gauge galvanized steel and powder-coating help build a sturdy and weather-resistant mailbox.
Outgoing mail clip behind the hopper door keeps your mails out of sight, and secured, only for an authorized person to take a look.
The mailbox receives several small parcels or a large one at once.
Magnetic door closer offers added security while the locking system prevents theft and pry.

Architectural Mailboxes come up with some outstanding locking mailboxes. Oasis 360 locking parcel mailbox is one of them. It is one of the best locking mailboxes for parcels.
As described above, the mailbox is a combination of security and robustness. It has a great capacity to receive small and medium-sized parcels.
The 4″ x 10″ pre-drilled mounting holes make it easy to install, but you might need hardware and a bracket if your posts are not manufactured by Architectural Mailboxes
However, the added security does not lead to difficulties getting access to your mails. It has front and rear doors for an authorized person to get easy access to the properties.
Moreover, being a dual door locking mailbox, the front doors will ensure ease of access. Plus, the box is made of galvanized steel and it has powder coating on both inside and outside for added corrosion resistance.
4. Gibraltar Mailboxes Mailsafe Large Capacity Rust-Proof Mailbox – Best Post Mounted Mailbox
Highlighted Features
The large space of the mailbox can easily house multiple parcels at a time.
The mailbox is made from rust-resistant steel and plastic materials.
Color damage is not a concern thanks to the ultra-violet inhibitor finish.
A locking mail compartment is included to provide security for personal identity and information.
It is compatible with several Gibraltar posts including DPK00000, ES200B00, and BP000B01.

Introducing the locking Mailsafe mailbox that comes with top-notch security without compromising its aesthetic appeal. This medium-sized locking mailbox has a modernized structure with black color, making it a great option for you.
Although it is made from plastic and galvanized steel, the post mount mailbox is a sturdy and durable mailbox manufactured by Gibraltar Mailboxes. It has a sturdy locking compartment to protect your identity and information from theft.
Yes, the mailbox is designed to keep your mail safe from thieves and the elements, with a durable UV inhibitor that will ensure many years of use. A lockable access door allows for easy delivery while protecting against tampering by unwanted visitors.
To make your life easier, this excellent mailbox comes fully assembled so that you can use it right out of the box. And, its large mail storage capacity makes it further user-friendly.
Since it is compatible with multiple Gibraltar posts, RSKB0000 is arguably the best post mount mailbox. When you do not want to attach a mailbox to a wall or gate, this post mount mailbox can be your first choice.
5. Mail Boss 7205 Package Master Curbside Locking – Best Security Curbside Mailbox
Highlighted Features
An anti-pry locking system prevents theft of your mails and other parcels.
Hinges are made of stainless steel. Moreover, a powder-coated finish prevents rust on the mailbox.
14-gauge electro-galvanized welded steel has been the perfect material for a sturdy construction.
Magnetic door closer offers added security and protection.
You can mount it within a brick column, post, or even in a cluster using a 2 box, 3 boxes, or 4 mailbox spreader bar.
FAST-TRAK mounting plate offers simple installation on a flat surface.
Check latest price
It's time to invest in a high-quality, top of the line locking mailbox. This MailBoss best security mailbox has been awarded with a U.S Post Master Approved seal which means it meets all standards set out by federal law!
It comes fully equipped and assembled so there is no need for any additional work on your end – just attach this durable product onto one side (or top) of your home's exterior wall or fence line where you would like guests to deposit their mailboxes.
This model has some super-efficient features to provide you ultimate convenience. The sturdy construction along with a security locking system offers utmost protection to your deliveries. With the addition of vandal-resistant flags, 3 keys (included!), you won't have any problems accessing the safe!
The locking mailbox has a patented fast-track mounting plate that makes installation incredibly easy. The door itself also features commercial-grade high-security wafer locks for maximum protection against fishing and theft! There are stainless steel hinges, which will keep it durable while giving you ease of use.
There are three sections for mails and parcels. One section is dedicated to outgoing mails. The other two sections are designed to protect your received small packages and mails. If you are looking for the best locking mailbox, you can confidently rely on this one.
6. Mail Boss 7412 High-Security Steel Locking – Best Office Comment Letter Deposit Box
Highlighted Features
16-gauge galvanized steel along with a powder coat makes it a strong and durable mailbox.
Anti-pry latch locking system, 12-disc wafer lock, and 3-laser cut keys to ensure the security of your mails and parcels.
Stainless steel hinges do not catch rusts and wears.
A vast section for received mails can house loads of them. Besides, there is a secured section for outgoing mails as well.

For many people, a simple, wall-mount mailbox is preferable as long as it can house enough mails. Mail Boss 7412 Wall-Mounted Locking Mailbox guarantees that as it is a 2-section mailbox. Like other mailboxes from the same manufacturer, this one is also a combination of galvanized steel construction along with a multi-layer security locking system.
Yes, the galvanized welded steel enclosure won't rust while the weather-resistant powder coating will protect it from heavy outdoor use. You'll never have to worry about someone trying to steal your mail through the slot again because of the anti-pry latch locking system, which makes it impossible for thieves to pry open this product's door.
Moreover, the exterior has an alluring finish that will blend seamlessly into your home's design scheme while protecting what matters most from theft! For added convenience, three laser cut keys are included with purchase so that if one key break down, you'll still have two leftovers! It's easy to install with hardware that comes included.
This is among the best security wall-mounted locking mailbox, ensuring security for both receiving and outgoing mails. However, there is no extra section for small packages, a feature you can find in other mailboxes of the same brand.
Things to Consider Before Buying The Best Locking Mailbox For Residential Use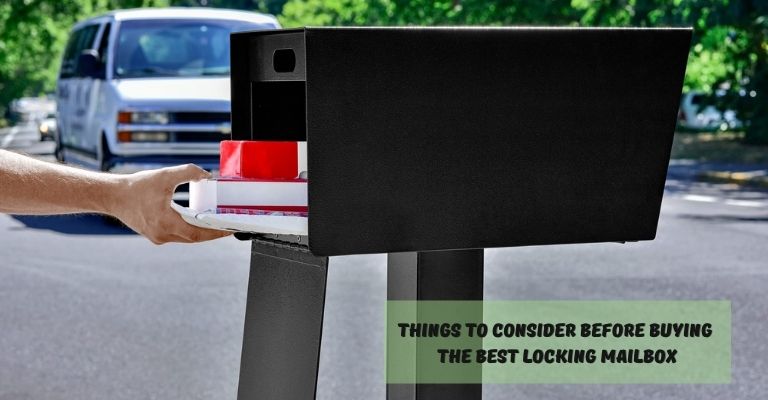 These 6 are among the top mailboxes on the market. Despite that, there may still be confusion around which one is the best for you. However, some key factors can help you make up your mind and choose the right mailbox. Here are the things you need to consider:
Locks and Security Features
Security is the most important thing when it comes to locking mailboxes. So you should look for the best security locking system. Wafer locks and cam locks are the two best options in terms of security and protection. Baffle doors and sturdy latches are also important to prevent theft and pry. Besides, the insertion slot should not be so wide that anyone can see what is inside.
Internal Space
Internal space is another important thing you need to consider. For regular mails, bills, and notices, a small mailbox is good to go. However, if you often receive packages, magazines, and books, you have to look for a larger mailbox. Besides, if you do not often check the mailbox, chances are you will end up finding the mailbox full of mails and parcels. A bigger mailbox could remedy the situation, providing space for as many parcels as you can receive at once.
Manufacturing Materials
The materials used in making the mailbox also play a vital role in terms of protection, longevity, and whatnot. Galvanized steel is a good material for making robust mailboxes. This is arguably the most used material in manufacturing mailboxes. Plastic materials are sometimes involved in the process. The thickness of the materials is also an important thing. Hence, consider buying a product with a thickness of 12 gauge or more.
Protection Against Natural Elements
Imagine that your mailbox will face constant sunlight and ultra-violet rays. It can also come in contact with water as if you live in an area where it often rains. Hence, you have to see if the mailbox you are buying has a protective layer or not. So mailboxes use a non-metal layer to prevent wear and rust. Don't buy one without making sure that it has protection against those natural elements.
You May Also Love to Read: Best Padlock Reviews
Frequently Asked Questions About Locking Mailbox
1. What Kind Of Configuration Is Most Preferred?
Ans: Mailboxes are two types in terms of configuration: vertical and horizontal. Both configurations have pros and cons. However, many people tend to choose a vertical mailbox to get more mails in a small space. On the other hand, a horizontal mailbox lets the mails lie flat on a wide surface.
2. Which Mounting Option Is The Best?
A mailbox can be mounted on or within a wall. Some mailboxes come with a mail post which means you have to affix the mailbox to that post. None of these are considered the best. However, you should ponder over the right place for your mailbox. Any option that fits your residence or office, you can go for it.
3. Does A Postal Worker Need a Key?
Postal workers do not have a key as long as they are dealing with residential mailboxes. However, when they deal with cluster mailboxes, shared by a community, they will need a key.
4. How Can I Get an Extra Key?
Ans: You will get extra keys when you first receive your mailbox package. However, if the extra keys are not provided or in case you need more, contact the manufacturer or retailer and ask for extra keys. Chances are they will charge you for the extra keys if it's not their offered packages.
Final Verdict
As you can expect, there are plenty of options available on the market. The problem is that all mailboxes do not seem to offer the best protection for your mails and parcels. Nor do they all have the same level of convenience, capacity, and ease of installation.
However, these reviews and the buying guide will help find the best locking mailbox among the available options. If you are yet to buy your mailbox, choose the most suitable locking mailboxes from the list above considering the criteria discussed in the article.