Unlike indoor surveillance cameras, outdoor cameras are capable of handling storms, winds, snowfall, and environmental conditions. There's no denying that everyone wants the best security camera without subscription to keep an eye on their property while they're away. It can give them the best comfort by capturing video 24 hours a day, seven days a week so that anyone can see exactly what happened.
Burglars, property intrusions, or robbers can all be prevented with outside security cameras. They're equally useful for keeping track of your family member and loved ones' movements.
Read on to learn more about the features and our top 5 recommendations for outdoor security cameras.
Editors' Picks for Top Outdoor Home Security Cameras no Subscription in 2023
Overview of the Top 5 Outdoor Security Cameras without Subscription in 2023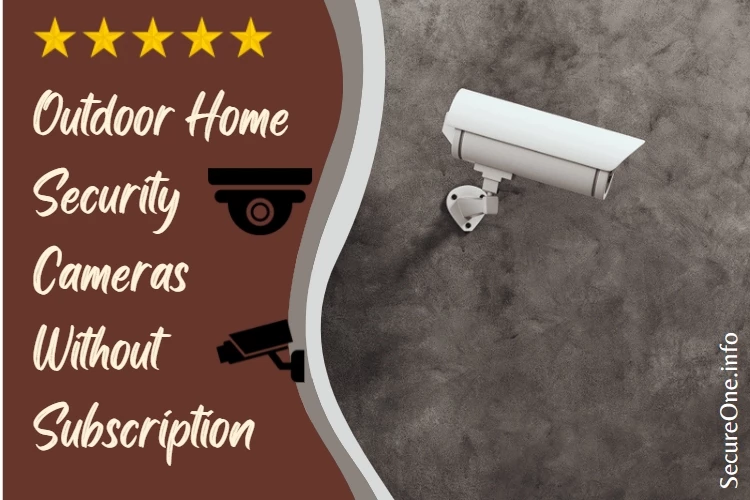 | | | |
| --- | --- | --- |
| Rating | Product | Summary of Features |
| Best Home Security Camera without Subscription | Eufycam 2 Pro Wireless Camera | 4-Cam Kit, F2.0 aperture lens, 2K Resolution, high photosensitivity sensor, 365 days of battery life, Works with HomeKit |
| Best Wireless Security Camera without Subscription | Eufycam 2C 2-Cam Kit Security Camera | Compatibility with HomeKit, IP67 weatherproof-rating, No Monthly Fee, Human detection technology, Night Vision, 1080p HD, 180-Day Battery Life |
| Best Floodlight Security Camera without Subscription | Eufy Security Floodlight Camera | 2,500-lumen super-bright Floodlight, motion alert, 1080p high video resolution, human detection, Built-in 2-way audio, Weatherproof, Smart Siren System |
| Best Outdoor Security Camera without Subscription | Eufy Security Standalone Camera | Standalone system, Powerful Outdoor Security Camera, IP65 Weatherproof, Wi-Fi, 100% wire-free,1080p video quality, Night Vision, free of subscription, Local Storage |
| Best Smart Security Camera | Netatmo Outdoor Security Camera | 4 MP Video sensor, Wireless,100° Field of view, 12 W LED floodlight, Infrared night vision, 8 GB MicroSD, 100-240 V power supply, WIFI Enabled |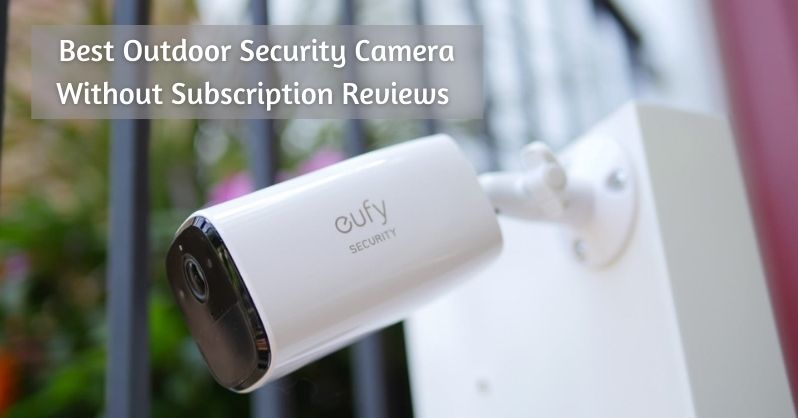 As far as home safety is concerned, everyone prefers to get the best small indoor security camera for their house. Since there are so many cameras available on the market, picking the best security camera without subscription according to your needs can be challenging sometimes.
Top 5 Best Outdoor Security Camera without Subscription in 2023
Keep scrolling to see our top five outdoor home security cameras without subscription:
1. EufyCam 2 Pro Wireless Home Security Camera with 365 Day Battery Life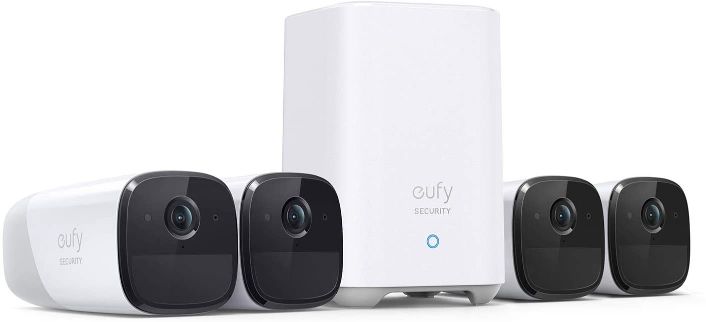 Highlighted Features
Comes with an F2.0 aperture lens along with a high photosensitivity sensor.
Support for video resolutions up to 2k.
With IP67 weatherproof compatibility, it is built to resist the elements.
One charge guarantees a whole year battery life.

When it comes to home safety, EufyCam 2 Pro is known as one of the best home security cameras without subscription because of its advanced feature. It has a huge field of vision of 140 degrees and can switch between HD 1080p and 2K HD. This camera can cover a substantial area outside. The video quality is quite excellent and high. Even it can deliver you real footage with accurate colors and decent contrast.
Moreover, the footage is kept on the 16GB of memory slot, just like other home security cameras. It is designed to endure the environment, having IP67 weather-resistant protection. It is meant to secure both your residence and your belongings, making it a one-time investment that combines protection and comfortability.
Aside from video clarity and storage capacity, this best homekit security camera has some amazing technology which is quite advantageous. It is equipped with a powerful rechargeable battery that is integrated inside the device. As a result, a single charge may get you up to a whopping 365 days of battery life.
EufyCam will also send alerts to your device, allowing you to check the current situation through the camera. An F2.0 aperture lens and a high sensitivity sensor make this camera further cool. As an added bonus, you don't have to be concerned about recording nighttime as it will give you better image quality with clear footage any time and anywhere.
2. EufyCam 2C 2-Cam Kit Battery Powered Outdoor Security Camera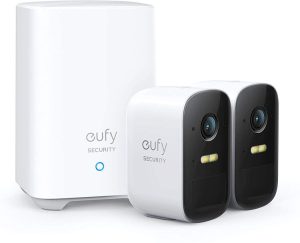 Highlighted Features
Battery-operated outdoor security camera
1080p resolution provided high-quality video footage
Built with an IP67 grade to perform in any weather condition.
Comes with human detection technology

This EufyCam 2C 2-Cam home security camera system is ideal for its low cost and easy accessibility. One of its primary advantages is that, unlike other companies, you don't have to pay for storage.
This best wireless security camera without subscription includes a Homebased appliance that connects to your Wi-Fi router directly. It comes with an Ethernet wire, a power adapter, two cameras with mounting bolts and screws, as well as a USB charging port.
This battery-operated outdoor security camera detects human activity and records a quick crisp video. It includes a base unit for storing video recordings so you may see them whenever you want. Not only that, it will send a notification to your cellphone and save the footage for future references.
Generally, the 1080p resolution provided highly acceptable daytime and nighttime video quality. You can immediately figure out someone's face once they are near enough to the camera. When zooming into the film, you may notice a slight loss of clarity. Even so, it's good enough to detect everything.
The EufyCam 2C cameras are weatherproof, with an IP67 grade for water and dirt protection. Neither the sun nor the rain affects the camera's function, but rain reduces reflectivity unless the camera is in a protected area.
However, the efficiency in night vision is equally excellent. Although its clip footage is captured in black and white combination. Even it is a great option to cover darkish surroundings and vast areas. Interestingly, you may choose to use the flashlight instead, which gives you color footage over a small distance.
3. Eufy Security Outdoor Floodlight Security Camera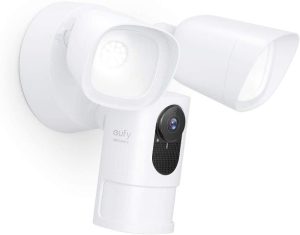 Highlighted Features
Comes with a 2500-lumen light
A smart siren and two-way audio system is included
Capable of live-streaming and recording in full 1080p
Even in darkness, full-color recordings are possible.

As one of the most well-known brands for smart home security, Eufy stands out and that's why I have chosen multiple Eufy surveillance cameras in today's review.
This floodlight camera is ideal for keeping an eye on your home and property at night. Whenever any motion is detected, the Eufy Floodlight Camera brightens your yard with powerful LEDs and captures 1080p video. However, you can easily find out the differentiation from a distance. Overall, most people won't need anything higher than 1080p.
It comes with a 2500-lumen light to beam in the face of an intruder. It also stores the footage to internal memory instead of the cloud without a subscription, unlike other brands. That means you will not be encumbered by membership charges.
However, this best floodlight security camera without subscription does more than just keep an eye on your home. You may record sound, warn someone to move ahead, or communicate with the delivery person with its two-way audio as well as built-in microphones system.
A smart siren system is included with the Eufy Smart Floodlight Camera. So, when intruders attempt to access your outside area, they are given a stern warning. A loud alarm will be activated instantly to warn away any unwanted visitors. Isn't it astounding?
Overall, having a strong floodlight as well as Live-stream capability even at night. Thus it allows you to see precisely who's there in absolute clarity. The floodlight offers excellent full-color visual footage by well-illuminating the scene. It's made to protect both your residence and your belongings. As a result, Eufy Security devices are considered one-time investments that provide both safety and convenience.
4. Eufy Security SoloCam E20, Wireless Standalone Outdoor Security Camera With Night Vision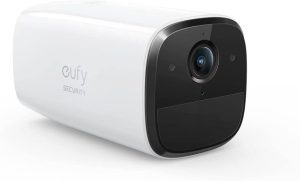 Highlighted Features
A self-contained security camera for the outdoors
Capture video footage at 1080p quality
It has an IP65 grade for weatherproofing
It's completely wire-free including a night vision feature.

This Eufy SoloCam is a one-time investment for monitoring your house while you are away. You will enjoy the comfort of creating a safe recording of everything that occurs in and around your property. The 1080p resolution provided high-quality footage both during the day and night which is crisp and precise.
In addition to that, the SoloCam E20 is an entirely self-contained outdoor surveillance camera, as its name indicates. You only need to install the system then you're ready to go. Due to its wire-free nature, it can be placed anywhere in your home.
The most amazing thing about the device is you can keep your security information confidential with this best outdoor security camera without subscription. There are also no hidden charges or monthly bills you need to pay. For maximum security and accessibility, everything will be handled on-device.
This Eufy guy has incorporated an IP65 weatherproofing defend system from the surroundings, which means it is safe from dust and severe rain. The camera captures 1080p video and has a night vision feature. So, you can easily connect to your home network through Wi-Fi. Meanwhile, you can access it from anywhere.
When individuals walk into the camera's range, it will immediately notify you. Even false warnings caused by passing animals or swinging nearby tree branches will be reduced with it.
Whenever you go outside, the system is activated via a handy, configurable setting. The cameras just not only record video but also create a sound and alert if they detect any activity. You don't have to manually turn it as it functions to work automatically.
5. Netatmo Wireless Smart Outdoor Security Camera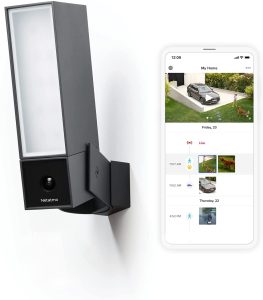 Highlighted Features
Equipped with a 4-megapixel video sensor and a 100-degree visual field
Capable of capturing full HD / 1080p footage
Supports 8GB micro SD card for data storage
Comes with 12 W LED floodlight

With this Netatmo outdoor security camera, you can capture amazing picture quality and enjoy flawless home security. It features a 4-megapixel video sensor with a 100-degree visual field that can capture Full HD / 1080p footage. As a result, you'll have a wonderful wide view of your preferred area. In the meantime, you may see full HD video of what occurs outside your door 24 hours a day, seven days a week.
It has a built-in 8GB microSD card for recording and storing video. You may also keep your recordings for free and stream them at any time. It also ensures that neither subscription costs are necessary nor any membership charges.
Plus, this best smart security camera has variable-brightness options along with a 12 W LED floodlight. To dissuade unwelcome intruders, the smart lighting turns on as needed. The floodlight is incredibly bright and covers a large area when turned on to its high settings. Simply place it where it is most convenient for you. In addition, the customizable night vision is pretty impressive
In addition to detecting people, vehicles, and animals' normal movements, this security camera can also detect other activities. It can even send an alert text to you about what type of item was spotted. The lights can be switched on and off through the app. Therefore, it can turn on automatically whenever any activity is detected.
You may, however, create your alert zones. Within the camera's range of vision, these are specified zones you had selected. This feature allows the camera to overlook areas where you don't wish to record. Simply pick the area of your property you want to be notified about.
Factors To Consider While Purchasing The Best Outdoor Security Camera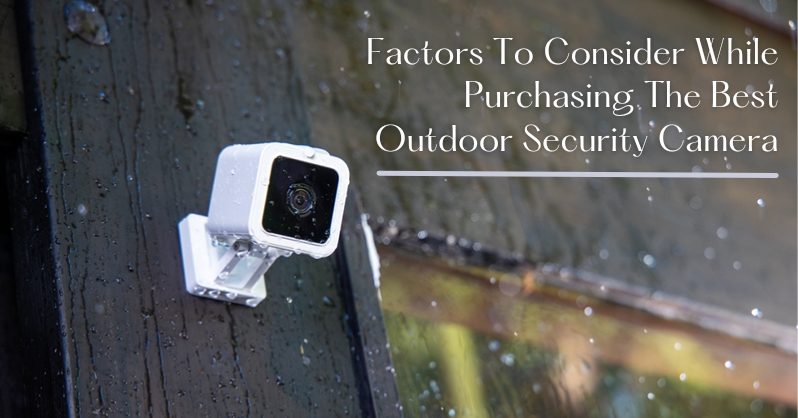 While purchasing home security cameras, you'll come across certain key features which are vital:
Warning System
Whenever the camera senses any action, it should ready to send an alert text to your phone immediately. You can simply stay updated from everything without streaming the live feed the whole day. Although some cameras are compatible with defining thermostats, smoke detectors, or other unexpected changes in the surroundings.
Video quality
Before you purchase any random camera think twice about the resolution. Once upon a time, 720p picture quality was considered the best choice. However, most cameras nowadays can record at 1080p or greater. Some cameras are capable of capturing in 4K, which ensures you can easily zoom in while seeing details accurately.
Two-way audio Function
Two-way audio is another important feature to check for in-home security cameras. Look up to see whether the camera comes with a built-in system containing speakers and a microphone. As a result, using the smartphone app, you can easily communicate with whoever is in front of it.
Power Source
When purchasing an outdoor security camera, you must carefully consider whether you need a battery-operated or a plugged-in system camera. The first one is simpler to set up, however, their batteries need to be recharged or replaced every few months. Though they are becoming popular among users. The only thing you have to do is recharge them regularly.
Plugged-in security cameras, on the other hand, can typically have more advanced functions because the battery isn't an obstacle here. Though you'll have to cover more wires and cables for the safeties.
Storage Space
You should also consider the video storage options. Some cameras contain memory card slots while others have cloud storage, allowing you to save videos directly to the camera's storage section. Local storage records video specifically to a card or hard disk, but cloud storage records video to a cloud server and uploads it automatically.
Night Vision
The night vision feature is another key feature to check for. Most home security outdoor cameras feature infrared LED lighting. Night vision is available in two varieties: infrared through LED sensors, which generate black and white film, or color footage via a clear white floodlight.
Facial Recognition
Facial recognition is being tested in a few modern cameras. This function is more correctly referred to as facial identification. It can identify among humans, pets, or vehicles ensures you receive more accurate updates about what is going on. In the meantime, you won't have to access your device's app each time it detects anything.
Resistance
The majority of our security cameras are designed to withstand all types of weather and feature long-lasting power sources. You should check carefully to see whether the camera has a water or weather-resistant system or not. Since it will be installed on the outside of homes, it will provide an additional level of security. So don't make any compromises with yourself while buying the best security camera without subscription. Otherwise, your camera will stop recording in the rain or any little disasters that occur.
Frequently Asked Question About Outdoor Security Cameras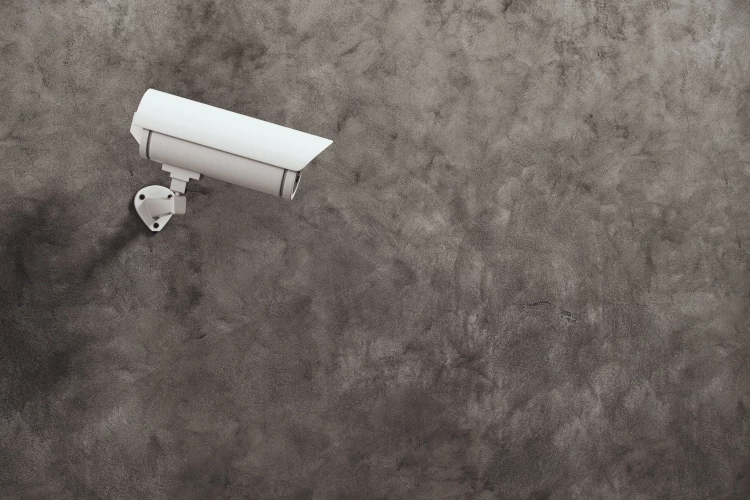 1. Are wireless or wired outdoor security cameras better?
Wired security cameras are excellent for permanent installations. On the other hand, wireless security cameras are preferable for more transitory use.
2. Can wireless outdoor security cameras work without Internet?
The internet isn't required for wireless security cameras. Rather, a variety of security cameras may store their footage directly into micro-SD cards allowing it to be watched later.
3. Can outdoor security cameras work without electricity?
Certainly, battery-operated security cameras can run perfectly without a power source. The motion detection footage will be recorded and saved on the SD card even without electricity.
4. Are there any security cameras that do not require a subscription?
There are various non-subscription outdoor security cameras available on the market. They all provide free real-time video footage without any charge or subscription to record video.
Buy on Etsy, eBay, Walmart (limited quantity)
eufy Security SoloCam S40, Solar Security Camera, Wireless Outdoor Camera, Battery - Walmart, Etsy, Ebay
Arlo Pro 4 Spotlight Camera - 3 Pack - Wireless Security, 2K Video & HDR, Color Night - Walmart, Etsy, eBay
Arlo Essential Spotlight Camera - 1 Pack - Wireless Security, 1080p Video, Color Night - Walmart, Etsy, Ebay
Arlo Certified Accessory - Solar Panel Charger (2021 Released) for Arlo Ultra, Ultra 2, - Walmart, Etsy, eBay
Netatmo c Camera, WiFi, Integrated Floodlight, Movement Detection, Night Vision, Without - Walmart, Etsy, Ebay
Abode Smart Security Kit | DIY Wireless Security System | 15 Minute Setup | Self & - Walmart, Etsy, eBay
Eufycam 2 Pro Wireless Camera - Walmart, Etsy, Ebay
Eufycam 2C 2-Cam Kit Security Camera - Walmart, Etsy, eBay
Eufy Security Floodlight Camera - Walmart, Etsy, eBay
Eufy Security Standalone Camera - Walmart, Etsy, Ebay
Netatmo Outdoor Security Camera - Walmart, Etsy, eBay
Conclusion
I believe that the above-mentioned best security camera without subscription reviews has given you enough stuff for thought when it comes to home monitoring.
There are a plethora of outdoor security cameras available on the market. You should, meanwhile, spend as much time as required to analyze the features and technologies carefully before making a purchase.
Make sure you decide on the right security camera by comparing the prices at internet vendors, local retailers, or branded electronics stores. Good luck!