In the U.S., a burglary occurs every 13 seconds, amounting to about 2.5 million burglaries a year. A staggering majority of these are break-ins.
Sounds concerning? It is. When it comes down to it, you really can't be too safe with your stuff.
Unfortunately, this statement holds true even when you're traveling. When staying in hotels or rentals (such as AirBnB), it's naive to expect that your belongings are always well-protected.
The solution? Finding yourself the best portable door locks.
These are handy not only while traveling but also in situations where a little bit of extra privacy/security would help, e.g., when dealing with an intrusive housemate.
Our Recommended Top 5 Portable Door Locks
Best Portable Traveler Door Locks Reviews 2023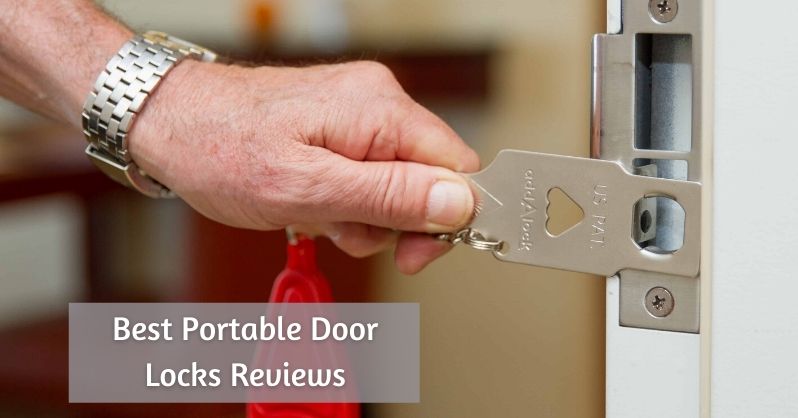 Without any further ado, we now present our top 5 picks in portable door locks. We hope our reviews help you because we've spent considerable time and research on them!
1. Travelers Security Portable Door Lock
Highlighted Features
Sturdy and robust aircraft-grade aluminum construction
Compatible with both left- and right-handed doors
Installation is made easy with print and video guides
Comes with a carrying case for effortless portability
Does not require tools for installation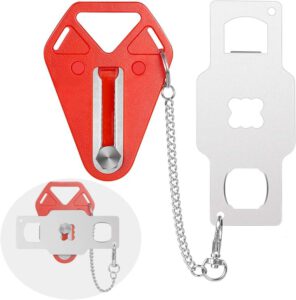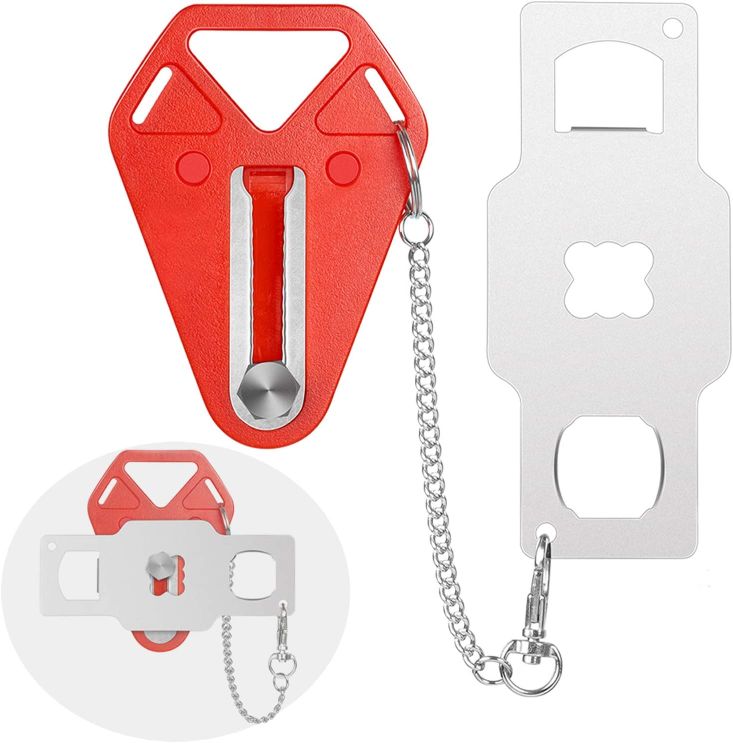 If you research portable door locks as thoroughly as we have for the purpose of this article, you'll be unsurprised why the Travelers Security Lock is the first lock on our list. Constructed from durable and strong aircraft-grade aluminum, this lock comes with a high rating, and it's considered to be the best travel door lock for security.
Not only does this lock stand up reliably to break-in attempts, but it's almost deceptively easy to install. Your door needs only to have a gap of 1/8 to 1/4 inches between itself and the frame in order to qualify for lock installation. Furthermore, the lock weighs only 8.5 ounces, and it also comes with its own carrying case. It's clearly a lock meant to be brought everywhere.
If you know anything about physics, then you might be interested to learn that the manufacturers claim to have used Newton's 3rd law of physics in the design of this lock. What that means is, if someone tries to force a door that has this lock on it, the lock will simply respond by distributing that force within the door frame.
Although the validity of this statement is dubious, the intention seems to translate efficiently in reality. In addition to its high ratings and reviews, this lock from TSL has also garnered considerable attention in the travel blogosphere. So if you're concerned about the high price, we'd say it's a worthy investment!
2. Addalock Portable Door Lock – Best Lock For Travel, AirBNB or School Lockdown
Highlighted Features
Robust metal construction with anti-rust properties
Compact and lightweight enough to fit in your pocket
Suitable for use in hotels, rentals, or even in your home
Tool-free installation that takes only seconds
Purchase includes an engraved red storage pouch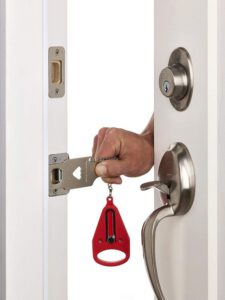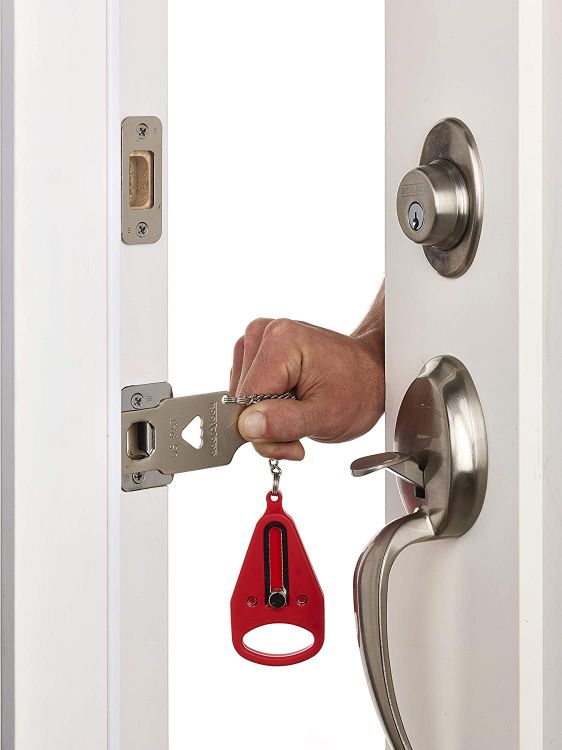 Heralded as the original portable door lock, the Addalock is, without a doubt, one of the most highly sought-after portable locks on the market. It's also significantly more affordable than lots of other models, so this will appeal to those of you on a budget.
So what makes the Addalock so special? Well, for starters, installing it is completely tool-free. And to make things even better, setting it up is only a matter of mere seconds. Imagine the benefit of that is a potentially life-threatening situation (although we hope you'll never have to face it).
This lock has a particular appeal for travelers who typically stay in rentals such as AirBnBs as opposed to expensive hotels with reinforced security measures. That's not only because of the lock's sturdy and robust construction but also because it's small enough to fit in your pocket.
Yep, you read that right. And in our opinion, what makes a portable door lock worth its salt is just how portable it is. But despite its compact and lightweight body, this thing is built to take a beating–just look at its strong, rust-resistant metal body, which offers years of dependable service.
However, one drawback is that this lock requires a traditional striker panel on the door frame in order to be installed properly. This means you won't be able to use it in a hotel room that has a key-card handle. If your door does not have a striker panel, therefore, you might want to look elsewhere.
3. DoorJammer Portable Door Lock Brace for Home Security
Highlighted Features
Available in a travel size and an extra-large version
Works easily with almost any inward-swinging door
Comes with fitting accessories for your convenience
The quick-release function is helpful in emergencies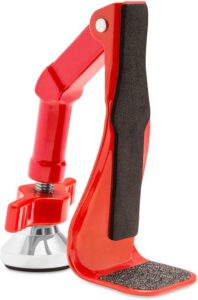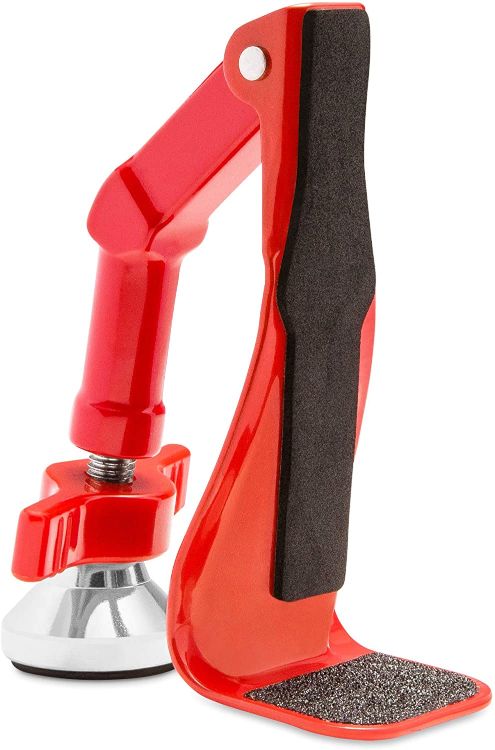 When it comes to locks, the DoorJammer portable door lock stands out for its unique design and mechanism. Equipped with a rugged steel body, this lock has not been compromised on strength. But what really stands out is its style: the DoorJammer works by, well, jamming your door!
The way the DoorJammer works is by producing a vertical force against external pressure. It has a foot that must be inserted under the door from within, and installing it is a matter of seconds, requiring only a turn of the screw.
Because this door lock depends on contact with the floor in order to work, its anti-slip foot has been made to be compatible with most floor types. Furthermore, it comes with two fitting accessories to enhance compatibility.
One of these accessories is the extension foot, which affords the DoorJammer an extra bit of height that allows it to be fitted to doors with a large gap between themselves and the floor. The other accessory is a set of "spacers" in 4 different sizes, which can be inserted in gaps around the door to fortify the DoorJammer's grip.
The DoorJammer is built for convenience: not only is it compact and lightweight, but it also comes with a quick-release function that can be employed in the event of an emergency. That means you won't have to release the screw first in order to disable the jammer.
All that being said, we wouldn't necessarily recommend this product for those with high-security needs. It's apt to slip on tiled floors and can be difficult to install on certain door types. However, if you're looking for an affordable, standard portable door lock, it's still a good option.
4. MOHO Tech Portable Door Lock For Travel, AirBNB, Apartment, Dormitory & Home
Highlighted Features
Dependable and strong stainless steel construction
Easy to install and takes only a few minutes
Lightweight and compact design makes it super portable
Locking and unlocking is super easy and quick
One of the most affordable portable door locks on the market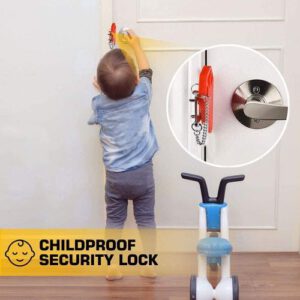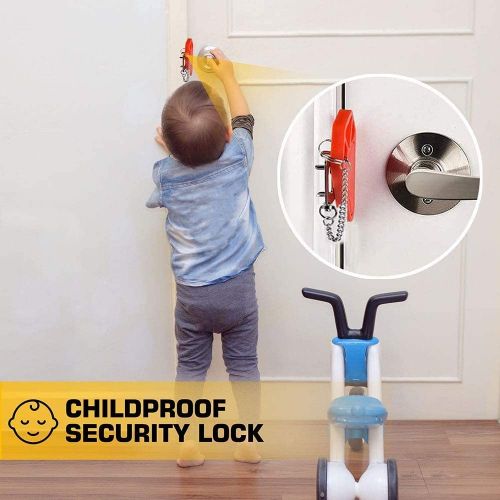 As we have seen, portable door locks can be quite expensive, indeed, with a wide and varied price range. That might lead you to believe that a worthy portable lock must always be expensive. But this 2-piece set from Moho Tech is here to prove otherwise.
Built from dependable and sturdy stainless steel, this portable door lock is made for ease and convenience first and foremost. Not only is it lightweight and easy to carry–making it highly suitable for travel security–but it's also super easy to install.
First, the gap between the door and its frame must be tested. Then, the claws must be inserted into the strike plate, after which the door lock will be activated once the door is closed. And this entire process is completely tools-free!
Unfortunately, this does mean that unless your door comes with a traditional strike plate, you won't be able to use this door lock. We understand if that's a deal-breaker for you; however, given its low price and high ratings, this is still one of the best portable door locks you'll find for the money.
5. WINONLY Portable Door Lock Perfect for Traveling, AirBNB, Hotel, Home & Apartment
Highlighted Features
Installation takes seconds and does not require tools
Robust stainless steel body keeps your door reliably guarded
Ideal for use in households, rentals or hotels
Reinforced construction with advanced technology
Extremely lightweight and portable, ideal for traveling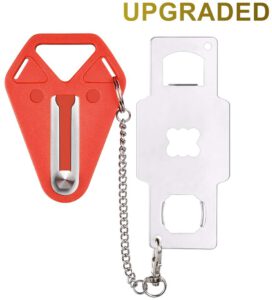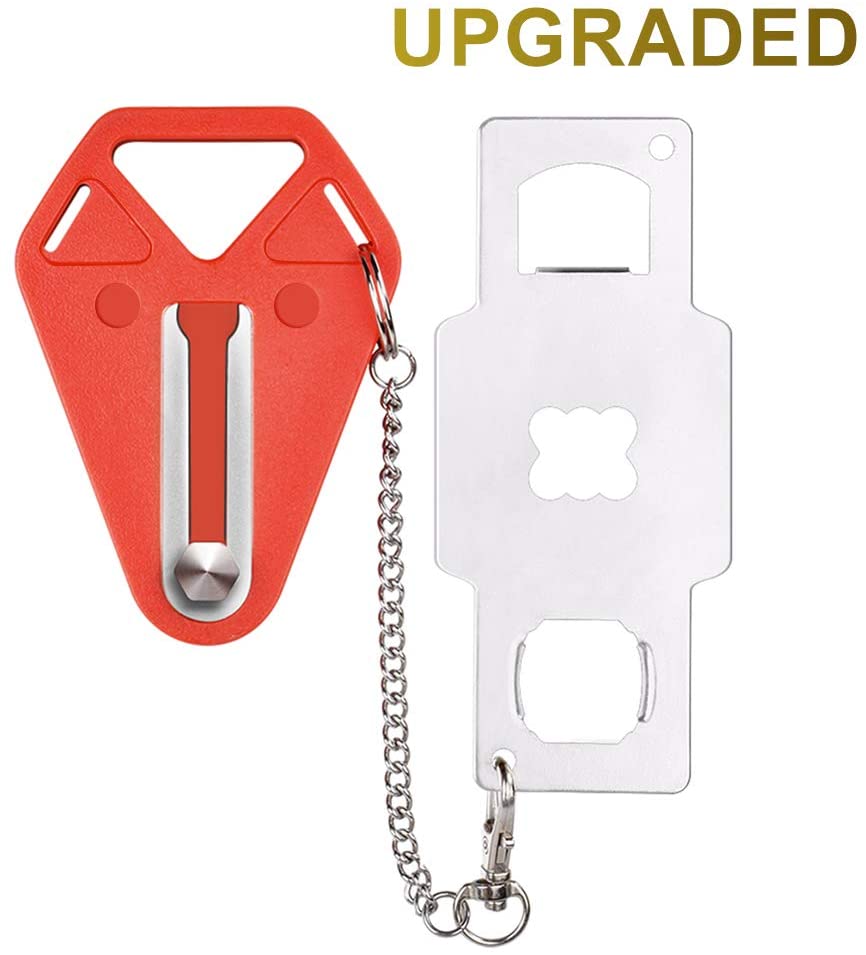 Our final pick comes from Winonly, and it's the most affordable door lock on our list. Despite that, it offers a performance that could give more highly-priced models a run for their money. Here's how it manages to do that.
Equipped with an advanced and upgraded construction, this portable door lock is built from heavy-duty steel. Integrating advanced electroplating and polishing technology, the manufacturers have done their best to reinforce the strength of this door lock.
And of course, this lock wouldn't make it on our list if it wasn't truly portable, and it does not disappoint on that front. Weighing only 4.8 ounces, this thing is not only super light but also small enough that you can carry it in your hand or your pocket.
Moreover, installing this lock is just a breeze. After inserting the claws into the strike plate, just close the door and insert the metal rod through the hole. And that's it! You're good to go. No tools are required, and you'll be done in a matter of seconds.
So whether you're hunkering down in a cheap rental or you just want some respite from the disturbances of intrusive landlords or housemates, this is a super handy solution for a reinforced door lock. That being said, this lock isn't super compatible with all types of doors, so make sure to do your research adequately before buying.
Ultimate Guide to Buying the Best Portable Door Locks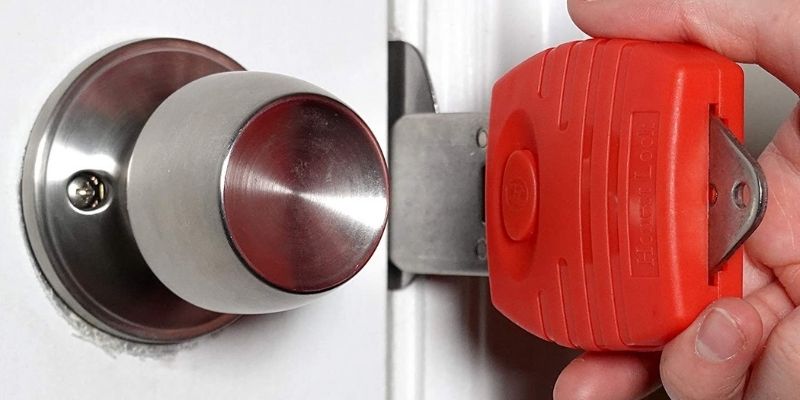 Maybe you're about to take a trip, or you're tired of not having adequate privacy in your own home. But before you rush into buying a portable door lock, keep the following factors in mind.
Portability
It might be obvious, but your portable door lock should be, well, portable. It's no good unless it can be brought along with ease; on that front, it should be lightweight and compact. In fact, some of the best ones are small enough to fit in your pocket.
Build Quality
A lock is only as good as its strength, and the same is true for a portable one. Accordingly, it's important to select a lock made from durable materials.
Durable metals such as stainless steel and aluminum are obviously preferred if strength and resilience are what you seek. In fact, we would recommend not going for any other construction material as it will likely not be sturdy enough.
Compatibility
The good thing about portable door locks is that they are marketed based on universality. All the same, it's good to check whether it will be compatible with your door type. If you're looking to buy a portable lock for security while traveling, it's more of a gamble, but you can opt for a model with only one prong that attaches to the plate instead of two.
Ease of Installation
Last but not least, are considerations of how easy the lock is to install. Portable locks are characterized by ease of installation, so most of them already fit the bill. So, if your chosen lock requires drilling/screwing, it's not really a portable door lock, and you should look elsewhere.
FAQs About Portable Door Locks
1. What is a Portable Door Lock?
A portable door lock is one that can be installed and removed in a short time, typically meant for inward-opening hinged doors.
2. Who needs to use a Portable Door Lock?
Ans: If you travel a lot and frequently stay in hotels, or if you're concerned about landlords/roommates getting into your home/room in your absence, a portable lock is suitable for you.
3. What Security Measures Should I Take While Traveling?
It's ideal to have an alarm/security system installed in your home; that deters intruders. You can also choose to employ a smart home system such as Alexa or Google Home to turn lights off/on at intervals to make it seem like someone's home. Some people even appoint "house sitters" in their absence.
4. How is a Portable Door Lock Installed?
Once your door is open, attach the locking bar to the strike plate's interior. Then, when the door is closed, the locking mechanism will be applied. Ideally, such a door lock will offer tool-free installation.
5. Is it Permissible to Put Locks on Apartment Doors?
As portable door locks are not permanent, it should be okay; but have a word with your landlord just to be sure.
Conclusion
The best portable door locks are those equipped with sturdy construction, are easy to install and remove at a moment's notice, and are compact and lightweight. The Travelers Security Lock matches these criteria, but it's expensive; a cheaper alternative is the Moho Tech portable door lock.
Whichever you choose, though, the first thing to do is to ensure that the lock is compatible with your door. We know this is difficult to do while traveling, in which case the DoorJammer is an ideal choice. Good luck!
You May Also Love to Read: