The decision of buying a deadbolt for your home is going to bring you to this situation. And it's being confused by so many types, varieties, designs, and their varying usages. It would be nice to have all major types of deadbolts explained in one place. And with that thought, basically, I sat down to write this piece of writing.
It's going to be wholly about different types of deadbolts with a slight shout out to their usages as well. So, get yourself ready, we're about to meet some very popular options right now.
Here Are 8 User-Friendly Types of Deadbolts with Some Notes on Their Usages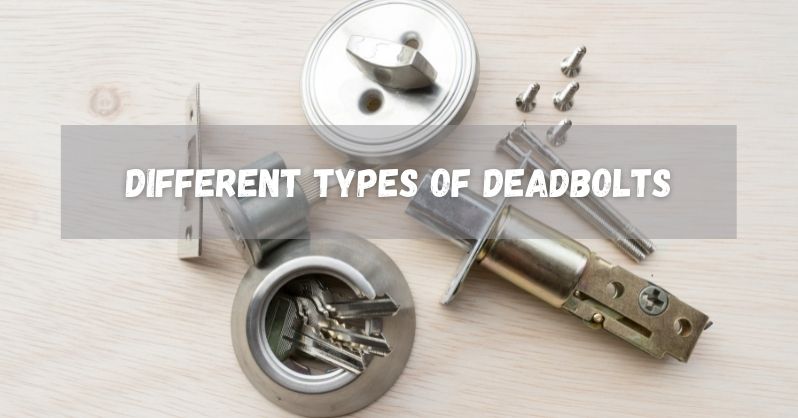 Let's start with a little talk on deadbolts. The deadbolts are usually noticeable on the external doors of residents. These have pretty much variety compared to padlocks. Understanding the main difference should be enough for you to make a choice. That way you'll be able to escape the list of people who don't care and get any random type ending up with a theft incident eventually.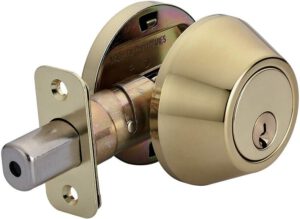 Starting off with the most common type. It's known as the single cylinder deadbolt. You need to mount this type inside the door. The interior part also includes a twist doorknob. The door face's exterior area has another part called a key cylinder.
It's highly noticeable in American homes and you probably have seen one. Both the twist knob and key cylinder functions for opening or closing the door. The only problem with such type arises when you have a window closer to door.
The door will allow access by a simple thumb turn in such a reachable situation. Sometimes the peephole also allows breaking through this lock type using simple tools.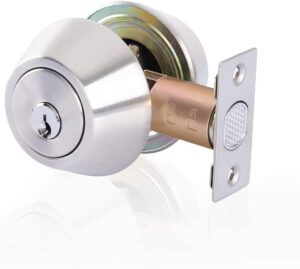 The next type is a problem solver of what we just talked about with single cylinder deadbolts. This one is a double cylinder deadbolt. It also just like a single-cylinder deadbolt needs internal mounting.
The major difference is existence of a twist knob. There's no twist knob with the double cylinder deadbolt. Instead, it makes use of two key cylinders. You need a key for opening the door. No matter if you are inside or outside of your house, the key is necessary.
The double cylinder deadbolt does not allow access even if there's a window close to door. So, an intruder entering your home breaking through it is not possible in this case. However, the trouble arises when there's an emergency situation and you need to quickly get out of the house. For example, if there's a fire incident, you need to look for the key to get out of your house.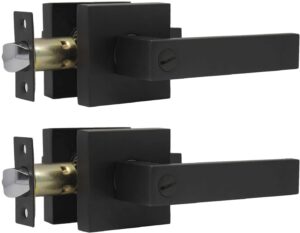 Now comes a type that is actually the mingling type of both of the above variants. And it's typically known as lockable thumb turn. There is a thumb turn on the inside. And it functions just like how a regular single-cylinder deadbolt would do.
The only exception is that here you can lock it using a key. So, with residential use, one needs to keep it unlocked when you are inside the house. However, when you leave the house and it's going to be a long period till you come back, then you can lock the thumb turn. And in that case, if someone is inside the house accidentally, he or she cannot unlock it.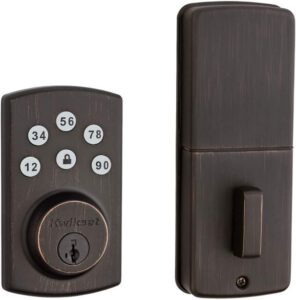 This one is pretty interesting for its convenient unlocking and locking mechanism. Just like how its name sounds, the whole system works without need for a separate key. You get it mounted right on the inside of your door. There's no keyhole. Instead, you get a keypad.
Here you need to enter your secret pin or code for unlocking. Of course, you'll select that particular code or pin. With such a deadbolt, you are free from the risk of someone entering your house.
Since there's no way someone will guess your provided pin unless you let them know. The chances of misplacing a key and getting stuck with the lock are also pretty low here. Even if someone seems to know about your selected combination, you can easily change it.
And you can do that many times as required. The digital types basically run on batteries. Some even run with electricity. You have the right to pick whatever type of keyless deadbolt you'd like in your home.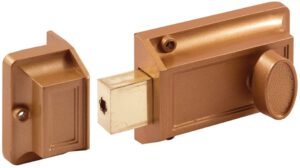 The lock basically stays right on the door's inside face bolted. With a rim deadbolt, you don't need to wait and lock it down. Since the locking mechanism is automatic once you close it. So, there's no chance of you accidentally leaving those doors unlocked inviting troubles. The best part is you don't need to check too often since the automatic mechanism works pretty fine.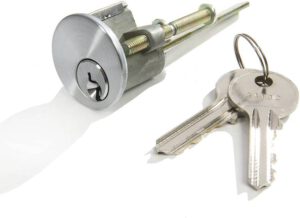 As most other types of deadbolts, this one also works being bolted on the door's inside face area. But the positioning is a bit different from other varieties. The vertical deadbolt needs to stay on top part of your door.
So that there's no chance of an intruder ever trying to pry it for opening. Since those criminal minds will most likely try to pry it by placing a bar right between the frame and door. And with horizontal deadbolts, this might let them have access. But with the vertical ones, there's no chance of so.
Both the vertical and rim deadbolt is super simple to put together. You can easily install them, unlike other types. However, bulk can be on the heavy side with causing a slight eye-soring moment for you.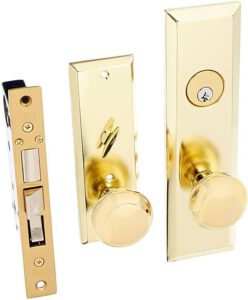 Let's go back in times when all the digital and technology involved locks were not so simple to get or possibly didn't even exist. That's when people used older style key lock like this one. It's the mortises deadbolt that needs a recessed pocket cut in the doors edge area. So that the deadbolt is difficult to tamper.
This type of deadbolt is super strong and so, safety scores are pretty good with it. However, the huge hole in your door's frame can be a bit of a problem. Since this can possibly weaken your door's structure sooner than later.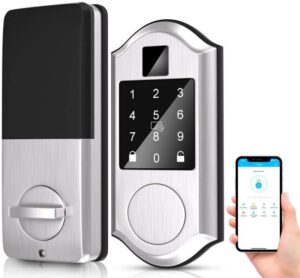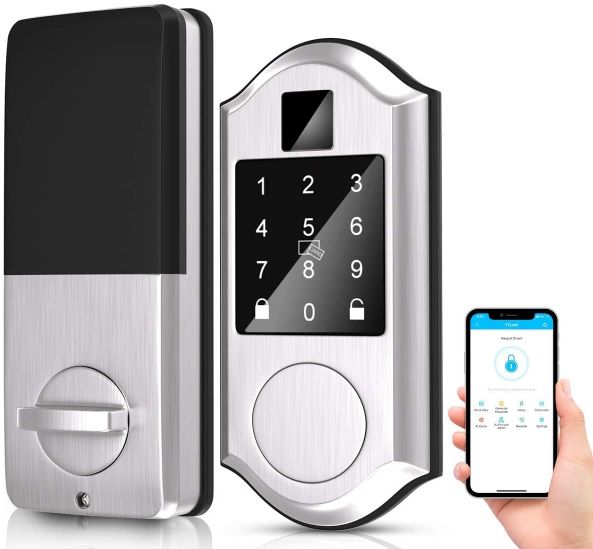 The problem with most types of deadbolt is how these are not absolutely safe from picking. Except for the smart version. It's almost not possible to pick smart deadbolt lock. You can also connect to your smart home hub for the most convenient usage benefits.
Connecting with your phone directly is also possible for the quickest access. You can also integrate it with many other smart home items. And this will greatly help in creating routines as well as schedules that without trouble fits your lifestyle.
Even if you ever forgot to lock the doors and realize only after entering your office, there's still an option for locking it without going back. Accessing the smart lock remotely will make your life so much more convenient. And that's why people are absolutely in love with this certain type.

Related Guide You may check:
Wrap Up
From locks, padlocks to deadbolts, people are now more aware than never about choosing the right safety system for their home security. And that has a lot to do with understanding and contemplating various types of deadbolts. So that one can make a practical decision on which type of deadbolts to bring home. Hopefully, today's article will help you make that choice a tad bit better. Good Luck!