Your front door needs some help and you have finally decided to grant it the favor. And that makes you look into several entry door handlesets that come with innovative and useful features for home security.
After embracing the available options, you got yourself a Kwikset model. But now the installation instruction is something that's been bothering you. Well, there's nothing to worry about as I'm about to discuss that in simplest words hopefully. Yes, today we are discussing how to install kwikset front door handle just like that…
So Here's The Whole Thing On How to Install Kwikset Front Door Handle
There are a variety of door handles, handle sets, smartkey door knob, and similar options available to opt for the front door. And you perhaps have already spent a good amount of time researching to end up buying one from a renowned brand like Kwikset.
But the saga does not end here, you need to do further research before installation. Finding relevant information on how to install front door handle isn't the only thing you want to ensure. No matter how difficult and complex the provided instruction seems to be, you should consider checking warnings and notes.
During the installation, you don't want to try something harmful and cause problems to your handle. We'll be focusing on the installation of both side's keyed handle set for this tutorial. This type basically has a deadbolt. And also, these are keyed on both the exterior and interior sides. You can use the key to unlock both of sides. Keep on Reading…
Things You'll Need
Get the Old One Out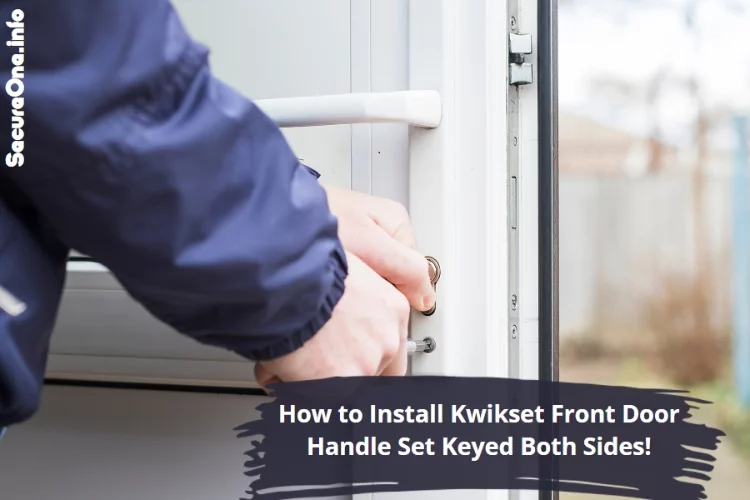 Usually, the interior knob and locking hardware connect with lock cylinder as well as exterior through some mounting screws. You need to first get these out to free the old entry set. Use a screwdriver to get them out. And then remove the old entry set carefully.
Then you need to also unscrew the faceplates of latch and deadbolt. You should find them on the door's inner edge. Then carefully get the latch bolt out. Also, remove the deadbolt. You also need to get the existing strike and latch plates out for new ones to take their places.
Get the New Set Installed
In your new handle set, there should be new strike and latch plates. You can attach them to the old one's place. Then you want to set the new latch bolt in place. The same goes for a new deadbolt.
The door should have an existing hole. You need to fit the handle inside this hole next. Handle's lock cylinder as well as thumb latch will have posts that should easily fit into assemblies of latch bolt and also deadbolt.
Now focus on the projecting cylinder post. You want to fit the lock over. Right onto the thumb-latch post will go the spindle assembly of a knob. Use mounting screws and fasten them in place securely. You want to set the knob on top of the spindle and fit it tightly. Use setscrew to do that, make sure it does not come off. You will then need some holes for the new kickplate as well as the knocker. Use the drill to get these holes prepared. And this should end your front door transformation mission on a good note.
Related Guide You may check:
Why Installing Kwikset Front Door Set that Keyed on Both Sides ?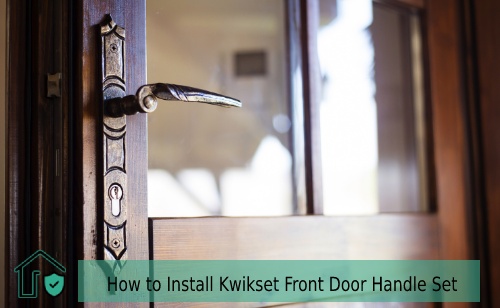 If you're looking to upgrade the security of your home, one of the best ways to do so is by installing a Kwikset front door handle set. This type of set comes with two handles - one for the inside of your door, and one for the outside. Having a set that is keyed on both sides means that you can easily lock and unlock your door from the inside and the outside, without having to carry around a separate key for each side.
Not only does this provide an extra layer of security, but it can also be a great convenience if you ever lose your keys or forget them inside your home. Kwikset front door handle sets are relatively easy to install, so you shouldn't have any trouble doing it yourself if you're somewhat handy.

One of the great things about Kwikset door hardware is that it's very affordable, so you shouldn't have any problem finding a set that fits your budget. You can find these sets at most home improvement stores, as well as online. When shopping online, be sure to check out customer reviews to get an idea of what others think of the product before you buy it.

Conclusion
And that was all about how to install Kwikset front door handle. You can even visit their official website if some other type from the same brand is in your hand for installation. They do provide picture-guided instructions that you can easily download.
Just make sure you know the right process and only proceed when you're having zero confusion about the installation. Or else just call someone for help, they'll get it installed for you and it won't cost very much to be fair.
Are you confused about how to install Kwikset front door handle? Then here's a guide that describes the process of installing both side keyed handle sets.