While traditional mechanic locks work well enough to keep trespassers and possible thieves at bay, the convenience that comes with smart locks are on a whole another level.
With the best homekit smart lock, you can come and go as you please without needing to fumble around with keys every time.
That's not just it; you can also let people in even without being at the door physically; isn't that just wonderful for emergencies? A smart lock is a really important element to smart homes and well worth the investment. They use your Wi-Fi, voice assistants such as Alexa, Siri, or Google assistant, and mobile apps to do a variety of things.
In this article, We will walk you through the finest smart locks you can find out there and how to choose one for yourself.
Top Homekit Smart Locks of 2023 by Editors' Picks
Overview of Top Apple HomeKit Smart Door Locks of 2023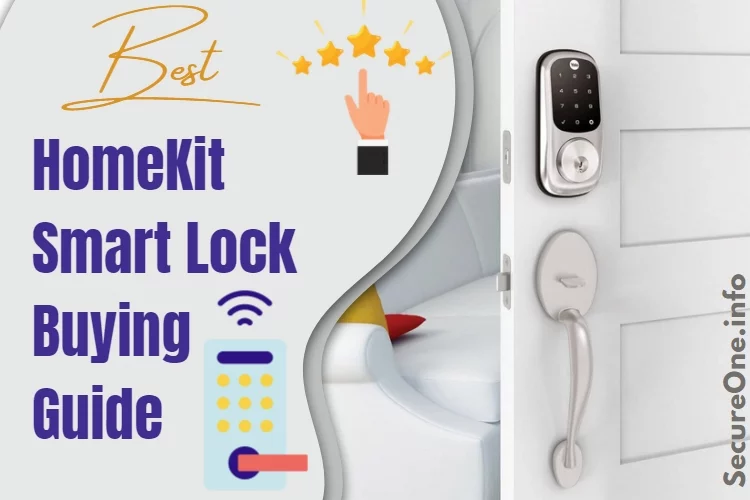 Top 5 Picks of Best HomeKit Door Locks in 202 2
Top 5 Best Apple HomeKit Smart Door Lock Reviews 2023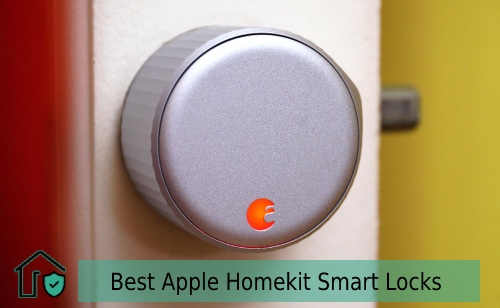 For the first section of this article, We reviewed the 5 top smart lock HomeKit with a good variety between them. To know more, keep reading!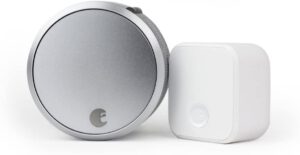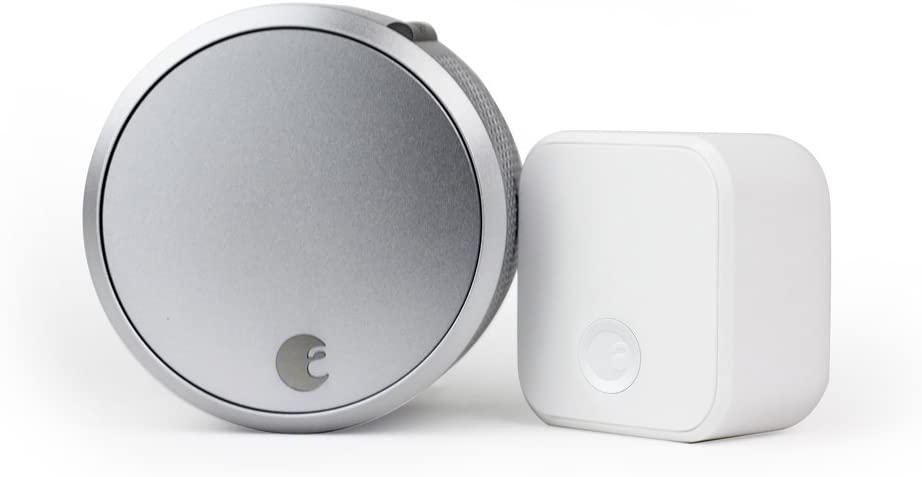 Our first pick is one of the highest fully equipped smart locks; you will come across in the market. The August Smart Lock Homekit supports Apple HomeKit, Alexa, Google assistant, multiple wireless protocols including Bluetooth & Wi-Fi, IFTTT, and geofencing.
This lock is the third installation in the August Smart Lock series with an added technology called DoorSense, which detects if the door is closed or open, so you check in your smartphone in case of confusion.
The Auto-Lock and Unlock feature is very handy as well; it automatically locks the door after someone leaves and detects the owner's arrival and automatically unlocks too. Remotely locking and unlocking are supported too, so you can let guests and delivery persons in.
If you want to use other August devices or nest cameras with this lock, then you will be happy to hear that it supports both. The IFTTT support is quite amazing too because the lock can trigger other IFTTT-enabled smart gadgets such as thermostats, lights, garage door openers, etc.
August Smart Lock Prodoes its primary job - which is locking and unlocking - very flawlessly. Their app for smartphones will keep you updated with notifications for when the door has been locked, unlocked, left open, or closed. It also works very well with Siri and Alexa's voice commands.
Overall, we really have no big complaint about this smart lock as it does it all very flawlessly and is a lock worth investing in. That's why August Smart Lock Pro considered one of the best homekit door lock in the market.
👍 Pros
The installation is quite simple and easy to execute
Compatible with Wi-Fi, Bluetooth, and X-Wave
Supports remote unlock and lock
Customizable auto-lock system
No Wi-Fi adapter needed
Works really well with HomeKit
Interior deadbolt system; so exterior looks as did before
👍 Cons
Auto-unlock can be a bit unpredictable for some users, but the updates made this issue less problematic
Some users found the Wi-Fi bridge problematic
A bit expensive for what it is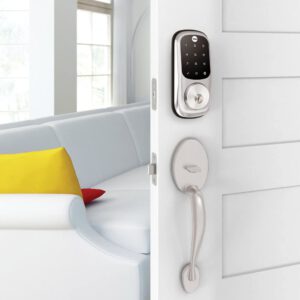 The next smart lock on our list is a popular favorite, as it's for good reasons. It is one of the most stylish ones on the market; any tech-savvy person will fall in love with it. But looks aren't the only thing this smart lock brings to the table - it does a phenomenal job as a smart lock.
This one contains a lot of the same functionalities the previous one does, such as compatibility with Alexa, Siri, or Google assistant, auto-unlock, DoorSense, etc. Moreover, you can manage the codes to unlock on the move and even create new ones, which is especially useful in emergencies or for vacation homes.
You can get the most out of this lock if you own an Apple TV compatible with the HomeKit or a smart home security system or hub, such as SmartThings, alarm.com, Google Home, etc. This lock can be integrated with them to control and monitor the lock when you are not at home.
A pretty big con of this smart lock is that lock works with Bluetooth and it does not have any physical key for emergencies - which can be dangerous in some circumstances. But Yale offers a model of a smart lock, which does include this function if you really want it. Overall, this lock is a very good (as well as good-looking!) option to consider.
Related Reviews You May Check: Google Home Door Locks
👍 Pros
Wide range of connectivity options; includes Wi-Fi, Bluetooth, Z-Wave, and Zigbee
Compatible with the August App
Very attractive and nice design
Options for a version with physical buttons instead of a touch screen if desired
👍 Cons
No physical key or key slot for backup in case of emergency or electronic failure
No dedicated app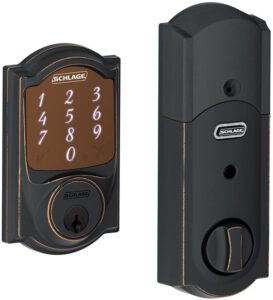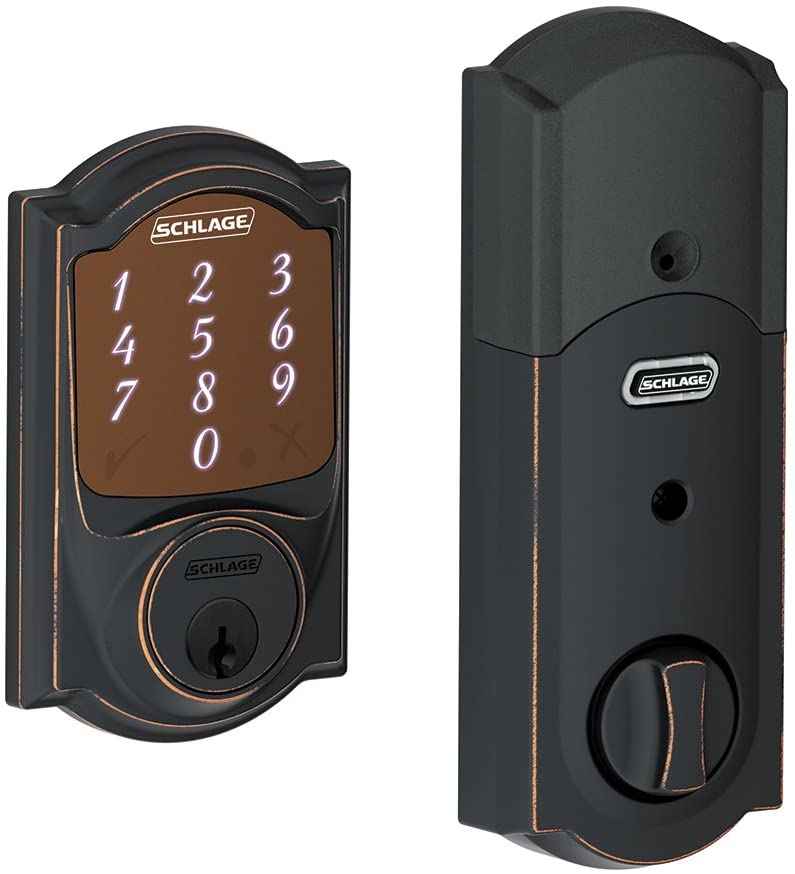 Up next is a smart lock that may not be the best looking or easiest to install, but if you are looking for a lock, you can depend on with your eyes closed; this one will be it. It might just be the best smart deadbolt lock you will come across.
Rest assured, you do not need to have your phone on you to unlock this lock as the illuminated keypad or the physical key can also do the job. You can even use voice command with this one to unlock the door - no actual work with your hands needed. This lock works the best if you also own an Apple TV and HomeKit.
But this one also has some issues. Firstly, the software can be tricky to install. Furthermore, the lock does not work the same with Android/Google assistant, as it is more catered towards iOS. It works really great with Apple TV owners and not so great with homes that do not have Apple TVs.
The bottom line is, if you are someone who owns mostly Apple devices, then you definitely should consider this lock; otherwise, be ready to pay for extra adapters and upgrades.
👍 Pros
Wide range of styles and finishes available
The device is best for voice control
Numeric keypad or physical key can open the door if the smartphone is not available
You'll find it very reliable
👍 Cons
Needs additional Wi-Fi adapter if the user wants remote monitoring or voice control
HomeKit compatibility is lost if Wi-Fi adapter is used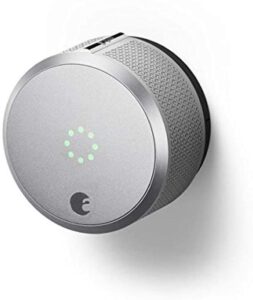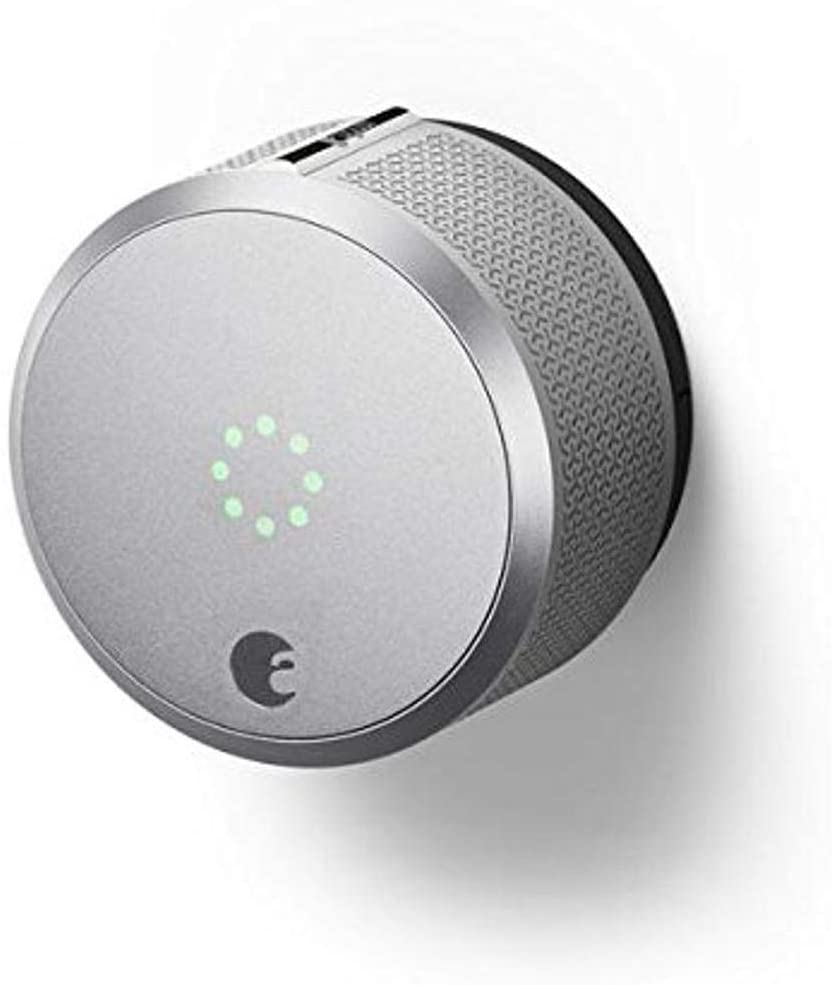 The 4th one on the list is another great option from August with a lot of good features such as Z-Wave Plus, HomeKit, Siri, Alexa, and Google compatibility. August's app will give notifications when you need a battery replacement. With this one, you can also grant access to anyone else for any fixed amount of time you desire.
August Smart Lock Pro HomeKit is an interior deadbolt replacement type of lock, so the door will look the same from the outside, which can be important for some people. The app has an activity feed that will enter everyone coming in or going out for you to monitor. It also has DoorSense, just like the first two locks in this list.
This smart lock also has a backup key for emergencies. If you wish to lock the door remotely using this lock, you have to pay additional money to get the hub as the kit does not come with one. Once you buy the additional accessories needed, this lock will work seamlessly with iOS and Android devices and voice assistants.
Overall, this one does the job pretty well; but there are other better options to get from August instead of this.
👍 Pros
Can grant access to others if needed
Has DoorSense technology, which is a great feature
Works with almost all standard deadbolts with a single cylinder
Comes with a backup key
👍 Cons
Requires additional Wi-Fi adapter and hubs for Wi-Fi and Android compatibility
Needs additional hub for iOS compatibility and remote locking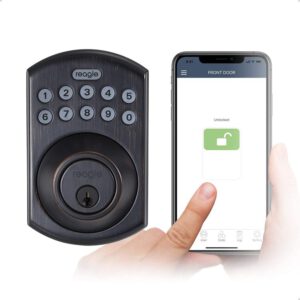 The final smart lock on our list is also the most affordable. Reagle smart lock is a deadbolt replacement lock that contains a keypad and a cylinder for a physical key. It has built-in Bluetooth that allows you to directly connect to the iOS devices you own through Apple HomeKit.
In case you need to let a guest or your friends in, you can easily customize temporary access and share using the Reagle app. Just like the other smart locks, this one also has an auto-lock feature, which is very convenient. Another great feature is that this device does not need a hub to connect to your Apple TVs or HomeKit.
The keypad can be preferable to touchscreens to some people. After this lock is connected to the HomeKit, it works seamlessly with no failures to lock or unlock. The app, although not the best smart lock app to be found, does a solid job; it even notifies you when you need a battery change.
Overall, this smart lock a great bang for your buck, especially if you own Apple TVs and are looking for an affordable option.
👍 Pros
Installation is a breeze and won't take much time
Has a physical key cylinder
Comes with a temporary access feature
Does not need a hub or bridge for HomeKit
👍 Cons

Ultimate Guide to Buying the Best Homekit Smart Lock in 2023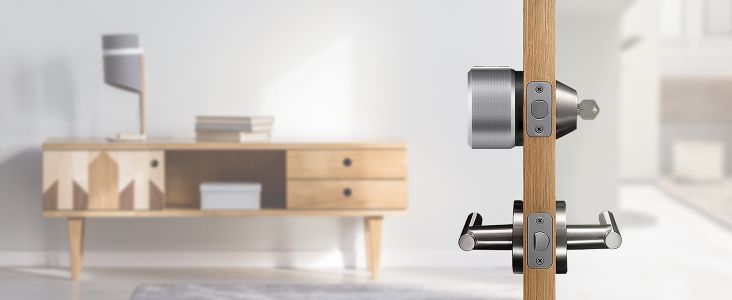 Before you get excited reading all the reviews and hop on to a website to order one for yourself - please remember that not all smart locks are compatible with your door. Therefore, you really need to check the compatibility of a particular model you like with your door.
In this section, the things you should keep into consideration when shopping for a smart lock are listed.
The Door Fit
This is one of the first things you should check before getting too fond of a particular model - it must fit your particular door and the lock type. There are several different types of smart locks you will come across:
Attaches to the deadbolt : This type is rather rare but still exists. Check for the size of deadbolt compatibility for this kind of lock.
Replaces the interior deadbolt: From the outside, the door will look the same as it did before installation; the lock will replace the deadbolt in the inside and will control the lock from there. This is particularly great if your landlord does not appreciate you changing his/her door.
Replaces the doorknob/ handle/ lever: With this type of smart lock, you will only have one hole in the door and not need to work with deadbolts. This kind is especially suitable for single-hole doors - doors that only have a handle/knob and no deadbolts.
Partially integrated: The door handle and deadbolt will work together in one mechanism to lock/unlock. They will look as if they were separated.
Mortise: This smart lock system is fully integrated with the handle/nob and the lever working together.
Access Codes for Guests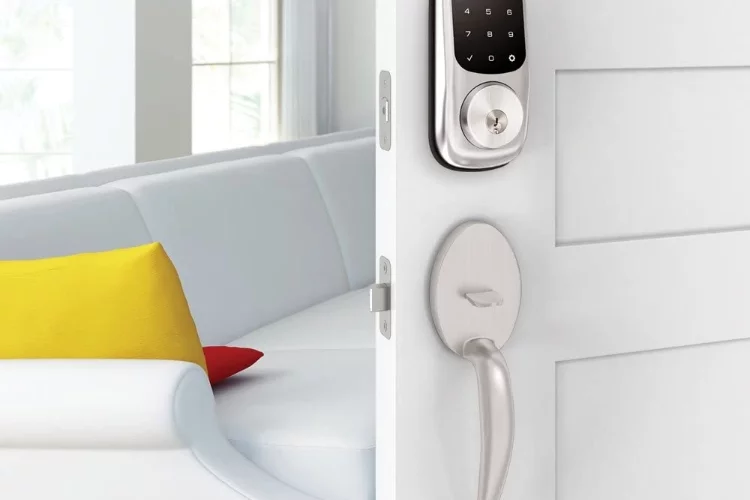 If you have guests or children that need to unlock the door, there are several options these locks have. Pick one that you think will work the best for you.
Some locks come with built-in push buttons or touchscreen, which will light up as someone approached within a certain distance. The person then has to use the button or screen to input the 'guest key' you have given them from the app.
Another option is a keypad or touchscreen accessory that you can get and install beside your door to communicate with the lock. With some smart locks, you can also grant access for a particular period of time, ranging from 30 seconds to a few hours.
The last option is the guest can use a smart lock phone app to act a key for them; needless to say, the children or guests will need to have a smartphone with them for this to work.
Compatibility With Smart Home Ecosystem
Some locks support other smart home devices such as HomePods, Apple TVs, thermostats, garage door openers, speakers, lights, and more. If you own any smart home tech and would like for it to work with your smart lock, make sure to check if it is compatible with your device.
Operating System of Your Devices
Most of the smart locks support both iOS and Android, but some of the locks are more suitable with iOS, meaning you will not get the maximum functionality with these locks if you own mostly Android devices. So, make sure to check if all the functions are compatible with Android if you own an Android phone.
For some of them, you can buy additional hubs or bridges to add Android compatibility.
Additional Features
Smart locks come with a wide range of features that you can use other than the basic function. You can decide on which ones you like/want and then see if the model you are considering has that feature. Some of these features are discussed below:
If you want to able to remotely lock the door without being in proximity, smart locks that operate with Bluetooth are a no-go if you are not willing to buy an additional smart home hub or bridge device. Look for smart locks that have built-in Wi-Fi support.
With this function, the door will automatically lock after a set time (usually 30 seconds) has passed since you left. Some locks can also use your phone's GPS & Bluetooth system to unlock the door as you approach near your home.
For this to work, you need to leave the GPS and Bluetooth of your phone on, which will drain the battery. So, weigh the pros and cons before you decide on a lock like this.
Touchscreen or Fingerprint
With this function, you open your door with either an access code with a back-lit touch screen or your fingerprint. This feature may sometimes require you to buy the touch or fingerprint scanner separately from the lock - which will add up as additional cost.
You May Also Love to Read:
FAQs About Homekit Door Lock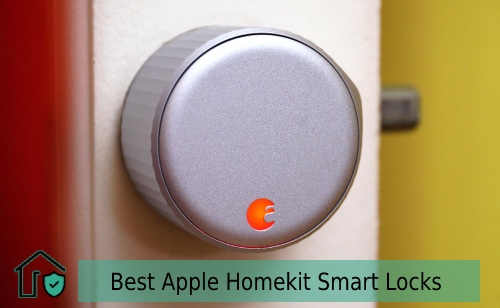 1. Will the door unlock if someone asks Alexa to unlock it?
No. A guest has to give a password if someone other than the owner tries to unlock the door.
2. What if the children/other people living in the house does not own a smartphone?
You can add them as guests and give them guest keys in your smartphone; that way, they can unlock the door without any smart device. Check out the buyer's guide for more.
3. Can I use multiple smart locks and have them work simultaneously?
Unfortunately, you cannot. Each of the locks will need their own setup and own unlock & lock control. If they are put in on the same door, you have to unlock both to be able to open the door.
4. Will I be able to use the mechanical lock & key system as normal if a smart lock is installed?
Yes. In case of emergencies where the electricity is out, or anything else happens that prevents you from using the smart lock, most smart locks on the market will also have a physical key that can unlock the door.
5. Can I use just auto-unlock or just auto lock without the other?
Yes, you can use a smart lock to only lock the door or to only unlock it; you do not need to use both functions.
Buy them at eBay, Etsy, Walmart (subject to availability)
August Wi-Fi, (4th Generation) Smart Lock – Fits Your Existing Deadbolt in Minutes, Silver - Walmart, Etsy, eBay
August Smart Lock + Connect Wi-Fi Bridge, Satin Nickel, Works with Alexa, Keyless Home - Walmart, Etsy, eBay
Yale Assure Lock SL - Key Free Smart Lock with Touchscreen Keypad - Works with Apple - Walmart, Etsy, eBay
Schlage Encode Smart Wi-Fi Deadbolt with Camelot Trim in Aged Bronze - Walmart, Etsy, eBay
Schlage Encode Smart Wi-Fi Deadbolt with Camelot Trim in Satin Nickel - Walmart, Etsy, eBay
August Smart Lock Pro - Walmart, Etsy, eBay
Yale Assure Bluetooth Deadbolt Lock - Walmart, Etsy, eBay
Schlage Sense Smart Deadbolt Lock - Walmart, Etsy, eBay
August AUG-SL-CON-S03 Silver Smart Lock Pro - Walmart, Etsy, Ebay
Reagle Homekit Smart Lock Bluetooth Keypad Deadbolt - Walmart, Etsy, eBay
1. August Smart Lock Pro Works With HomeKit & Alexa - Walmart, Etsy, eBay
2. Yale Assure Bluetooth Deadbolt Lock Touchscreen - Walmart, Etsy, eBay
3. Schlage Sense Smart Deadbolt Lock With Camelot Trim - Works with Apple Homekit - Walmart, Etsy, eBay
4. August AUG-SL-CON-S03 Silver Smart Lock Pro - Compatible with Apple HomeKit - Walmart, Etsy, eBay
5. Reagle Homekit Smart Lock, Bluetooth Keypad Deadbolt - Walmart, Etsy, Ebay
August Smart Lock Pro + Connect - Walmart, Etsy, eBay
Conclusion
Smart locks, when used well with other gadgets, can really enhance your lifestyle & security. If you are looking for something affordable with great customer service, I would suggest you go for the Reagle one.
But, if money is not a concern for you, the August Smart Lock Pro + Connect is hands down the best homekit smart lock from the list.
Before you get a smart lock, make sure to carefully consider the topics mentioned in the buyers' guide. Happy shopping!