When it comes to our security, locks are without a doubt the classic answer for safeguarding our belongings. They are intended to keep our expensive items safe from thieves and burglars. It is fairly normal for anyone to forget the key or combination. When you become stuck and can't come up with a solution, things grow complicated.
You can use a variety of methods to cut the locks. Though breaking the locks in the right way is a challenging task. Sometimes you may face a tough situation by cutting the lock in a particular way.
This article will guide you on how to cut a lock with bolt cutters. All you have to do is just follow the steps carefully. Keep reading.
How to Cut a Lock with Bolt Cutters: 3 Super Easy Steps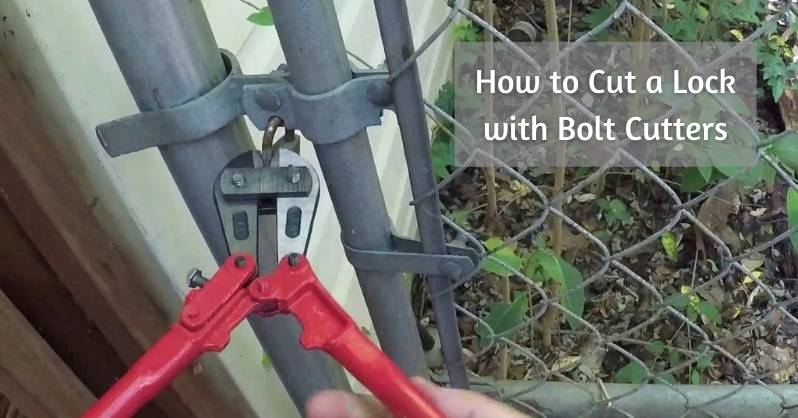 Some people prefer to hire a locksmith who can assist them in opening locks with minimal harm. But what if you cannot afford them or they are not available at that time. In this case, having the best bolt cutters for cutting lock can help you out. In the meantime, learning how to use bolt cutters properly may prove useful.
Today, we'll go through a variety of techniques for fast and effectively cutting the padlock with bolt cutters. Let's get started.
Necessary Equipment For Cutting Lock
Before you start, make sure you have all the necessary tools. You don't need to be nervous as they are widely available. However, you can buy them at a reasonable price or get them from your neighbor.
A Pair of Bolt Cutters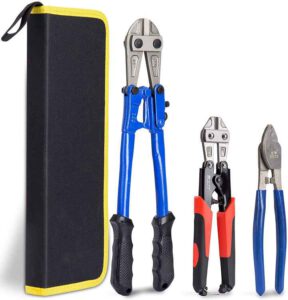 Nowadays bolt cutters come in various sizes. You need to pick the right one according to your requirements.
A medium-sized bolt cutter possesses a pretty long handle which is suitable for cutting bolts or padlocks easily due to the higher strength. You can also use wider bolt cutters whenever the size of the lock is huge. However, having bolt cutters that are 24 inches long or greater will ensure that you get the best outcome.
A Set of Safety Gloves
Wearing heavy-duty safety gloves is essential while working with bolt cutters. They're designed to keep your hands safe from projectiles while cutting the lock. To secure your hands and fingers from any inadvertent cuts, you should wear safety gloves until the whole job is done. It can also give you great handling by keeping your hands from slipping.
A Pair of Protective Eyewear
Protective eyewear is always recommended while dealing with a bolt cutter. Nobody can ever predict when or how particles can be dispersed from the lock while cutting. Even the following projectiles may take an erratic route.
Meanwhile, wearing eye protection can help you to keep your eyes safe from flying metal pieces. You should use protective eyewear with an adequate ventilation system ensuring you breathe comfortably while conducting the process.
Step-By-Step Instructions for Cutting a Lock With Bolt Cutters
Following the steps outlined below will allow you to smartly and swiftly cut your locks:
Step 1: Pick The Proper Bolt Cutters
For regular size locks, you can use a pair of 24-inch bolt-cutters that can cut through thick metal up to 7/16-inch. Otherwise, a 36-inch bolt cutter is ideal for high-quality padlocks made of robust metal. However, to execute your task efficiently, you have to check the lock style, shackle pattern, as well as thickness.
Step 2: Set The Lock's Shackle Between The Blades
The arching section of the lock is called the shackle. While cutting the shackle you need carefully tilt the lock's side. Then, at a comfy angle around your waistline, place the bolt cutters. Meantime you have to move the handles apart to let the blades open.
After that, you should give exert force on the lock by pushing it against a strong structure. If the lock isn't connected to anything, clamp it down using locking pliers so that it wouldn't slide while cutting it.
Generally, the most effective cutting approach is to hold the handles near the edge. Therefore, it is considered a stable and reliable way.
Step 3: Squeeze The Handles After Holding The Grips Hard
The next step is you have to do is to keep cutters' grips securely in place. As long as you've got your grip tight, it will deliver the right level of force.
Meantime, squeeze the grips carefully until the shackle is split entirely. You will have to apply a large amount of pressure to open padlocks built of tougher metals. Bolt cutters are only effective on fairly small locks. You can seek help from your family if you're facing trouble cutting the shackle.
Last But Not Least
One of the easiest and safest ways is to cut locks is with bolt cutters. Always remember that safety comes first while cutting padlocks with bolt cutters.
So, first and foremost, put on your protective gear. You'll be safe from sparks or nasty cuts. Therefore you have to be more careful and try to give your 100% concentration while cutting the lock.
What Size Bolt Cutters Do I Need to Cut a Padlock?
To cut a padlock, you'll need bolt cutters that are at least 24 inches long. If the padlock is made of thick metal, you might need even longer bolt cutters. Make sure to measure the thickness of the metal before purchasing bolt cutters so that you get the right size.
When using bolt cutters, be careful not to squeeze them too tightly, or else you might damage the blades. Gently apply pressure as you cut through the lock to ensure a clean break.
Conclusion
There are various lock-breaking procedures available for how to cut a lock with bolt cutters. Based on the size, metals, design, and durability of the lock, cracking cutting locks is quite simple. Though there are some certain locks available on the market which are tough to handle than others.
By following the steps described above, you will be able to cut the lock even without the support of a locksmith. You can apply this life hack or share it with your family on how to cut a padlock with bolt cutters. As a result, even if you forget the lock's passcode or misplace your key, you will be stress-free!
Related Guide: