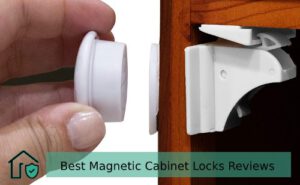 Whether it's your fur baby or a human baby, as a parent, you know that baby-proofing the house is not really optional. Pets and infants are infinitely, curious creatures.
Whether it's because they want to know about the contents or they just want to curl up and hide inside, babies and pets are inherently drawn towards closed spaces. However, it's not possible to constantly supervise them to make sure they don't get into cupboards and closets you don't want them to.
With the best magnetic cabinet locks, though, this problem goes away. Not only does a magnetic lock keep your cabinet doors securely closed, but they also can't be unlocked without a corresponding key.
In a hurry? Here's a quick list of Top Magnetic Cabinet Locks in 2022
Top 7 Best Magnetic Cabinet Locks Reviews 2022
Without further ado, we now present to you our top picks in magnetic cabinet locks. We have a lot of great ones here, so let's hope you'll find the one you need!
1. Safety First Adhesive Magnetic Child Safety Lock System
Highlighted Features
Enjoy tool-free installation; just peel and stick
Included yellow plastic templates help ensure proper alignment during installation
Installs discreetly inside your cabinet door
Can be disengaged with just the touch of a button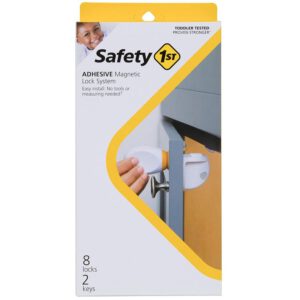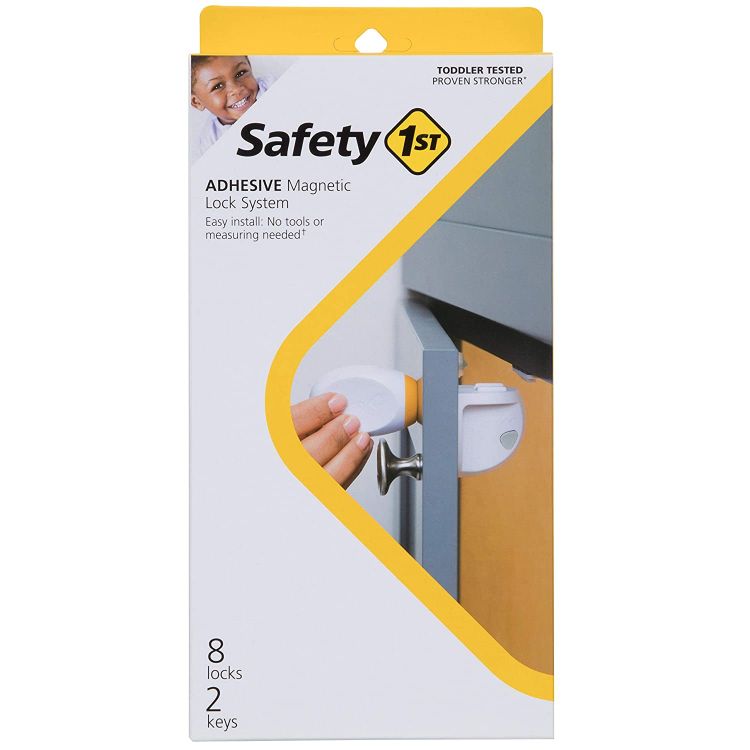 Our first pick is one of the most highly rated cabinet locks that we have come across during our research. It's a set consisting of 8 locks, and also comes with 2 keys. So, let's find out what makes it so amazing.
Like all the best magnetic cabinet child locks, the installation of this one is not only discreet but invisible, as the set-up is done inside the cabinet door. In fact, each lock comes with a plastic template that will help you to ensure a perfect installation every time.
Now for our favorite feature of this lock: it's highly functional. When not in use, each lock can be disengaged by pushing the button. So if the kids are staying with a relative for the night of a party, you won't have to deal with the child lock.
When it's activated, though, you'll know; that's thanks to the SecureTech locking indicator integrated into the design. These little conveniences definitely go a long way in enhancing your experience of using the lock. Yes, this set is definitely less affordable than others on the market, but we think it's worth every penny.
2. Eco-Baby Magnetic Cabinet Locks – Child Safety for Drawers and Cabinets
Highlighted Features
Extra-strength magnets stand up to the most persistent of babies
Easy-breezy installation using adhesive tape
The purchase comes with installation templates and a tutorial video
Enable or disable the lock using convenient on/off switch
Powerful magnetic keys work through up to 2″ door thickness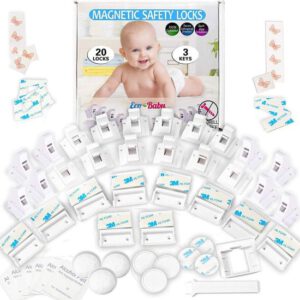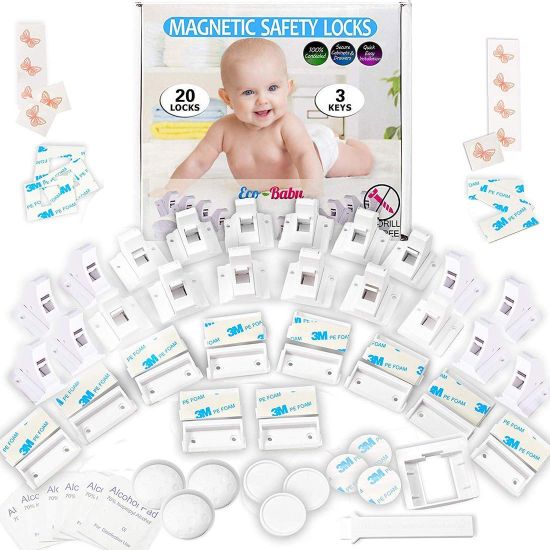 Next up, we have another highly rated set, and not only is this one more affordable, but it's also a bigger set: it comes with 20 of the best child proof cabinet locks, and 3 keys to go with. Here's what this set has to offer.
The tool-free installation stands out as one of the most lucrative things about this set. These locks are installed using adhesives, meaning you won't have to tamper with your cabinet's interiors in order to set them up. What's more, you can install the locks on the top, bottom, or side of the cabinet with no hassle.
Furthermore, each of the locks come with on/off switches that allow you to engage or disengage the lock at will. When engaged, these locks offer great security: with a fortified construction, they ensure your baby won't be able to get into your cupboards.
The best thing about these locks is that you can install them practically anywhere, too: you're not limited to your kitchen cabinetry. Put the locks in your bathroom drawers or cabinets, or even in your home office.
3. Vmaisi 20 Pack Baby Proofing Magnetic Cabinet Locks
Highlighted Features
Offers dual installation options; adhesive and screwed-in
Set of twenty keys with two corresponding keys
Invisible installation keeps the locks out of sight
Extra-strength magnets work with door thicknesses of 0.75 to 2 inches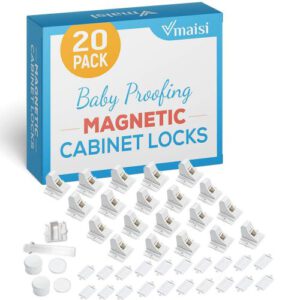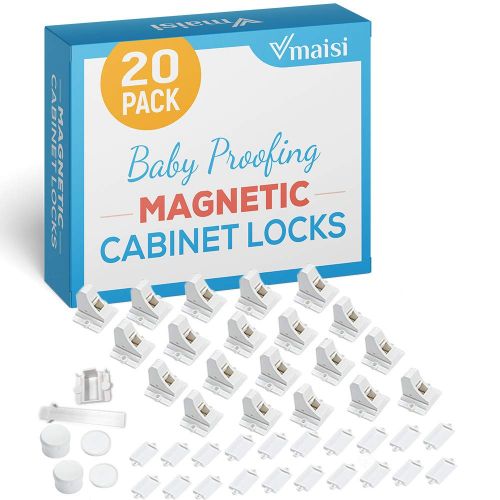 This set from vmaisi consists of 20 high-quality locks and 2 keys. Equipped with extra-strength magnets and installed using 3M adhesive tape, the locks are some of the most straightforward, easy-to-use magnetic locks that we have found.
With these locks, you can secure and conceal the contents of any cabinet or drawer in your kitchen, bathroom, bedroom, or office room. As long as the thickness of the cabinet door does not exceed 2 inches, you'll be good to go!
Installing these things is also super easy and barely takes any time at all. All you have to do is peel and stick the 3M adhesive that comes with each lock, and it'll stay securely in place. Should you desire a stronger and more permanent fit, you also have the option of using stainless steel screws to drill the locks in.
And unlocking is just as easy; when you need to access the contents of your cupboard, just use one of the 2 included magnetic keys to release the lock. So wherever you want to install these locks, they promise to keep your stuff safe from your curious pets and kids.
4. Skyla Homes 12 Pack Baby Proofing & Child Safety Magnetic Cabinet Locks
Highlighted Features
Installs using powerful and highly durable 3M adhesive
Each key is capable of withstanding up to 65 pounds of pull force
Can be turned on or off according to your needs
Unique design with a focus on simple accessibility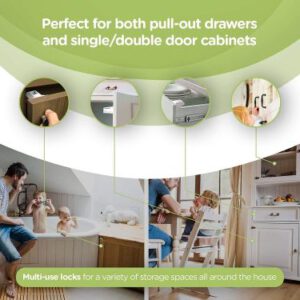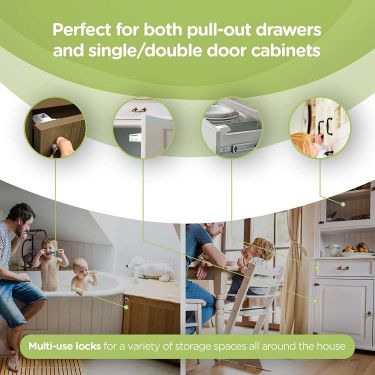 You might, quite understandably, be led to believe that the best baby proof cabinet locks only come at high prices. This 12-pack set from Skyla Homes comes sailing gloriously in to prove you wrong at that. Here's why we think so.
What makes this set of locks stand out is undoubtedly its advanced locking system. The manufacturers have taken into consideration the fact that magnetic locks can be difficult to maneuver for even some adults, and come up with a better design as a consequence.
Constructed from durable and robust ABS plastic, each lock has 3 parts: the lock, the catcher, and the aim sticker. These components work together to allow you to keep your things safe and untouched by your kids and pets and boast a pull-force threshold of 65 pounds.
Installation is a matter of minutes and does not require any tools. Instead, each key has an accompanying 3M adhesive strip which must be unpeeled and stuck to allow the lock to stay firmly in place for many decades (if need be).
On the hunt for the baby proof cabinet locks at an affordable price, then we dare say you need to look nowhere else apart from this set from Skyla. However, if you need a bigger number of locks, there are more affordable options available.
5. Norjews Child Safety Magnetic Cabinet Locks – No Tools Required
Highlighted Features
Included installation cradle allows you to install easily without multiple tries
Adhesive tape installation ensures the locks won't be an eyesore
Compatible with drilled installation as well
The set consists of 20 locks and 3 keys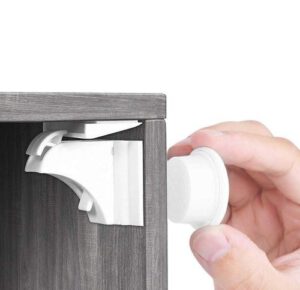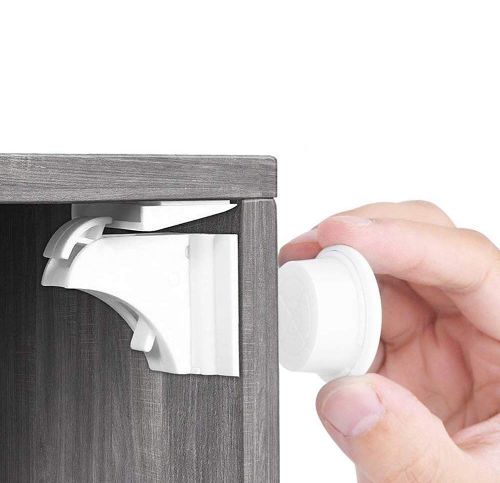 From Norjews comes our next pick, a set of 20 magnetic locks with 3 corresponding keys. With a simple design and easy installation, these keys are a great one-stop solution for new parents wanting to baby-proof their home.
Installation is made super easy thanks to the included installation cradle, which ensures that you won't mess it up on your first try. And of course, installation is tool-free, so you won't have to deface your cabinetry to get these things on.
On that note, we do wish that the accompanying adhesive with these locks were stronger; it does not seem that it can last for a long time. You do have to consider, however, the overall low price of the set, which still makes it quite a steal.
However, it's worth noting that the magnets on these locks seem to be a little weaker in comparison to others we've reviewed today. If your cabinet doors are thicker than 1.2″, we would recommend going for a slightly more expensive set.
6. MQP Baby Proofing Invisible Magnetic Cabinet Door & Drawer Locks for Kids & Toddlers
Highlighted Features
Built from durable plastic meant to see you through years of use
Tool-free installation using powerful and long-lasting 3M adhesive
The lock can be switched on/off according to needs
A large set including other baby-proofing items such as table corner and socket protectors
Comes with a detailed, user-friendly installation guide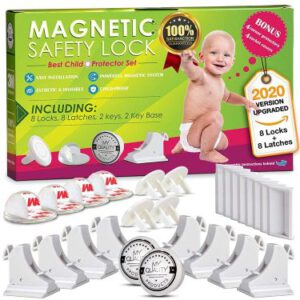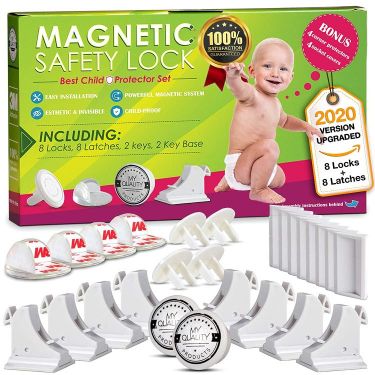 While we're on the subject of the best child proof drawer locks on a budget, it wouldn't make sense for us to skip out on this 8-lock set from MyQualityProducts. Each of the locks is built from sturdy, durable plastic, and comes with 2 corresponding keys.
Setting up these magnetic locks does not require any tools; all you have to do is unpeel and stick the included 3M adhesive, which is known for its dependable durability and strength.
And integrating convenience seems to have been a priority for the manufacturers of these locks; they come with a lock that allows you to disengage the lock when your kids aren't around.
With this set, you're also getting much more than just the locks and their keys: you'll also receive four table corner protectors and socket covers. Looks like these guys are really taking their babyproofing mission seriously!
7. Vkania 12 Pack Child Safety Baby Proofing Cabinet Locks Latches
Highlighted Features
Tool-free installation does not require screws or hardware
Included powerful 3M adhesive can withstand up to 25 kgs
Can be installed using screws for a more permanent fit
Compatible with most kinds of drawers, cupboards, cabinets
Spring release mechanism does not require the key to be unlocked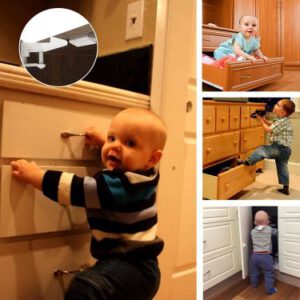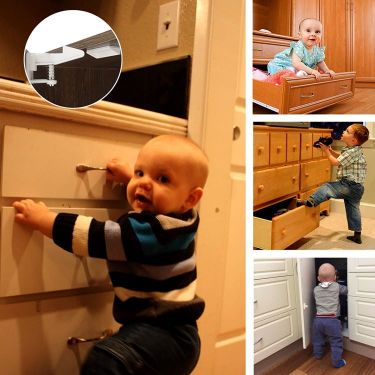 Our final pick for you today comes from Vkania and it's the best child safety locks, it stands out from all the others in that it's not exactly a magnetic lock but a spring-activated one. But don't let its old-school design dissuade you, because it definitely has its benefits.
So here's how the spring mechanism works. After you've installed the catch on the edge of the cupboard door, the latch must be stuck adjacent to the catch. The latch must be engaged or released to enable/disable the lock.
Because it's not a magnetic lock, you may think that installation would require tools. Far from it! Just like the majority of the locks we have reviewed today, this one also comes with adhesive strips that must be attached to the cabinet's interior–but that's it.
Now, while these locks are easy to install and offer simple workability, concerns do exist in regard to their durability. It seems that a persistent child might be able to disengage the lock with some work, so these are ultimately better suited to pet-proofing needs.
Things To Consider Before Buying the Best Magnetic Cabinet Locks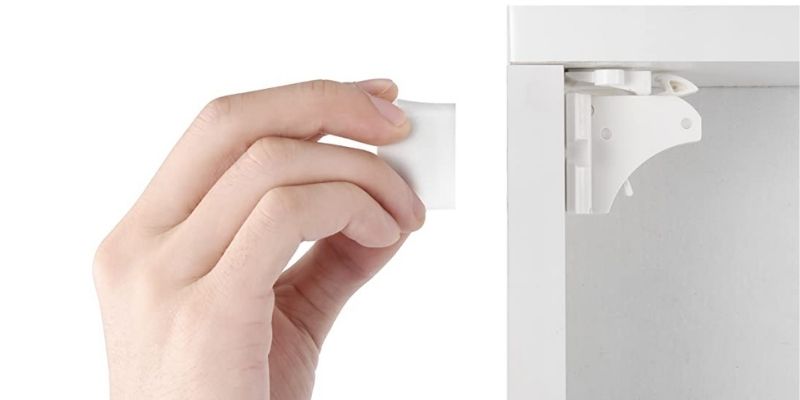 When it comes to magnetic locks, you have a lot of different options to choose from. Keeping the following factors in mind will make your choice easier.
Cabinet Door
The first factor you must consider is the layout of the cabinets inside which you will be installing your magnetic locks. The majority of locks come in shape like a horseshoe, which are only compatible with proximately placed closed-loop cabinet handles. If your cabinet does not match this description, then you're going to have to find a different style of lock.
Installation
Magnetic cabinet locks are typically installed in the interior of the cabinet, meaning they are hidden from external view. Thankfully, they can usually be installed at the top, bottom, or side of the cabinet door.
Now, you'll have to decide whether you're okay with hardware installation, as some magnetic locks do require drilling in order to be installed. If you're living rental, then you will probably have to get permission to do this.
Alternatively, you can opt for a magnetic lock that uses adhesive tape to be installed. These are much simpler, of course, and removal usually does not leave a residue. However, adhesive-based magnetic locks are less durable and less able to stand up to force.
The best option, though, in our opinion, is to go for locks that are enabled for the installation of both types: not only adhesive but also hardware installation.
Magnet Strength
This might seem like a no-brainer, but it's good to prioritize magnetic locks with actually strong magnets. Especially if your cabinetry has thick or heavy workmanship, the strength of the magnet can make or break the lock's performance. Besides, the stronger it is, the later you'll have to replace it.
Versatility
Some locks are made such that they can be used not only on cabinet doors but also on drawers. If you're baby-proofing your house for the first time, it's worth investing in locks that are able to do this since you never know what new thing you have to lock up!
You May Also Love to Read:
FAQs About Magnetic Cabinet Locks
1. How do magnetic cabinet locks work?
A corresponding latch in the cabinet's interior keeps the cabinet shut. A magnetic "key" is used to release the lock.
2. How can I install a magnetic cabinet lock?
It's a long process, so instead of telling you, we'll let watch the below video show you.
3. Does installing magnetic cabinet locks require hardware or tools?
Some do, yes. Otherwise, they might require adhesive tape for installation. The latter kind is usually less durable, though.
4. How many magnetic cabinet locks should I buy?
Babies and pets are unpredictable, so we would recommend buying as many as it takes to cover not only your kitchen but also your bathroom.
5. What do I do if I lose my magnetic key?
Ans: The easiest solution is to buy a replacement. If that's not an option, try fridge magnets.
6. How do I remove residue from adhesive after uninstalling my magnetic lock?
Use a mild to medium-strength solvent. As long as the solution has a little bit of alcohol inside it, that should be good enough.
7. What is the most affordable magnetic cabinet lock?
Out of all our picks, this 12-piece set from Skyla is undoubtedly of the best quality at a reasonable price.
Conclusion
When it comes to the best magnetic cabinet locks, which ultimately makes them worthy is, in our opinion, dependable durability. And remember, if you're going for tool-free installation, we would recommend using only the strongest adhesives (such as 3M).
We hope you succeed grandly in your baby- or pet-proofing endeavors. Good luck!