Security spotlights are increasingly becoming popular in the US and around the globe. The addition of stunning motion-detecting sensors has taken the technology to the next level. It's not that the technology is new, but the combination of multiple features in a single product makes it what is called a versatile security spotlight.
Since countless options are available online as well as offline, it's often hard for the customers to choose the best among them. This can be settled if you know what exactly the brand is offering at a reasonable price.
Likewise, today, I am going to review the Guardian Torch security spotlight so that you can decide whether or not it is suitable for you.
Guardian Torch Security Lights Motion Outdoor Spotlight Review 2023
Key Features
120° Motion Sensors
Solar-Powered Light
Ultra-bright LED Lights
Automatic Dusk to Dawn Activation
Waterproof Housing
Easy Installation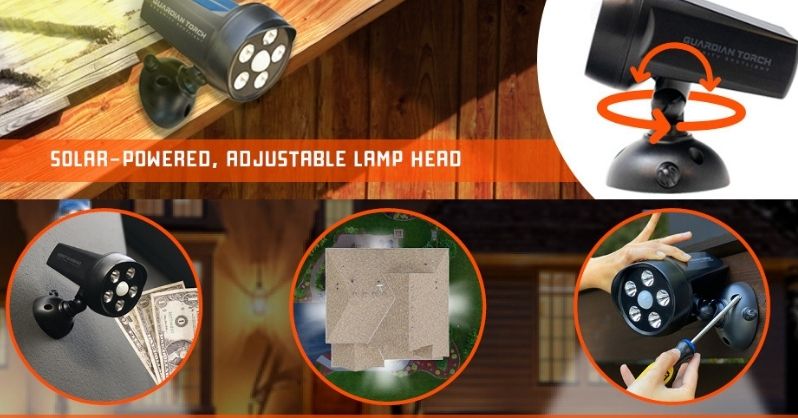 Guardian Torch security spotlight comes with some stunning features that will blow your mind. But it also has some limitations that are worth discussing so that you can be aware of them too. Here are some of the highlighted features of this spotlight.
120° Motion Sensors
Imagine, somebody has entered the premises of your house and nobody can see him/or her because of the lack of light there. A guardian Torch security spotlight would help you evade this sort of situation with built-in motion sensors.
Yes, motion sensors in the Guardian Torch security spotlight can detect a person or vehicle entering the premises and 5 flashlights will be turned on right away. This will allow you to see who is coming in and what exactly is happening on the premises. In fact, the sensor can detect a person, animal, or vehicle from 25-30 feet away and it covers a 120° area in front of the device.
This feature could alone make it one of the best outdoor security lights, although Guardian Torch has many more to offer.
Solar Powered Security Spotlight
Guardian Torch security spotlight is run with lithium-ion batteries that are charged during the day by receiving and reserving solar energy, and when the sun sets, the device automatically takes the job of motion detecting and lighting up the premises in response to every motion.
Purchasing the best solar-powered security light saves your money and effort in many ways: you don't need to buy batteries every month or pay extra in electricity bills and you don't even need a professional electrician to install the spotlight.
Instead of paying extra money, why not use natural energy sources to light up your premises? So convenient and so economical!
Ultra-bright LED Lights
The most important part of a spotlight device is nothing other than its lights. Whenever you buy a spotlight, check out how much light output it offers and what types of bulbs it uses.
As for Guardian Torch security spotlight, it has 5 LED lights with 200 lumens of light output combined. These ultra-bright LED lights can easily light up your premises and allow you to see who is there. The white shade feature is also a good thing because you want the front of your house to be as bright as possible.
Automatic Dusk to Dawn Activation
Since it is run by solar energy, the guardian torch security spotlight saves up energy during the day and uses the energy at night. It makes perfect sense as you don't need a spotlight as long as the sun is there to light up your premises.
What is more interesting is that the device automatically maintains a dusk-to-dawn cycle and vice-versa!
As a result, economical use of energy can be ensured with this device. Plus, when the energy is really needed, you will have a load of it at your service. That's how advanced technology can saves up energy in favor of the consumers as well as the planet.
Waterproof Housing
Regular outdoor spotlights have a common problem: they don't have waterproof housing. As a result, there is a chance of damage if the spotlight is exposed to water. The consequence may be worse when it rains.
However, this won't be a problem if you buy a Guardian Torch outdoor spotlight. It is indeed one of the best water-resistant security lights. It comes with waterproof housing which provides optimum protection when it rains outside.
Easy Installation
Although I have briefly mentioned it earlier, this feature is worth mentioning separately. Because many motion sensor security lights are not so easy to install as they require extra wiring in some models. But the case is different when it comes to the Guardian Torch security spotlight. This is absolutely easy to install and no professional hands are needed at the time of installation.
You can install it yourself with the help of a manual. But remember, you have to position it at a place where it can receive sunlight.
Things to Consider Before Buying the Best Outdoor Spotlight
Although I have described the key features of Guardian Torch security light, you shouldn't rush to buy one before considering the following:
Is it convenient for you?
Are you on budget?
Here, I am elaborating on these matters as well as other issues so that you can be sure whether or not you should buy one. By the way, this is a general buying guide you can follow, no matter which brand you are preferring.
Bulb Type and Light output
Three are different types of bulbs, but LEDs are the most reliable type nowadays. The reason is they are the brightest type of bulbs available on the market. If you buy an outdoor security light, make sure it has LED lights rather than halogen or incandescent bulbs.
Secondly, make sure the device offers a sufficient amount of light output which is enough to light up your premises. By the way, the Guardian Torch comes with 200 lumens of light output at once, meeting the demand of many people.
Do the Motion Sensors Really Work?
If you are shopping offline, you can check everything you want to. But when you are shopping online, you have to rely on the reviews of people who bought it before you.
In both cases, make sure the motion sensors really work at a wide range. 120° degrees of the area in front of the device should come under the sensors' detection ability. Also, check how far the sensors can detect a motion.
Convenience
No matter which spotlight you buy, you want it to be very convenient. Spotlights that run by solar energy are among the most convenient ones; they automatically recharge themselves and when the sun sets, they start working on their own. See if the settings are easily adjustable.
Simple to Install
The installation process can be tricky if you need extra wiring. But with the right tool and guidelines, you can install a spotlight on your own. Solar-powered spotlights are easier to install than those that are run by electricity. For urban areas, any solar-powered one is considered the best outdoor floodlight.
But if you prefer electricity-powered spotlights over solar-powered ones for more light output, that won't be a bad idea too. Then, however, you have to comprise convenience as well as an easy installation process.
Price
If you are on a budget, check if the spotlight comes at an affordable price. But remember, the cheapest ones are not always the best choice for you. So, when you choose one, choose wisely. Never fall for the inconceivable ads that appear on the internet.
Related Guide: How to Choose the Best Torch Light for Security Guard
Final Verdict
Given that there are other brands that have this type of spotlights, you can compare one with the other considering the points I have mentioned in the buying guide.
The best motion sensor security lights such as the Guardian Torch security spotlight offer quality and convenience at a reasonable price. Consider every aspect of these products before opting for one.