A few things that definitely need extra security in space are desk drawers and cabinets. The latter one can be seen in a lot of space though. Some have one in their garage for holding stuff while most prefer such securing thought when it's inside their home or office.
Holding your important property documents, cash, and whatnot, those thoughts are quite obvious to come in one's head. And the simplest and most common solution is installing cabinet locks.
If you're wondering how to install cabinet locks and what are the many options available, then today's piece of writing will interest you a lot. Keep on Reading…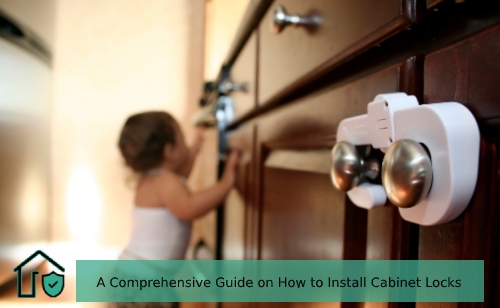 Common Types to How to Install Cabinet Locks – Let's Discuss in Details
Sometimes you are not actually worrying about locking the cabinets for theft fear but because there's a chaotic baby at home. Of course, the chaos is what keeps the house lively, but not when the little one gets access to one of your cabinets. A place where your prized possessions are residing.
Babies are known for chirping, tearing, and destroying things. And that could also be a good reason for you to think about how to install cabinet locks for babies. This makes us come up to the point that, there are different purposes for installing a lock for a cabinet. And from that perspective, it only makes sense to know about a few common types to decide which one will work best with your purpose. Keep on Reading…
A Bit About the Types
Let's imagine a school where the staff keeps medical supplies for emergencies. Using a cabinet to keep those stored isn't very uncommon. However, since these are medicines, kids can make a wrong decision, and adults need to be wary about that.
So, a type that provides enough security to stop such happenings is what the situation would demand. But then again, we are talking about medicines, something that could be needed for quick access. The best locks for such cases are keyless ones.
For an office that needs to keep files secure or a cabinet at home where you keep your private diary and other stuff, go for a more practical cylinder lock. Some may think of getting padlocks, but the design might not be very attractive to look at. Also, sometimes padlock is a reason for damage to certain cabinet types.
Also, if you are not sure if these locks being safe enough for babies, there's a piece of information for you. You can opt for a magnetic cabinet lock for babies that are highly durable. There are even models holding doors wholly closed.
So, babies don't get their fingers pinched accidentally. The advanced versions are even capable of disabling automatically, which means they can remain open for a pretty long while. Of course, consider knowing about how to install child safety cabinet locks like these before buying one. Contacting a professional locksmith can also be a safe route to take if you can.
The Installation Process
And now let's cover the actual process of installing these cabinet locks. Not very difficult but definitely needs your careful focusing. If you own a pretty high-end cabinet, the concentration needs to be even serious.
First of all, you should take everything out of the cabinet's drawers. Having contents inside will make the process tiring and time-consuming without any benefit. Also, you can hurt one of your belongings that stays inside the cabinet drawer. So, it's best to get things out before trying anything at all.
Now start taking some measurements. You should start from the drawer's center that is along with top edge. Make a mark right here. Then decide where the lock's center is going to be located and mark it too. When you are taking such measurements, making sure the lock bolt is capable enough to an extent surpassing drawer's top edge is very important. It also needs to grab the upper edge. This area is usually on the surrounding and faces cabinet.
There must be a circumference of the shaft that matches with lock. You need to create a hole here. Simply use an expanding drill bit. Also, you can try a keyhole saw. The interior edges of hole must be very uneven and rough. This won't look good and can cause unwanted results. So, bring sandpaper at this point and start sanding.
Now focus on the lock shaft's back area. You need to detach the O-ring and lock bolt. From front perspective, insert the lock into hole. The key slot needs to be positioning vertically here. Time to change O-ring. Use your hand and firmly grab the lock's front area. Against the drawer's backside, you need to press O-ring at this point. Then bring some set screws to use through O-ring's holes. And this will secure the lock in place. You need to change the lock bolt and installation is done.
Something to Mind When Installing Locks
There are cabinets that come with quite poor materials. Such as particleboard, which is made from lots of little wood bits glued and pressed together. When you try to drill holes in such material, there's a good chance it won't be able to hold things well. The risk becomes even severe when you are trying to make holes in a nearby edge.
One good idea here could be using some painter's tape. These are great at avoiding any chipping issues. Before drilling, simply place some tape over the spot where you'll be drilling those holes. If you are installing Camlock-style locks, then a tiny metal good ring should catch attention. These are there to create a quarter-inch metal ring close by to lock. And so, the chipping can be hidden just like that.
You should also pay attention to specific areas of the partial board. There are thin coverage areas that may crumble, crack, and even break after a while. Anything that is thinner than a half-inch should be considered pretty weak to support such lock ideas on it. the ones that come with lamination on all sides are a bit better, but still risky. So be aware of that.
Related Guide You May Also Love to Read:
Wrap Up
We have gone through the whole process of how to install cabinet locks. Now it's okay for you to proceed with the installation. The instruction coming along with the lock is also something important to check. Don't be unaware of those important notes that manufacturers might have included for you to avoid any damage to your lock. Or else you work on installation with a risk of causing a problem to the lock unknowingly.