Outdoor PTZ security cameras are a valuable addition to any security system. They offer superior surveillance capabilities and can be used to keep an eye on large areas such as parking lots, campuses, or industrial facilities.
In this article, we will take a look at some of the best outdoor PTZ security cameras on the market today. We will also discuss their features and benefits so that you can decide which one is right for your needs.
Overview of the 8 Best PTZ Surveillance Cameras
Best Outdoor PTZ Dome Camera: SUNBA Outdoor PTZ Dome Camera
25X Optical Zoom, 1000ft night vision, compatible with IOS and Android, Dome design, 2-way audio, fast pan, till & zoom, Easy to set up, Sturdy build quality, crisp picture quality.
Best Solar Powered Outdoor Security Camera: BOIFUN Solar Powered Ptz Security Camera
Hassle-free installation, top-notch solar panel for fast charging, 15000mAh battery, HD image, fully waterproof, 65ft Night Vision, multi-user viewing support, PIR detection sensors, two-audio system.
Best Night Vision Security Camera: ieGeek Outdoor PTZ Security Camera
Rechargeable battery, PIR detection, both SD card & cloud storage system, fully wireless, 49ft night vision, 2-way communication system available,4 infrared LED,5000mAh battery, Easy to mount.
Best Outdoor Ptz Poe Camera: Jidetech Outdoor Ptz Poe Camera
5X Optical Zoom, IP66 waterproof, Auto-tracking, quick pan and tilt, precise human detection technology, Easy to control, stunning picture quality, 2-way audio, Anti-noise technology, bigger in size.
Best Floodlight Security Camera: Enster PTZ IP Dome Camera
5g WiFi support, 1080P image quality, 4X Zoom, Fast pan, tilt, & zoom, metal construction, 150FT Colored Night Vision, Accurate AI Human Detection, two-way Audio and speaker system, IP66.
Best High Resolution Night Vision Security Camera: SV3C Wireless Security Camera
Robust build quality, long-range antenna, 5x zoom, 197ft night vision, True 1080p picture quality, IP66 Waterproof, well-built, anti-noise technology, easy to install, quick Real-time Alert.
Best Auto Tracking Ptz Camera: Ctronics Outdoor Ptz Wifi Camera
5 Infrared lights,4 spotlights,5X optical zoom, powerful wifi signal, supports smartphones, tablets, & PC, easy to use and install, accurate motion detection, auto-tracking, 98ft colored night vision
Best 4k Ptz Security Camera: Reolink 4k Ptz Outdoor Camera
4k Ultra HD image, 5x optical zoom, smart detection technology, auto-tracking feature, flexible recording options, time-lapse, multiple alarm methods, 2-way audio, Robust build quality, easy to set up and mount.
What is PTZ Camera?
PTZ stands for Pan-Tilt-Zoom. PTZ cameras are a type of security camera that can be remotely controlled to pan (move side-to-side), tilt (move up and down), and zoom in and out. They are often used for home security, as they can provide a wide view of an area, as well as the ability to zoom in on specific areas for further inspection.
PTZ cameras are also commonly used outdoors, as they can be mounted to a pole or wall to get a good view of an area. They can also be weatherproof so that they can withstand bad weather conditions.
Now, let's dive straight into the in-depth review of each PTZ security camera accordingly.
Top 8 Best Outdoor PTZ Security Cameras Reviews in 2023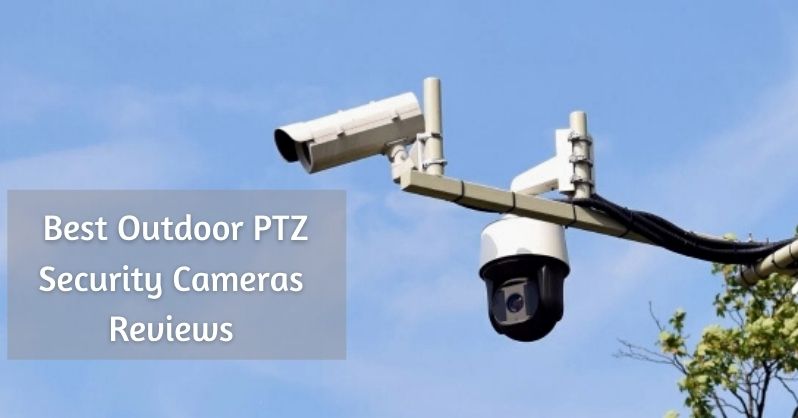 The objective of this review is to provide you with a detailed analysis of 8 different outdoor PTZ camera models, so you can decide which one fits your needs. So, if you're curious to know more about PTZ security cameras or are simply looking for a good comparison, then keep reading!
1. SUNBA Outdoor PTZ Dome Camera With Two-Way Audio
Highlighted Features
25x high zoom magnification with 360 continuous rotation
Excellent image quality with up to 1000ft infrared night vision
Top-class built quality ensures long-lasting performance with no rust issue
Both IOS and Android apps are supported for easier setup and viewing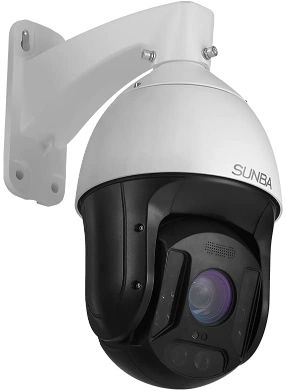 Introducing the best outdoor PTZ dome camera of 2023 and it's from SUNBA. This Outdoor PTZ dome security camera is perfect for professionals who need a reliable security solution that can handle extreme weather conditions.
That's right, this high-quality waterproof casing and the -4~140-degree F operating temperature will make sure your camera remains operational no matter what weather conditions it faces.
Moreover, it features a 25X optical zoom and 5MP resolution, making it ideal for capturing high-quality images from a distance. Also, this security device can capture every detail from long distances. As a result, you will get a clear view of your surroundings, day or night.
Talking about night surveillance, this SUNBA PTZ Dome camera is equipped with Infrared night vision up to 1000ft. So, it will provide clear footage even in low light conditions. Furthermore, the device also has two-way audio (microphone and speaker) capability, so you can communicate with individuals or Animals on the other side of the lens.
With 15 degrees upward, 360 degrees rotation, and 90 degrees tilt, this camera can capture any angle you need. Additionally, it supports many third-party apps and is easy to configure for Android and iOS devices.
Overall, the video is crisp, clear, and bright, making it perfect for monitoring your property or business. So, you will really enjoy its service.
2. BOIFUN Solar Powered Outdoor 360 Wireless PTZ Security Camera
Highlighted Features
Simple instructions make it easy to set up
Cloudedge app Incorporates nicely with the outdoor security camera
Smooth 2-way intercom
Amazing picture quality with crisp color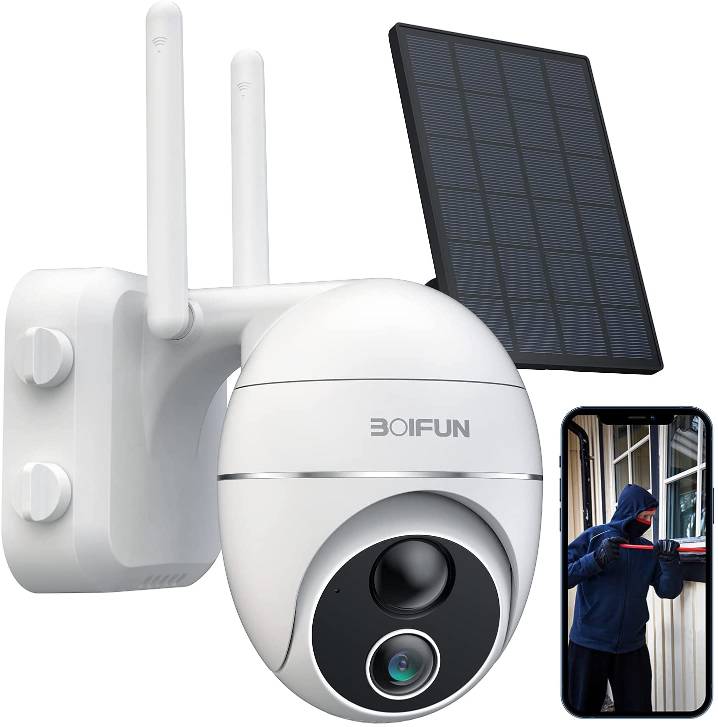 Looking for a powerful and easy-to-install outdoor security camera that is also powered by solar energy? Let me introduce you to the best solar-powered outdoor security camera of recent times. This BOIFUN solar-powered surveillance camera is perfect for keeping an eye on your property, day or night.
The camera features a wireless WiFi connection, 15000mAh battery, and high-quality solar power capabilities, so you can place it wherever you need surveillance, without having to worry about power cords or Ethernet cables.
Additionally, it features a 4x zoom lens and rotates up to 355-degree horizontally and 120-degree vertically, so you can get a clear view of even the most difficult-to-reach areas. The multi-user viewing facilities make it further user-friendly. Plus, real-time alerts and two-way audio let you keep in touch with what's happening on your property at all times.
In addition to that, this amazing camera is equipped with an upgraded Al algorithm and PIR sensor, which helps to reduce false alarms. You'll always have clear, detailed images of your property thanks to its 1080P resolution. The solar-powered security camera can automatically switch to night vision if there is insufficient light for standard filming.
From the mounting bracket to the solar panel, everything is included in the package to allow for easy setup and placement. You can even use your smartphone to download video clips and pictures. It works on both IOS and Android devices.
3. ieGeek Wireless WiFi 360° Outdoor PTZ Home Surveillance Security Camera
Highlighted Features
49 ft night vision with 1080p picture quality
Long battery life with the solar power system
Excellent for people who want an affordable option without compromising quality
Easy to set up and use using smartphones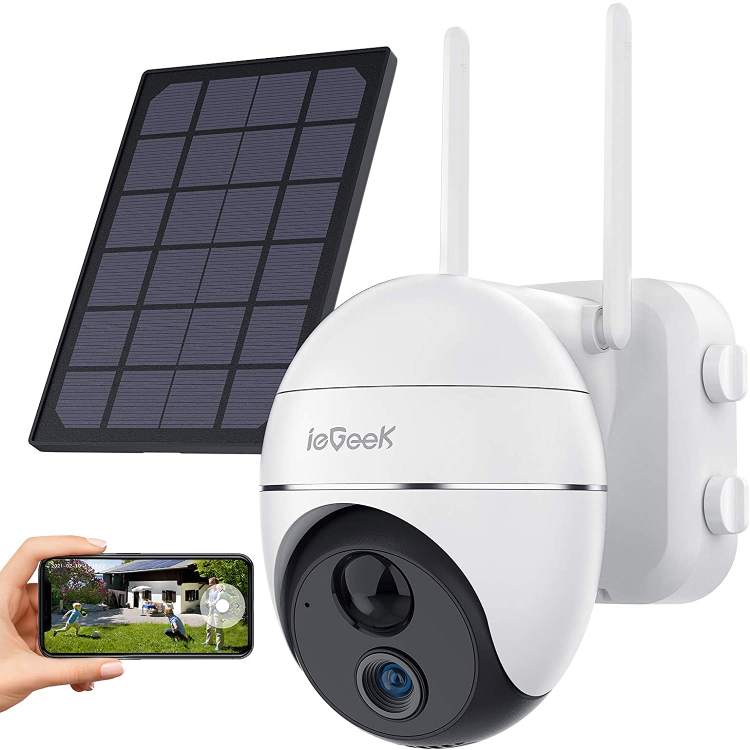 The ieGeek Outdoor PTZ Security Camera is perfect for anyone looking for a reliable security solution with powerful 1080P night vision (49 ft) capabilities. In fact, it is one of the best night vision security cameras with cloud and local storage.
Featuring top-of-the-line motion detection with 10-level detection sensibility, a 1/3 CMOS color sensor, and pan and tilt capabilities with 360-degree coverage, the CCTV camera offers a clear view from every angle. Furthermore, you will never have to worry about power problems again since this unit has a solar-powered 15000mAh battery.
Moreover, the camera is robustly constructed, comes with all the necessary hardware, and has dual 4dbi antennas for superior network reception. And if that wasn't enough, it also provides two-way audio, enabling you to talk to anyone on your property from anywhere in the world.
It is easy to install and configure and offers great image quality when the sun is shining and when it is not. Besides, its rugged design allows it to withstand even the most severe weather conditions.
Like most other outdoor security cameras on the list, it can be accessed using the CloudEdge app and you won't find any issue connecting the device with both IOS and Android smartphones and tabs.
All in all, this surveillance camera can keep an eye on your stuff pretty well.
4. JideTech 5MP Outdoor PTZ POE Camera with 5X Optical Zoom
Highlighted Features
A commercial-quality security camera at an affordable price
With a heavy aluminum body, the device will be quite durable
An easy-to-follow instruction manual is included with this IP camera
Auto-focus maintains the image clarity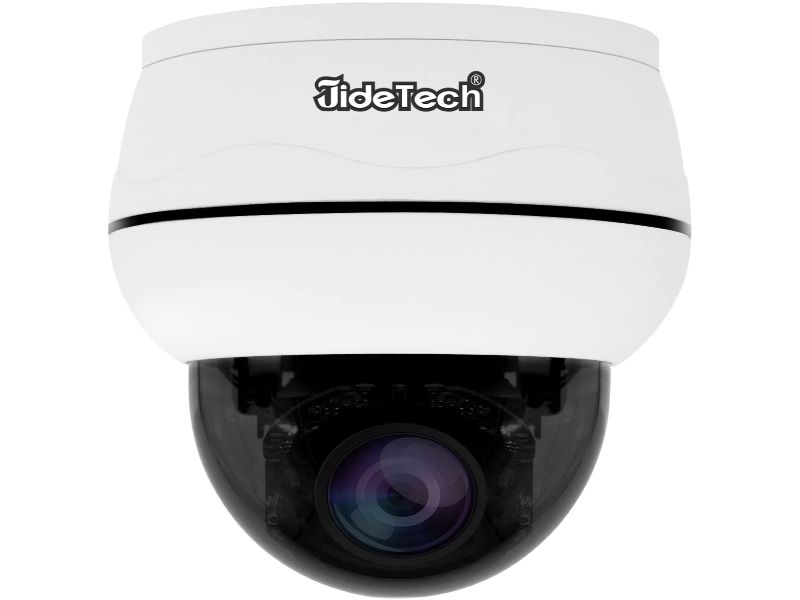 Trying to find the best outdoor POE PTZ camera? Look no further than JideTech! This surveillance camera is packed with some outstanding features that are sure to meet your needs, including auto-tracking, human detection, and a useful reset button.
Additionally, it has one of the fastest pan and tilt speeds in the security camera industry. And if that's not enough, the 5X optical zoom of this camera will give you amazing detail from far away.
Its friendly interface makes it easy to use, while the IP66 waterproof rating and an operating temperature of -10℃~50℃ (14℉~122℉) ensure that it can withstand harsh weather conditions. Plus, this device is easy to use with third-party software like iSpy and Milestone. Thanks to its 128GB of storage capacity, you can record weeks' worth of footage!
Another exciting thing about this super security camera is that it comes with built-in sirens, alarms, warnings, and even a custom sound to alert intruders to a possible intrusion. Thus, you can rest assured that any potential burglars will think twice before breaking in. And if they do, you'll have 2-way audio with a built-in microphone and speaker to communicate with them directly.
With IR night vision, dome design, and advanced 3D dynamic noise reduction technology, this camera is perfect for any setting – whether you're monitoring your home or business.
5. ENSTER WiFi PTZ IP Dome Camera With Night Vision And Two-Way Audio
Highlighted Features
Heavy-duty metal shell for maximum durability
2.4/5G wifi ensures strong signal and swift transmitting
Full 1080p resolution with night vision up to 150 feet
It is easy to install, even for beginners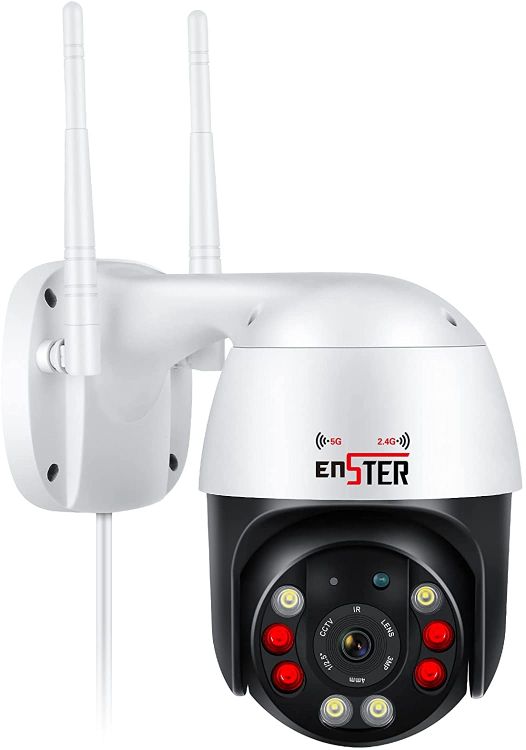 Check latest price
Are you concerned about the security of your home, but don't want to deal with complicated installation and maintenance? Your new best friend in home security is here – the ENSTER PTZ IP Camera.
This powerful IP camera is equipped with 2.4/5ghz WiFi and 4X zoom for capturing everything you need. The 1080P resolution ensures that you can clearly see every detail of the image captured by the camera.
Moreover, the metal speed dome ensures stable performance under all conditions, while the built-in spotlight allows you to clearly see what's happening even in dark environments. And if that's not enough, the 150FT color night vision will keep an eye on things even when it's the darkest outside.
With high-grade AI human detection and 2-way audio, this camera has everything you need to feel safe and secure in your home. You can easily control the CCTV camera using your smartphone and record 24/7 as it comes with 128GB of storage.
Overall, this camera is easy to set up and install and provides excellent picture quality both during the day and at night. Plus, its robust construction with IP66 waterproofing ensures that it can stand up to even the harshest weather conditions. With this best floodlight security camera, any security system becomes more efficient.
6. SV3C Wireless PTZ Outdoor Security Camera
Highlighted Features
Top-notch build quality
Video and sound quality are clear
Super easy to set up and mount
High-quality wireless long-range antenna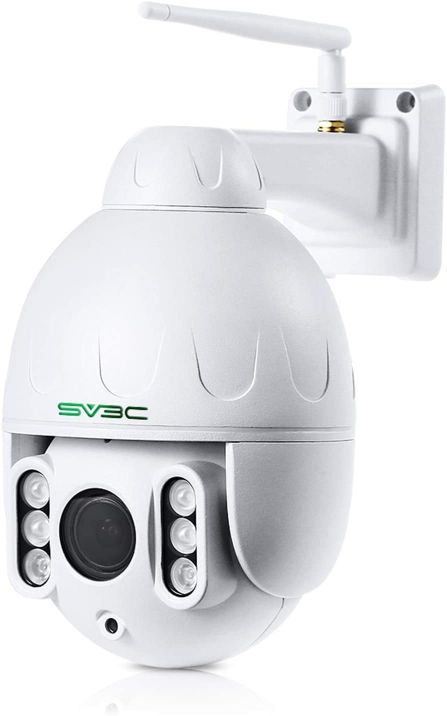 Presenting the SV3C Wireless Outdoor Security Camera. This top-of-the-line device is considered one of the best high-resolution night vision security cameras due to its true HD (1920×1080) picture quality. So, you can be sure you're getting a sharp image every time.
In addition to that, this surveillance camera supports remote rotation control, a 360-degree pan, 120-degree tilt, and 5x optical zoom for a clear view of your surroundings.
Like other first-class PTZ security cameras, this IP camera also comes with a built-in microphone and speaker that provides two-way audio. So, you can fluently listen and talk to whoever is outside your home. And don't worry about seeing in the dark – the camera has 6 powerful IR-LEDs for night vision that can see up to 197 ft away!
Additionally, the high-quality AI human detection feature ensures that no intruder goes undetected, while the IP66 waterproofing allows you to use this camera outdoors in any weather conditions.
Its thick and heavy metal shell also ensures that this SV3C outdoor surveillance camera is built to last. With the simple installation process, you will love this powerful camera.
7. Ctronics Outdoor PTZ Auto Tracking Security Camera 1080P with Spotlight
Highlighted Features
Compatible with smartphones, tablets, and computers
Excellent picture quality
Efficient automatic tracking system
Affordable price tag
Simple installation process with easy setup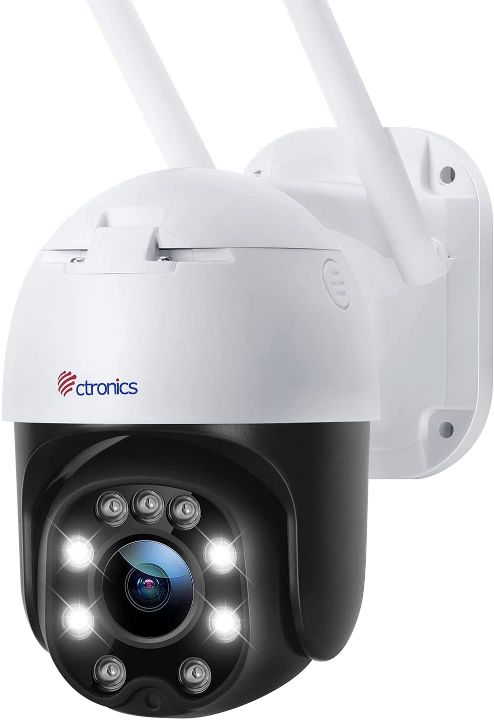 Ctronics Outdoor PTZ WiFi Camera can be your best bet if you are looking for the best auto-tracking PTZ camera. Yes, its high-quality movement detection technology will automatically follow any human movement without any error. Moreover, it will notify you instantly on your phone as soon as someone passes in front of it.
Along with that, this camera's 5X Optical Zoom allows you to see detail from far away even at night-time as it is also equipped with 98ft night vision surveillance. With the 355° Pan and 90°Tilt features, it gives you a wide range of views to ensure top-notch security.
Plus, with the user's ability to remotely control the rotation of the camera, you'll always be in full control. And if that wasn't enough, the Ultra HD picture quality of this outdoor PTZ security camera provides clear and crisp images- perfect for keeping an eye on things in a crowded place.
Moreover, the built-in microphone and speakers allow you to listen and talk to anyone on your property, while the weatherproof metal outer casing protects against the elements. This camera is compatible with NVR systems and can be easily accessed through IOS/Android/Windows devices.
Finally, with 4 built-in spotlights and 5 Infrared lights, you'll be able to see what's going on even in low light conditions. Overall, this Ctronics Outdoor PTZ WiFi Camera gives you the peace of mind that comes with knowing your property is being watched over.
8. REOLINK 4K PTZ Outdoor Camera
Highlighted Features
A real-time alert system with fast pan and tilt
5x optical zoom with colored night vision
Time-lapse video viewing functions
Sharp picture quality with 8mp resolution

Here is the last outdoor PTZ security camera of today's article and this IP camera is amongst the most technologically advanced device that can offer superior surveillance.
That's right! the REOLINK 4K PTZ Outdoor Camera has everything you need to keep your home safe. It's packed with features that make everyday life easier, more entertaining, and more productive. It's the best 4k PTZ security camera for anyone who wants to do more with their security camera.
With its 5X optical zoom, 3pcs spotlights, and color night vision, you can easily keep an eye on your property 24/7. Plus, with its advanced person/vehicle detection technology, you can be sure that no one will get past your security cameras undetected.
Smart Alarm system and up to 20 user access abilities at a time, this REOLINK 4K PTZ Outdoor camera becomes a perfect addition to your home security system. With its 360° pan and 90° tilt capability, you can easily keep an eye on your property from anywhere. And with its two-way talk feature, you can easily communicate with anyone on your property.
This camera can shoot time-lapse videos, has a built-in siren and spotlights that can be triggered, and can hold up to 256GB SD cards to give you the comfort of both worlds.
So, keep your property safe day and night with this REOLINK 4K PTZ Outdoor Camera.
How To Choose The Best Outdoor PTZ Security Camera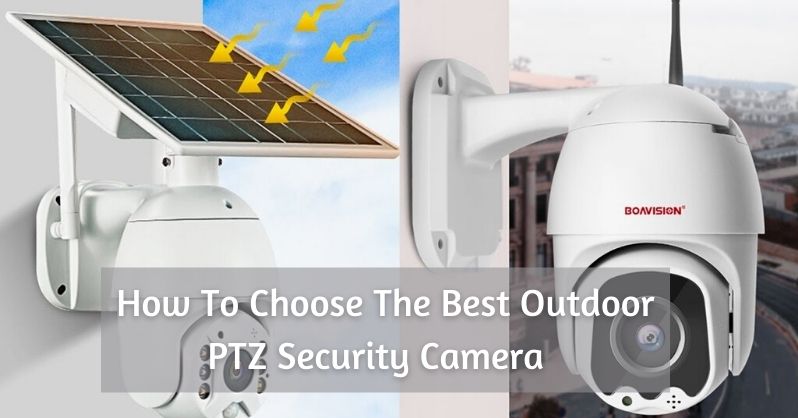 Outdoor PTZ Cameras are designed to seamlessly cover large outdoor areas. The camera may be mounted on a wall or a ceiling, allowing you to see more of your outdoor area from one location. The camera can pan (move horizontally), tilt (move vertically), and zoom in and out to offer top-notch security. Here are some important features that one needs to look for while purchasing an Outdoor PTZ Security camera.
Weatherproofing
This is one of the most important features to look for when buying an outdoor PTZ camera. The camera should be able to withstand extreme heat and cold, wind, rain, snow, and ice in order to remain in good working condition at all times. Though all cameras are weatherproof, many do come with this feature and you need to focus on this because you are going to attach it outdoor.
Resolution
The resolution of the camera is very important because a lower resolution will introduce pixelation and a blurry picture which can affect your security. You need to check that your PTZ Security Camera has at least 2 Megapixels for life-like images. This number will vary depending on where you live, how many cameras you have, and what purpose you want to serve.
Durability
While sitting outside, your IP camera will face many threats, since the outdoors is not a safe place. For this reason, it should be durable enough to withstand all unpredictable situations. If you want to make sure that your device lasts for many years, the best thing you can do is to choose a robust, high-quality device.
Hence, make sure the surveillance camera is made of durable aluminum and has lots of reviews attesting to its durability.
Protection
UV Protection is another important feature you should look for in an outdoor camera. Different types of lenses are used to prevent ultraviolet light damage to the camera image sensor, particularly when operating under intense sunlight. This helps your PTZ security camera perform better, by keeping the images sharp and undistorted.
Smartphone Viewing Ability
This is another important criterion you shouldn't miss as smartphone viewing capability will give you extreme convenience. It makes life easy and you can view your PTZ security camera from anywhere in the world whenever you want.
Mounting
Your outdoor PTZ camera should be versatile enough to position it at any angle you want so that you can get the best out of your footage during the investigation. The more flexible your camera is, the better will be your chances of catching a thief red-handed.
Advanced Functions
Advanced functions like motion detection, auto-alarm, auto-focus, night vision, and scheduled recording come in handy while safeguarding your home or office space against burglars and robbers. These features trigger alerts whenever there is a movement detected in its field of vision and record important videos only when required (scheduled recording).
Lens Size & Distance
The size and the range of your camera lens are yet another key factor that you should consider before buying a PTZ security camera. The larger it is, the wider will be its field of vision and the more area it will cover for surveillance. At the same time, check whether your chosen PTZ security camera offers great zoom-in and zoom-out capabilities with minimal loss of image quality.
Frequently Asked Questions About PTZ Security Cameras
1. Are PTZ cameras worth it?
Ans: There is no one-size-fits-all answer to this question, as the value of PTZ cameras will vary depending on your specific needs and security situation. However, in general, PTZ cameras can be a valuable tool for home and outdoor security, as they provide greater flexibility and coverage than traditional fixed-angle cameras.
For example, PTZ cameras can be used to cover a wider area more efficiently than fixed-angle cameras, and they can also be rotated to follow movement or zoom in on specific areas for greater detail. Additionally, PTZ cameras can be used in both indoor and outdoor settings, making them a versatile option for many different security applications.
2. What is a PoE camera?
Ans: A PoE camera is a security camera that gets power and data through a single Ethernet cable. This is convenient for home and outdoor security because it eliminates the need for a separate power outlet and data cable.
PoE cameras are also often referred to as IP cameras because they use the Internet Protocol to send video footage over a network. PoE cameras can be connected to your home network or office network, and can even be accessed remotely through an app on your smartphone or tablet.
3. How long do PTZ cameras last?
Ans: There is no one definitive answer to this question since camera lifespans can vary greatly based on factors such as manufacturer, features, environment, and usage. However, most PTZ cameras are designed for long-term use and can typically last up to 6-10 years when used outdoors in a security setting.
4. Are PTZ cameras good for live streaming?
Ans: Yes, PTZ cameras are great for live streaming because they offer a wide range of viewing angles. Also, PTZ cameras can be helpful for keeping an eye on entrances and exits, as well as monitoring activities inside and outside the home. Moreover, outdoor PTZ security cameras can help keep an eye on property boundaries, monitor traffic patterns, and deter crime in real time.
5. How much is a standard PTZ outdoor camera?
Outdoor PTZ security cameras are available at a wide range of prices, depending on the features that you desire. A basic, low-end model can be had for around $100 or less, while high-end models with more features can cost up to $500-1,000 or more. However, you can get a decent outdoor PTZ security camera for 150-200 USD.
Final Words
As technology advances, homeowners are increasingly turning to outdoor PTZ security cameras as a way to protect their property. While there are many different types of security cameras on the market, PTZ cameras have become a popular choice because they offer features that other cameras cannot match.
In this blog post, we have provided an overview of some really awesome outdoor PTZ security cameras on the market and reviewed their key features. We hope that these information will help you to choose the best Outdoor PTZ security camera.
At the end of this blog post, we invite you to leave comments and ask questions about any of the products that we have reviewed. We want to ensure that our readers have all the information they need to make an informed purchase.
Related Reviews: