There are many reasons you might want to keep an eye on your home when you are not present. It could be to keep an eye on the babysitter and your baby. Or, you could also want to check up on what your beloved pet has been up to.
Whatever the reason is if you are reluctant to invest in a full home security system, getting small security cameras are your best bet. The best small security camera will provide you with a mix of value, functionality, durability, and video quality.
Finding the best one, however, can prove to be very challenging, particularly because the market is filled with lots of products that fit the category. In this article, we will be helping you with that!
Our Recommended Top 5 Small Security Camera at a Glance
Best Compact: Ring Compact Plug-In HD Indoor Security Camera
Extremely easy set-up, compact & light design, versatile mounting bracket, dedicated comprehensive review service, convenient application.
Best For Outdoor: eufy Security eufyCam Wireless Home Security System
Battery-powered, wide 135-degree view, IP67 weatherproof rating, admirable night view, intelligent detection system, crystal-clear HD live footage
Best Value For Indoors: YI 1080P Wireless Indoor IP Security Cam
24/7 emergency responsive service, motion-detected auto recording, up to 9 camera feeds on one screen, smart crying noise detection, intuitive & user-friendly app.
Best Wireless System: ZEEPORTE Rechargeable Home Security Camera
Great quality wireless connectivity, waterproof & temperature proof, 1080P resolution video, auto adjustment to ambient lighting, smart motion & audio detector.
Best for Smart Home: Wyze Cam v2 1080P Smart Home Camera
Compatible with Alexa & Google Assistant, end-to-end encryption upload, Amazon AWS Cloud, two-way audio, compatible for a smart home ecosystem, supports microSD card, sharable footage with family.
Best Small Home Security Camera Reviews 2023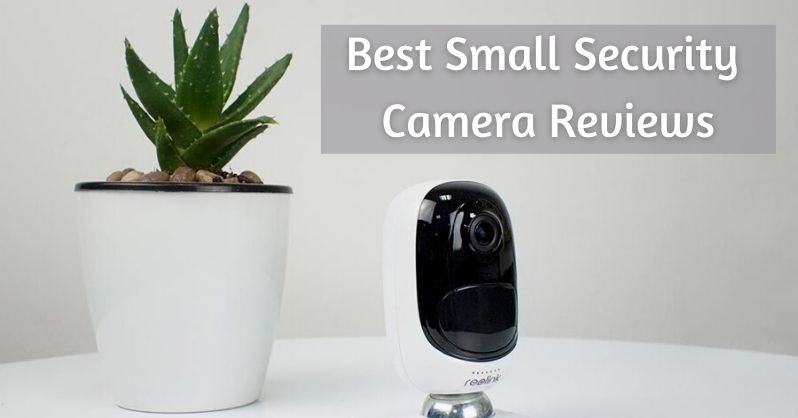 We have researched the market, then bought and tested a lot of security cameras to find the top 5 we want to review. Here goes the list of products and their reviews:
1. Ring Compact Plug-In HD Indoor Security Camera Works with Alexa
Highlighted Features
You can see, listen, and speak using the camera
Ring Protect Plan keeps storage of all videos for up to 60 days
The versatile mounting bracket makes placement easy
Can pair with Alexa and work with it
Dedicated Ring app connects & coordinates multiple Ring cameras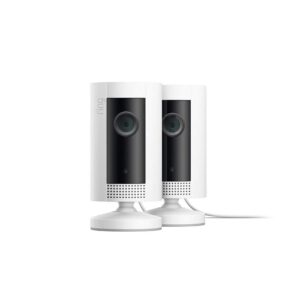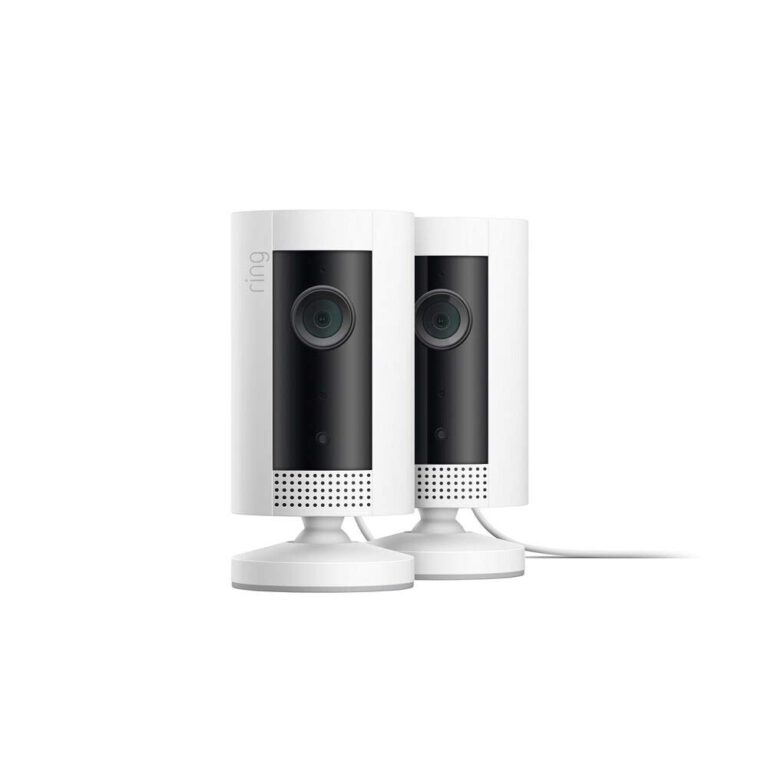 We are starting off our review section with a Ring compact security camera that comes in a set of two. You can also get one of these if you prefer.
First of all, the setup of this camera is as easy as it gets. Gone are the days when the average user had to spend hours trying to figure out the setup of an indoor camera. The setup is as easy as 1, 2, 3.
Just place your Ring camera on a flat wall or surface, plug it in, connect it to WiFi following Ring's instructions, and you are ready to roll!
Another feature Ring's dedicated users love the Ring Protect Plan. It is a comprehensive service offered by Ring that lets the user review everything they have missed. It stores all footage for up to 60 days.
The app is very convenient to use, too. It can connect all Ring cameras that you have set up in your home and coordinate their footage. The footage that we got is pretty sharp and high-quality, so no complaints there.
Through the live view option, you can check up on your home any time you want to. Moreover, you can also listen to sounds in your home and talk through the camera. As a cherry on top, this device is compatible with Alexa.
So, if you want the best indoor security camera that works with Alexa, this is it.
2. eufy Security eufyCam Wireless Home Security System – Apple Homekit Compatible
Highlighted Features
Records and live streams video footage in crystal clear HD 1080P resolution
Lasts for an extremely long period – 180 days – from just one charge
Great quality night vision provides crisp footage even at night
Automatically detects face pattern as well as body shape of humans
IP67 weatherproof rating, so it can withstand any weather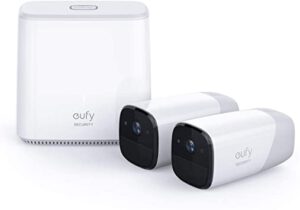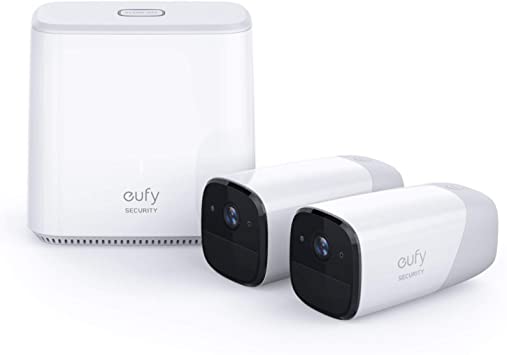 Plugging in security cameras is not always an option for everyone. Often, there might not be outlets available near the place where you want to place the camera. What is a possible solution for this? Getting the best battery powered home security camera, such as this one, of course!
This camera comes with a 135-degree diagonal view. It streams crystal clear HD footage live in 1080P resolution. So, you can view whatever is going on in your home in great detail, any time.
The camera has commendable night vision, too. Do not worry about missing anything in the dark because it can and will capture it all. Couple that up with its intelligent system that can detect humans, faces, and bodies for sending alerts, and you have a camera that will be perfect for the entry door of your home.
And if you were worried about the weather getting to it, you would be delighted to know that this bad boy has an IP67 weatherproof rating. No amount of sun, rain, or other weatherly damages can get to it.
The only downfall is that you can only access the stream from their own app. There is no web interface available for this camera, which can be a bummer to many. Also, its range might be too little for some people.
3. YI Wireless Home Security Camera – 1080p WiFi Smart IP Indoor Nanny Cam with Night Vision
Highlighted Features
Exceptionally well-valued set
Two-way audio enables the user to communicate with the camera
24/7 emergency response service that coordinates with the police, EMS, and fire department
The motion detector can send activity alerts
Footage can be shared with up to 5 people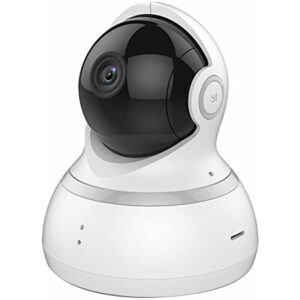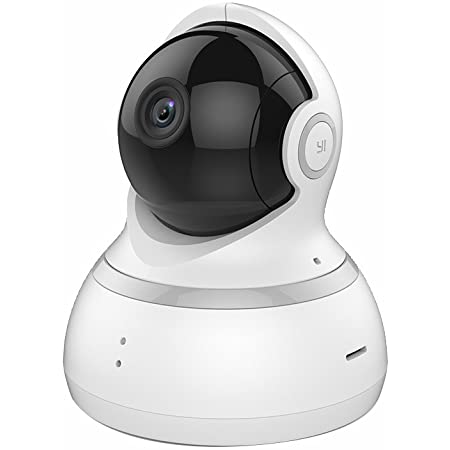 While our previous picks are amazing options as home security cameras, no other products in this list will give you a better value than this 4-piece set from YI. So, if you are strapped for cash and are in need of multiple security cameras to cover your home, look no further.
Let's discuss the unique feature of these cameras first. YI offers an optional 24/7 emergency response service with these cameras. With just one touch, you can immediately get connected to the police, EMS, or the fire department in case of emergencies. This can prove to be life-saving someday.
If there is someone willingly trying to erase evidence, they may try to steal your cameras. Even if that happens, you can still download all of the footage recorded and stored in the YI cloud. These cameras will store every motion-detected footage for free in their serves, which gets deleted after 24 hours.
With the YI app, you can coordinate and watch up to 9 camera feeds on one screen simultaneously. So, you can keep track of whatever is happening in your entire house, all at once.
It works amazingly as a nanny cam, too. The advanced algorithms used in this camera can even detect the crying noises of a baby and automatically send alerts to your phone. New moms and dads can definitely get good use out of this feature.
Lastly, the inclusion of the powerful, functional, user-friendly, and intuitive app makes this the best small home security camera, no doubt.
4. ZEEPORTE Rechargeable Battery Powered WiFi Home Surveillance Outdoor Security Camera
Highlighted Features
Extremely easy to set up and install; takes less than 5 minutes
The wireless system saves the hassle of finding outlets
The smart motion detector can detect audio and motions
Waterproof and temperature proof; will be fine in temperatures between -4° F to 122° F
Real-time two-way audio system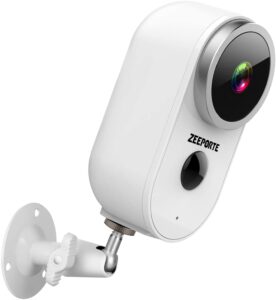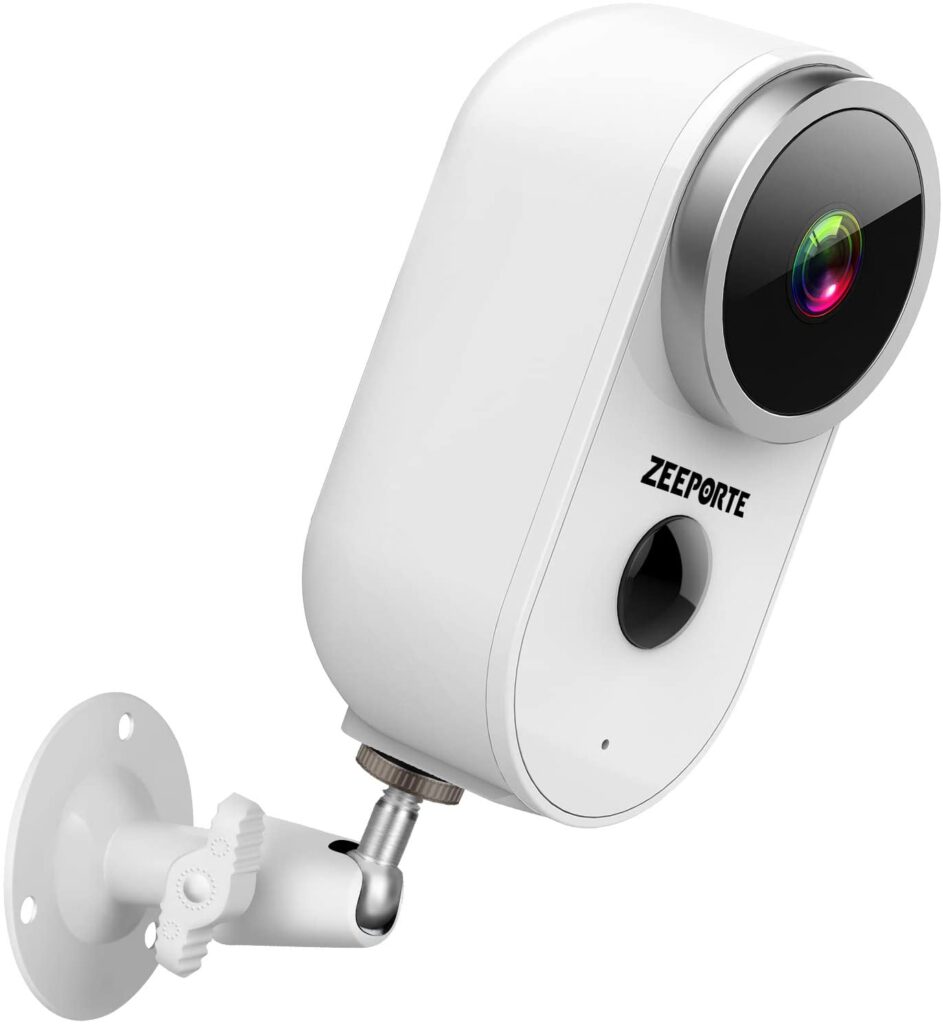 At our 4th spot, we have a wireless home surveillance camera from the brand ZEEPORTE.
Among all the products we have reviewed till now, this one seems to be the crowd favorite, and it is for good reasons. This security camera offers everything you could ask for and more.
To start off, this is a wireless security camera. So, you will not have to go through the hassle of placing it near power outlets or buying extension cords for it. The wireless quality also makes it a fantastic product to be used outdoors.
Still not sure if you can use it outside? Well, the camera is also waterproof and can withstand the temperature between the range of 4° F to 122° F. So, no weather can harm this item.
The 130-degree field of view covers just enough for you to get a clear picture of the room it is in. And the 1080P resolution video takes clear enough recordings for you to review. However, some users did feel that the picture quality is not the best offered by security cameras.
You do not have to manually turn the night vision on and off, which can get bothersome. The smart device can automatically adjust to ambient lighting and switch to night mode if required. And you can access any recorded or live video from the AdorCam app anytime, anywhere.
5. Wyze Cam v2 1080p HD Indoor WiFi Smart Home Camera – Works with Alexa & Google Assistant
Highlighted Features
Offers great value for money
Free could storage saves videos for 14 days
Can accommodate microSD card for continuous recording
Works with both Alexa and Google Assistant
Footage can easily be shared with family members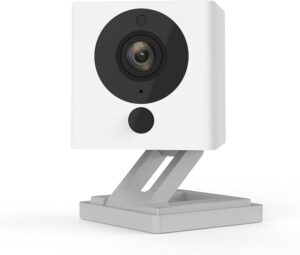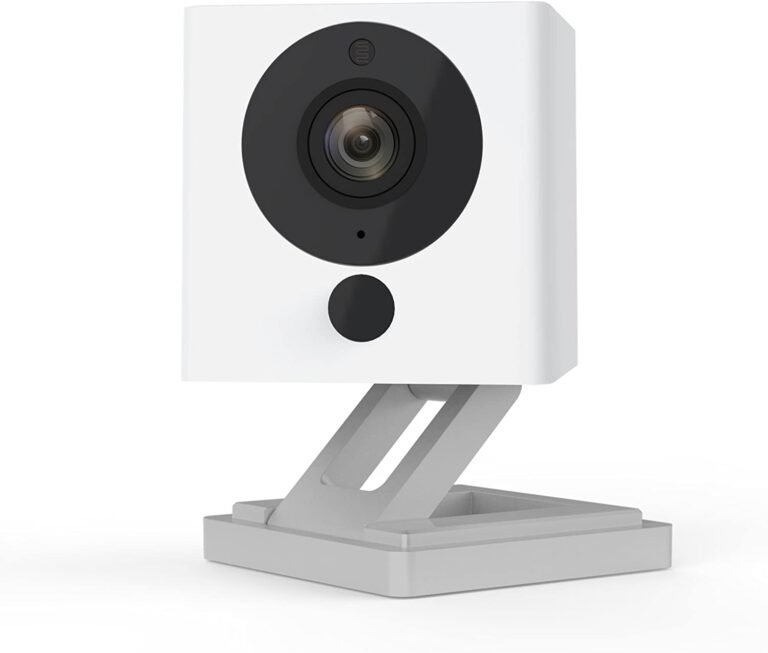 We are wrapping up our reviews with a product that can easily earn the title of the best smart home security camera. If you are slowly building a smart home, this one will undoubtedly be a great addition.
Something that many people do not factor in the price of a security camera is the additional fee you will have to pay for the cloud storage service of the manufacturer. Almost all security cameras upload recordings into a cloud-based server, for which you have to pay an amount monthly as a subscription.
Well, the Wyze Cam automatically records 10-15 clips every time it detects any sound or motion. These recorded videos are then uploaded in a cloud storage system called the Amazon AWS Cloud. End-to-end encryption is used to protect privacy.
The recordings stay accessible for up to two weeks with no subscription needed, which is longer than most other competing products. This is an amazing feature because it can save you a lot of money in the long run. So, the value you get from this item is outstanding.
Aside from the 10180P full HD resolution, clear night vision, and two-way audio, this fantastic device also supports both Google Assistant and Alexa. How neat is that? This is particularly helpful if you want to have a smart home, as both Alexa and Google Assistant can integrate all smart home devices together.
So, you can just ask Google to pull up a live feed from the camera in your smart TV or Chromebook.
Things to Consider Before Buying the Best Small Security Cameras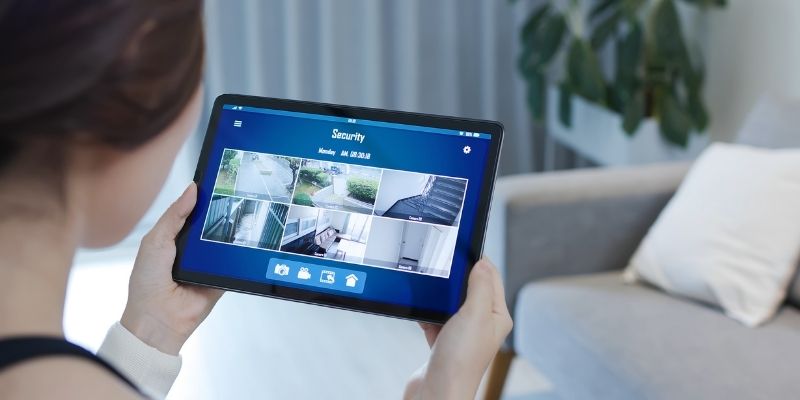 Home security cameras differ a lot in functionality. Which one you should get entirely depends on your preferences and needs. To help you pick, here are some considerations you should have in mind when shopping for security cameras –
Picture Quality
Nowadays, the 1080P resolution is the standard picture quality for all cameras. However, if you can get your hands on something with even higher resolutions, then you will be able to enjoy some additional benefits.
The more megapixels a camera has, the more details it will capture when recording. So, if needed, you can zoom in digitally and see details clearly.
A security camera must contain good quality night vision because most break-ins happen during nighttime. Some cameras switch to night mode automatically, while some allow the user to customize the time and method through which nighttime vision will be activated.
Field of View
This is something we often overlook. All home security cameras come with wide-angle lenses, but the angle is not the same in all of them. Depending on the field of view, a lens can capture anywhere between 100 to 180 degrees.
So, if you want your camera to cover a wider area, get a camera with more field of view.
Alerts & Notifications
Small security cameras are capable of sending push notifications to your phone whenever a certain event occurs. You cannot just sit and watch the live footage all day long. Alerts are the only viable way of keeping tabs on your home while you are away.
Depending on the security camera and its capabilities, you can get many different types of alerts – motions, new faces, fires, baby crying, etc. Usually, you can choose the kind of alert you want to receive.
Also, the same security camera can send alerts to more than one person if the option is enabled in the app. If you want this feature, check if the security camera you are considering has it.
Two-Way Audio
This is an optional feature that is not a must but can come in handy. The main function of a security camera is to see whatever is going on. But, also, being able to hear might help you out in many cases. You can also listen to something that does not fall in the security camera's field of vision.
And, if you have kids at home, you can talk to them using this feature.
Connection Type
Nowadays, most home security cameras use WiFi to connect, but not all of them rely exclusively on WiFi. Some cameras also use Bluetooth for easier setup with a mobile phone. Bluetooth can also be used for local control.
Also, some cameras work with separate networking standards for home automation, such as Z-Wave or Zigbee. Choose carefully based on which you feel will be the most convenient to you.
Access Platforms
This is another important feature to consider. Usually, all cameras can connect to an app made by the manufacturer, through which you can check the live stream, access recordings, photos, and do more.
You must ensure that whatever operating system you are using (Android, iOS, etc.) supports the app meant to be used with a camera. Otherwise, you cannot see the live feed, videos, and pictures remotely.
Also, check if you can use a web interface to get access to the camera footage too. This can be very useful.
Cameras that can integrate with Alexa or Google assistant can also come in handy. So, be on the lookout for them. For example, you can ask Alexa to show the live video from the camera on an Echo Show.
Battery Backup
Your camera may lose power supply for several reasons, such as power outage, burglars cutting the connection off, toddlers pulling the plug out, etc. If that happens and the security camera goes dark, if something serious takes place, it might fail to capture any hard evidence.
This is why it is useful if a security camera also comes with battery backup. Some use a full battery time, while others have a battery for emergency situations only.
Storage System
Most security cameras do not store records in the camera itself. Nowadays, almost all cameras use a cloud-based server to store the data of a camera. You can get access to cloud storage using the app.
Keep in mind that not all cloud-based storage systems are the same. Depending on the brand, different cameras will automatically store different types & lengths of data. Also, some manufacturers offer this service as a paid subscription, which is something to keep in mind if you do not want to spend regularly.
Some security cameras contain slots for microSD cards, where the footage can be saved. This might be a more pocket-friendly but less convenient option. Generally, with SD cards, most security cameras overwrite existing saved footage once the card is full. So, you must review and check the footage regularly.
Automatic Detection Modes
Security cameras can detect many different things – human body shape, face, movement, heat, light, noises such as baby's cries, pets, humidity, air quality, and more. Some can only detect movement, while others can use technology to identify what or who is making the commotion.
Some cameras can recognize and save known faces, sending you alerts when a new face is detected by them. This eliminates unnecessary notifications.
Check out these features and decide which one you can use in your own home. You may not need all of these features, so choose wisely.
Price
Budget is undoubtedly a big concern whenever you are buying something. Generally, the price of great home-security cameras ranges around the $200 mark. But there are some budget options on our list too if you want to spend less. The price of cameras depends on the functions and quality of footage available.
Installation
The easier the installation, the less headache for you. Always check if the camera you are considering is easy to set up and use. Some security cameras have unnecessarily complicated installation procedures, which require a lot of time to be done. Consider looking for alternatives in this case.
Location of Placement
If you want to place the security camera on a wall, then it must have mounted. Otherwise, you will have to buy some separately. And if you want to place the camera outside, then it must be able to withstand exposure to the elements.
FAQs About Small Security Cameras
1. Does a home security camera require WiFi?
Yes. If you want to be able to see live streaming of video footage from the camera anytime, anywhere, the camera must be connected to WiFi. Otherwise, the camera will not be able to send the live footage to your device.
2. Can I record continuously on my camera, or is the recording feature only motion activated?
This may vary from camera to camera, but generally, all security cameras offer continuous recording if you wish to do so. However, for that option to work, you will need to add external storage drives such as SD cards in your cameras.
3. If I get a set of cameras, can I place them in different locations?
Yes, you most definitely can. Buying sets does not mean you must use all of the cameras under the same IP address. You can use them in different locations and view the footage together in the app.
4. Can I mount my security cameras on a wall?
Yes, you can. Some cameras come with wall mounts with purchase. If yours do not, you will just have to buy mounts separately.
Final Words
If you follow our article carefully, getting the best small security camera that matches your preference will not be such a daunting task anymore. In this age of increased crime, it is great that you are considering safety features for your home.
With the perfect camera, you can rest assured that your baby, pets, and home are in perfect condition while you are away.
That's all. Stay safe!
Related Reviews: