A video doorbell can be your first line of defense against property thieves and invaders. You will be able to see and identify anyone that comes to your doorstep even when the door is closed. Those annoying porch pirates will think twice before running away with your precious packages if you have this amazing device installed.
The best wireless doorbell with camera will record everything that's happening outside your door and send them right to your smartphone. It will even allow you to communicate with the visitors without open the door.
Identifying the perfect video doorbell can be quite difficult because there are too many options. That's why we've scoured the market intensely to help you find the right device.
Quick Summary for Top 5 Wireless Video Doorbell Camera
Let's take a quick glance at our top doorbells.
Best Overall: Ring Video Doorbell – 1080P HD
Sleek and compact design, excellent video and audio quality, super-easy to set up and use, improved motion detection, highly customizable via Ring app
Runner Up: Ring Video Doorbell 3
Attractive design, easy to use, highly effective motion sensors, Alexa compatible, removable and rechargeable batteries, complete control through Ring app
Best Budget: eufy Security Wi-Fi Video Doorbell
Crystal-clear video with 2K resolution, zero subscription cost, real-time notifications, advanced AI technology
Best Wi-Fi Connectivity: XTU J1 WiFi Video Doorbell Camera
Completely wireless and cordless, crisp-clear 1080p camera with night vision, excellent Wi-Fi connectivity, waterproof
Best Battery-Powered: HeimVision Wireless Doorbell Camera with Chime
Massive 9600mAh battery capacity, weatherproof, full HD camera with night vision, fantastic human detection, 2-way communication.
Top 12 Best Wireless Video Doorbell Camera Reviews in 2023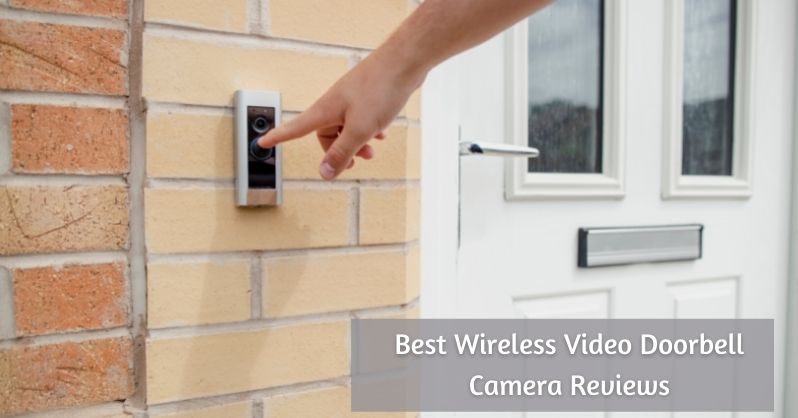 Here is our list of the top 12 wireless doorbells with camera. They are all great options that will make you feel much safer inside your home!
Highlighted Features
Sends real-time notifications to instantly show you everything
Offers 1080p video recording with 2-way communication
Comes with built-in rechargeable batteries for convenience
Designed to be compatible with Alexa
Equipped with reliable motion sensors for faster detection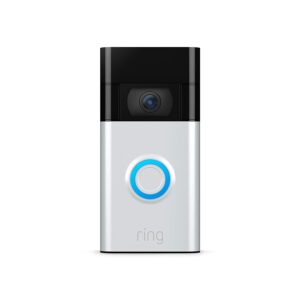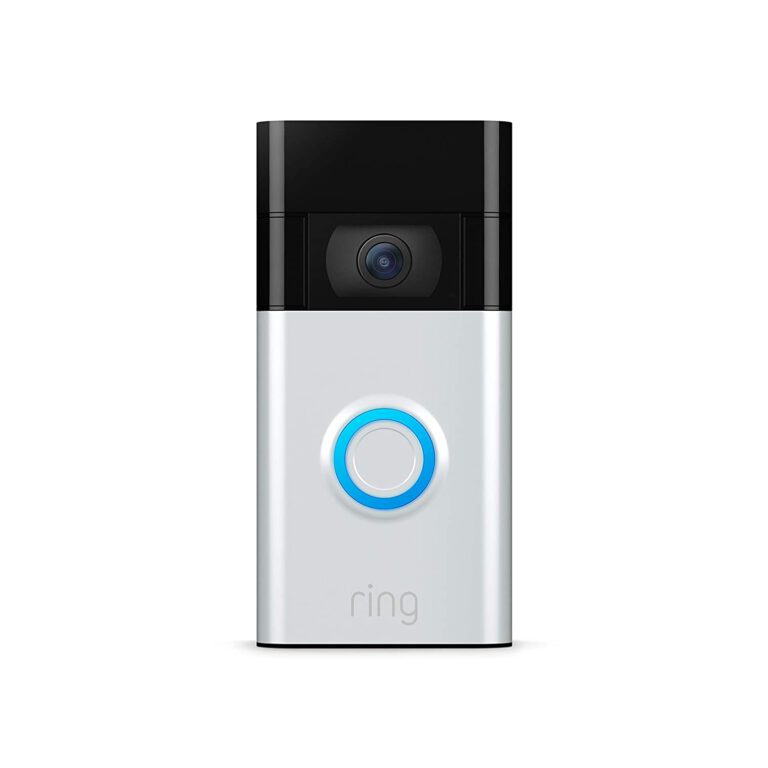 This all-new Ring Video Doorbell is the best smart doorbell with camera for plenty of good reasons. It's integrated with modern technology to ensure the best kind of protection for your house, including full HD video recording, enhanced motion detectors, voice command, and more!
Instead of having a boring doorbell design, this thing looks more like a smartphone that you ought to carry in your pocket! Right above the button is a high-definition camera that will record everything in 1080p resolution, allowing you to clearly see whoever is at your doorstep.
It sends every bit of information directly to your smartphone or other devices via Wi-Fi and the Ring App so you can monitor everything no matter where you are. The app allows you to adjust the settings to your preference with ease.
In addition to recording videos, this model also allows you to communicate with the visitors outside the door! Thanks to the highly functional motion sensors, this doorbell instantly detects whenever someone approaches your house and spares no time in notifying you.
Being compatible with Alexa, you will enjoy completely hands-free monitoring. It's a wireless doorbell, so there is no hassle in installation. This device will be ready to protect your home within just a couple of minutes!

Highlighted Features
Provides complete control of the device using a smart app
Equipped with rechargeable batteries that are removable for convenience
Sends 1080p full HD videos directly to your smart devices
Instantly notifies you whenever movement is detected
Stays connected to your phone through a super-fast Wi-Fi network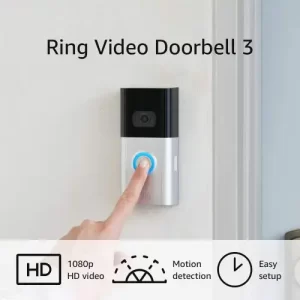 The Ring Video Doorbell 3 is another impressive wireless doorbell with a camera that will protect your home from porch pirates and unwanted intrusion. It will act as an all-seeing eye to prevent anyone from lurking around your doorstep, looking for a way to steal your valuables.
Regarded as the best ring video doorbell, it offers a wide range of features that makes it something more than a regular doorbell. Setting this thing up is incredibly easy, requiring a few simple steps and a couple of minutes.
With the help of top-notch motion sensors, it detects whenever someone comes to your doorstep without fail.
As soon as the sensors get triggered, the device begins to record everything in crystal-clear 1080p full HD resolution. It immediately notifies you no matter where you are and lets you keep an eye on the visitors in real-time via your smartphone or PC through a Wi-Fi network.
Moreover, this model offers crisp-clear 2-way communication, allowing you to talk to whoever's at your doorstep even if you're not at home. It can transmit data seamlessly thanks to the 2.0 GHz and 5.0 GHz dual-band connectivity.
An amazingly user-friendly app comes with this product that allows you to control everything from setting the sensors' parameters to limiting the notifications. As it works with Alexa, you will enjoy hands-free operation and compatibility with other Alexa devices.
Highlighted Features
Color pre-roll video up to 4 seconds
Easy to install and use
Great night vision video quality
Pre-selected quick replay
Easily detachable rechargeable battery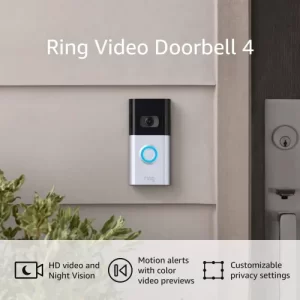 Ring Video Doorbell 4 is the smartest, most advanced video doorbell on the market. It's the perfect solution for your home security needs. Plus, this latest gadget is a great option for those who want to keep an eye on their home while they're away or just want to make sure that their homes are secure while they're at work or asleep.
With a 1080p HD camera, improved video previews, and battery life, you'll be able to see and hear everything that goes on in your home. It is considered the best doorbell camera night vision because of its high-quality night vision feature.
Ring Video Doorbell 4 is compatible with Alexa. You can use it to get alerts when someone rings your doorbell or even take a photo of the person at your doorstep. It's also customizable with privacy zones and audio privacy settings so you can keep an eye out for intruders while still maintaining your privacy
No need for wires or long-lasting batteries. The device is powered by a rechargeable battery pack without the need for an extra wire or cord. For top-quality surveillance, you may also attach it to your existing wired doorbell.
To sum up, this is a robust, fast-responding doorbell that is a good fit for any home and can work with traditional doorbells.
Highlighted Features
Two-way audio communication
Sturdy build quality
180º viewing angle
Super easy installation process
Top-notch built-in sirens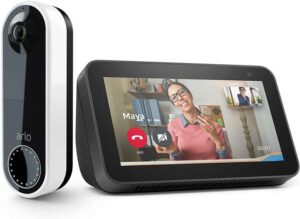 Introducing the Arlo video doorbell, a revolutionary gadget that allows you to see more at your doorstep. It allows homeowners to identify visitors while keeping themselves safely away from danger. This guy will provide a close view of people from head to toe or packages on the ground with a 180º viewing angle.
With HD imagery, you can see more than ever before including what visitors are wearing or carrying in their hands as well as if anything falls from them onto your front porch! So, when light conditions are low, there's no chance someone will get past undetected!
Moreover, this best Arlo video doorbell is heavy-duty and can withstand harsh weather conditions. So, it will offer a long-lasting performance all season. Quick installation and easy setup make this wire-free doorbell a piece of perfect security equipment for your home. Yes, the wireless design makes it simple to install in seconds.
The night vision capabilities will let you know who's at your doorstep even when it's dark outside! And with two-way audio technology, visitors can hear you answer from anywhere inside of any room – whether on a phone call or conveniently prerecorded messages if they come knocking during an inconvenient time.
With the Arlo app, you can trigger the built-in sirens to scare away unwanted guests. This device is compatible with Alexa and Google Assistant for your convenience. The included cloud recordings of videos at 2K resolution are only available to subscribers as an advanced feature that renews each month (First 30 days free subscription)!
Highlighted Features
Sends you real-time notifications so you can see everything in real-time
Record video up to 1080p with a two-way communication feature
Provides convenience by including powerful batteries
It is compatible with Amazon's Alexa
The price tag is budget-friendly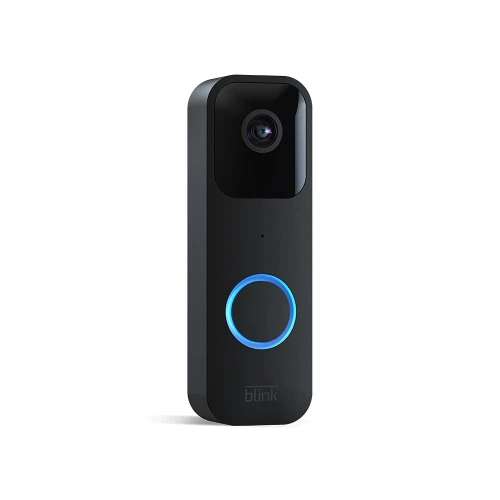 Check latest price
For those who are looking for a stand-alone video doorbell, this Blink device can be an outstanding alternative. Though it's rated as the best cheap video doorbell camera, it comes with all the premium bells and whistles to give your excellent user experience.
With Alexa integration, you can make the most out of this doorbell with ease. One of the best things about the camera is its picture quality, which allows you to clearly see what is happening at the door's outer portion. You can talk to anyone standing outside all day and night, thanks to the high-quality 2-way audio and a crisp 1080p video quality.
Additionally, this blink doorbell features an infrared camera to watch the outside flawlessly in low situations. You can customize your doorbell according to your preferences for privacy and alerts as it gives you a wide range of options to choose from. Also, this video doorbell provides the option of sharing video footage as well.
Above all, this doorbell camera is going to be a fantastic security addition to your home with the robust build quality and easy installation process.
Highlighted Features
Comes with zero subscription cost
Records videos with impressive quality
Smart AI technology and motion sensors ensure fast movement detection
Allows seamless 2-way communication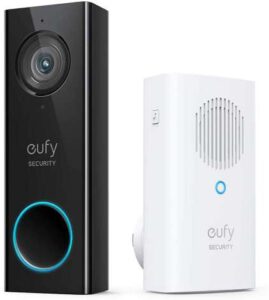 If you're looking for the best doorbell camera without subscription, the eufy Security, Wi-Fi video doorbell will be excellent for you. It's designed to enhance your home security by allowing you to keep track of all the activities that are happening outside the door.
Boasting an advanced camera with 2K resolution, HDR, and distortion correction, this device records with incredible quality. Even when there is a lack of light, the videos will still be crystal-clear! Thanks to the 4:3 aspect ratio, you will have an increased field of view.
This thing works fast with high-quality sensors and smart AI technology, sending you snapshots of the visitors before they even ring the bell! Your smartphone or other smart devices will be receiving notifications about the events that are happening behind your door even when you aren't at home.
Furthermore, it allows you to set instant responses to interact with the visitors without actually interacting! You can also communicate with them in real-time. This model is also compatible with Alexa and Google Assistant, so you can operate it with voice command!
All your videos and information will be stored securely behind strong AES 256-Bit data encryption. So, you don't have to worry about your privacy at all. Considering everything, this is a fantastic wireless doorbell with camera!
Highlighted Features
Comes equipped with a full HD 1080p camera
Boasts advanced PIR motion sensors for faster detection
Offers a 166-degree wide viewing angle that lets you see more
Sports secure and reliable cloud storage for convenience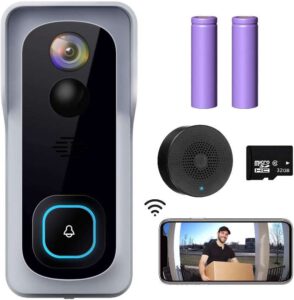 The XTU J1 WiFi Video Doorbell Camera is another amazing product that will deliver astoundingly clear video and audio, whether it's day or night. It's a smart device that comes fitted with bundles of fantastic features to make your home a safer place!
This thing comes with all the necessary tools you need to install it next to your door. There is no messy wiring to deal with as it's totally wireless. You will have it up and running in no time!
Thanks to the advanced PIR motion detection feature, this model can detect the slightest motion to alert you immediately. You will be able to keep tabs on all the activities to foil the plans of home invaders.
It can record 1080p HD videos, so you won't have to scrutinize to identify the visitors. All the notifications and videos will reach your phone with the help of the CloudEdge app. The strong Wi-Fi connectivity will make sure you receive everything instantly!
Apart from a camera, it comes with a microphone and a pre-installed speaker, allowing you to communicate directly through the device. So, you won't have to open the door to tell the delivery guy to leave the package at the doorstep.
Equipped with 6,000mAh battery power, this unit won't require frequent recharging, so it's pretty convenient. As you can see, it offers so many great things to be a worthy competitor for the title of the best WiFi doorbell camera.
Highlighted Features
Comes with smart motion detection for sending quick alerts
Sports 6700mAh rechargeable that lasts up to 3-4 months on a single charge
Boasts a 1080p camera with IR night vision for offering clear live videos
Offers two different storage methods for the convenience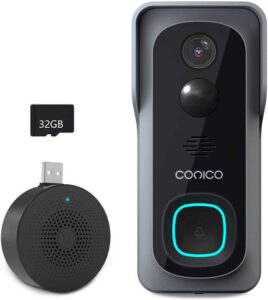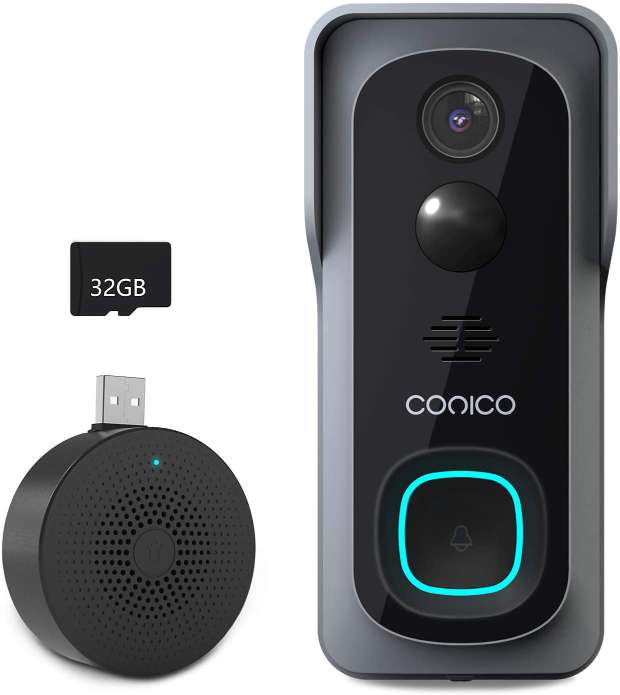 The Conico Video Wi-Fi Doorbell utilizes advanced technology to offer superior surveillance performance in addition to being a great doorbell! This battery-powered wireless device adds an extra bit of security to your house by allowing you to keep an eye on all the activities within 10-meters of your door.
This thing comes with top-grade motion sensors that only get triggered by human-shaped movement. So, you won't be annoyed by false alarms caused by cats or dogs casually strolling past your doorstep.
Once it gets triggered, it will be quick to alert you and send you videos through your smartphone. So, you can check who's knocking at the door or perhaps trying to steal your package without opening the door. You can be miles away from your house and still keep tabs on your doorstep.
Being able to record in 1080p resolution, this model delivers smooth and clear videos. Equipped with infrared night vision, the videos will clear enough even in the dark. It also offers 2-way audio, allowing you to speak clearly to the person outside the door.
Boasting an IP65 weatherproof design, it's capable of withstanding any weather condition. So, you won't have to be worried about protecting the device when it's raining or snowing outside.
It even comes with a chime that produces beautiful chimes to alert you about the visitors. All in all, this is the best video doorbell with chime.
Highlighted Features
Equipped with a large battery capacity for longer runtime
Provides super-clear video and audio output
Sports high-quality PIP motion sensors for better movement detection
Comes with reasonably priced subscription-based cloud storage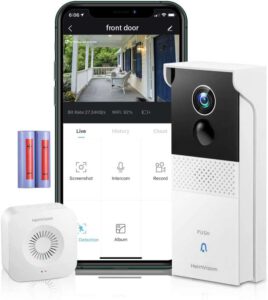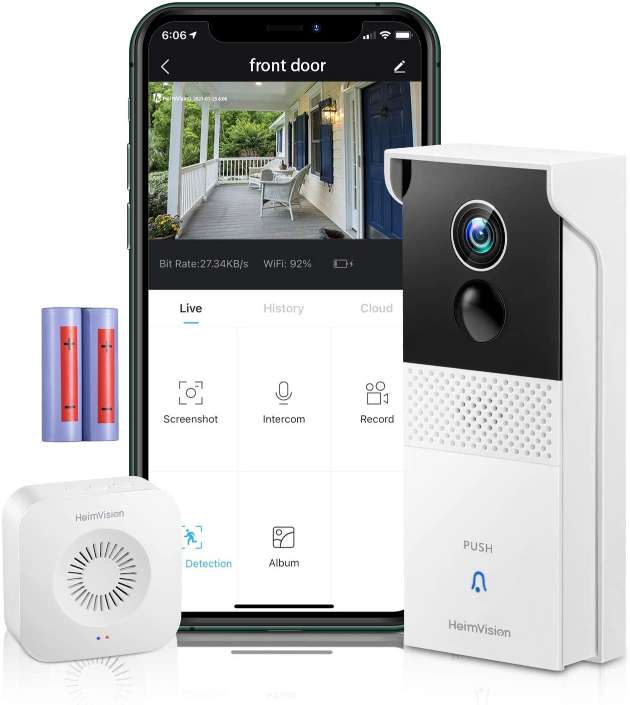 The HeimVision Wireless Video Doorbell Camera is the best battery powered video doorbell as it comes with a massive 9600mAh of battery capacity. If you want crystal-clear video and audio without worrying about recharging too frequently, this is the one to go for!
This video doorbell is fitted with an all-glass lens that produces video recordings with 1080p full HD resolution. You will have much more to see thanks to the camera's 166-degree viewing angle. The images will be just as clear during the night as it comes fitted with IR night vision and LED.
The combined functions of PIP motion and human detection features enable this device to instantly detect human movement. So, whenever someone comes within its range, it immediately notifies you. No human will be able to approach your door unnoticed.
Aided by the built-in duplex microphone, you can speak with the visitors using this thing even if you're out on a holiday trip! It's perfect for 24/7 surveillance as it can record videos in real-time and store them on the SD card.
If you're worried about running out of storage space, the company offers a subscription to its secure cloud storage for a small monthly fee.
Highlighted Features
Offers 1080p images and videos with enhanced clarity and details
Allows noise-free and clear 2-way communication
Easily customizable using the compatible mobile app
Sends accurate alerts in real-time no matter where you are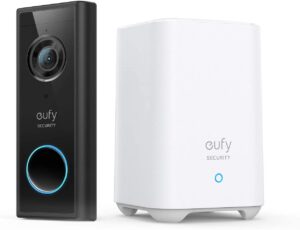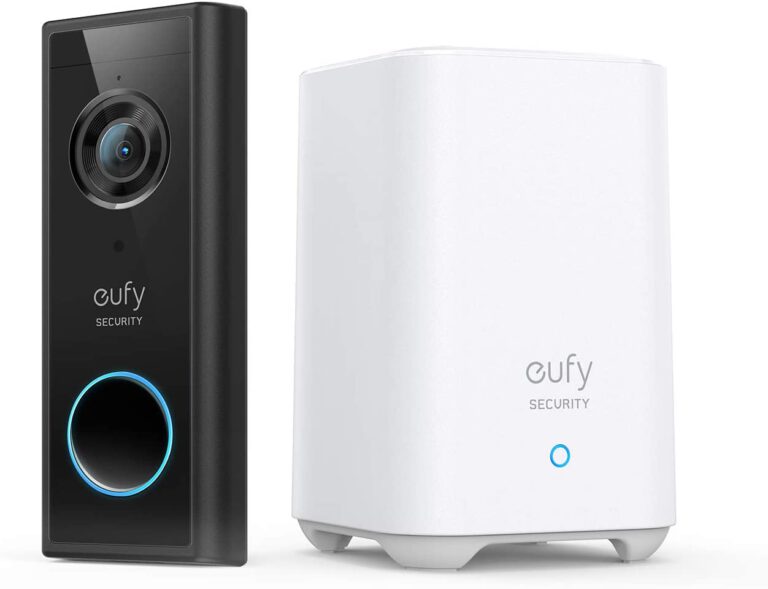 This sleek and compact Video Doorbell from eufy Security comes with the best bullet surveillance camera that's small and offers a longer range. It's astoundingly easy to set up, taking only a few minutes to get the job done. So, you will have it ready to defend your house almost immediately!
This model is battery-powered, so you won't have to trouble yourself with messy wires. The chime is the only thing that requires a bit of wiring. It will always be on high alert to keep an eye on anyone who comes to your front door and let you know before they knock.
Equipped with a 1080p camera that offers a 4:3 aspect ratio and WDR, all the videos that this device captures will be crisp-clear and vivid. You won't have any trouble checking the faces of the visitors. It works with a mobile app and sends instant notifications to your smartphone in the form of videos, snaps, and texts.
This unit features an advanced AI that effectively recognizes human movement and ignores animals, eliminating false alarms. You will receive the notifications in real-time, and thanks to Wi-Fi connectivity, you can be anywhere in the world and still be connected to the device.
On a single charge, this thing can run for up to 120 days with ease. It offers Alexa compatibility for allowing you to control it via voice commands. Rest assured, it's a fantastic home safety solution!
Highlighted Features
Dual video storage options
Super quick and straightforward installation
1080p video quality
Waterproof and durable build quality
Powerful rechargeable battery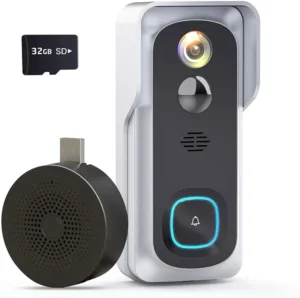 Wouldn't you prefer to see who's coming up to your house rather than just opening it? With this ground-breaking product by Geekee, now you will feel safer knowing exactly what's going on outside your home before answering their door!
This fantastic doorbell camera offers clear 1080p video quality and IR night vision for the best possible performance. The device can be adjusted automatically according to ambient light levels or set up with daytime, nighttime, or fixed viewing options.
Thanks to its 166° wide-angle viewing area, it will provide you with a great way of keeping an eye on your home front door 24/7 without missing anything! The motion detection sensor lets you know when someone is approaching, even if they don't ring the doorbell.
Additionally, you can review recorded footage from your smartphone and talk to visitors through the 2-way audio and speaker system from the comfort of your couch.
Plus, this best Wireless video doorbell camera comes equipped with a 6700mAh rechargeable battery while ensuring minimum power consumption. Therefore, you'll never have to worry about it not being able to power up your camera when there are natural disasters like hurricanes happening outside!
Surprisingly, the Outdoor Surveillance Home Camera has the ability to wake 900 times before needing a charge because of its powerful battery life. So, no matter what is the weather conditions, Geekee will always stay on duty protecting our families from intruders. You can set up the device within 5 minutes by following just 3 simple steps.
Highlighted Features
It allows 8 users to connect using wifi network
Easy installation process
High-quality real-time video
It supports both Androids and iPhones
Comes with an affordable price tag

When you want to make your home a little bit more secure without draining the bank account, consider this best budget video doorbell camera from SSying. The design and function are sleek which makes it an aesthetically pleasing security system that enhances the beauty of your front door.
This doorbell from Ssying is a great way to keep in touch with your front porch, even when you're on the go! The video footage is streamed wirelessly through an app that connects directly to your phone. It's compatible with both iOS and Android devices so no matter what kind of mobile you use there'll be one just right for it.
This device connects with 2.4GHz WiFi, so no matter where in the house or how many walls are between them, this video-equipped bell will let both parties know exactly what they're getting into before opening their doors!
This video doorbell works seamlessly by connecting with 2.4GHz WiFi and always keep you updated when anyone stands or moves in front of the camera. This camera is equipped with an IR sensor and LED to let you take photography or record videos, day or night! It's perfect for those wanting to keep their homes safe at night from intruders.
You can get better sound quality and clearer transmission facilities thanks to its noise reduction technology that adjusts frequencies automatically. Overall, the 166° viewing angle, weather-resistant design, and rechargeable battery system make it a worthy option.
Things to Consider Before Buying the Best Wireless Video Doorbell with Camera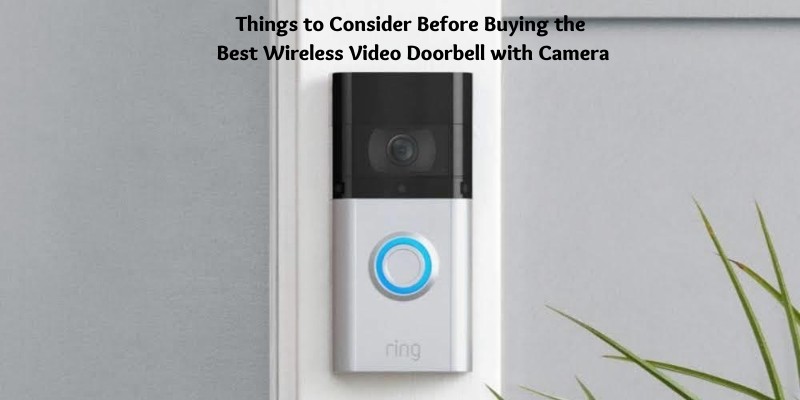 Wireless doorbells with cameras come in different shapes and sizes. Their integrated features and specs can also vary. So, choosing the right product can be a bit troublesome if you aren't aware of the things that separate a good model from a bad one.
Allow us to make the buying process easier by informing you about the most useful features and specs to look for.
Design
Although appearance doesn't affect the performance, it's still incredibly important to go for a wireless video doorbell that looks appealing to the eyes. It's going to be the first thing your visitors are going to notice, so it must have some aesthetic values!
Models like the Ring Video Doorbell boast slim and beautiful to enhance your house's exterior design.
Ease of Installation & Use
Wireless video doorbells are usually much easier to install than their wired counterparts simply because they don't require any wiring. Most of them are just mount and play.
However, some are easier than others. So, you should get your hands on the one that's the easiest to install and comes with all the necessary tools, including the mount brackets.
Apart from installation, the device must be easy and convenient to work with. It should be highly customizable. The app must be user-friendly and intuitive.
Battery Capacity
Most wireless doorbells with cameras come with enough battery capacity to last a couple of months on a single charge. Some of them boast even larger capacity, like the HeimVision Video Doorbell that can go on for almost a year with ease. Having more capacity means less frequent recharging.
Video Resolution
The camera's resolution is crucial as it determines how clear the images and videos will be. You want to get one that offers the most clarity so that you can easily all the visitors. Better resolution means sharper and more detailed videos. However, you would have to pay more for getting models that offer higher resolution.
In general, you should at least go for a full HD 1080p resolution camera for getting sharp and crystal-clear video quality.
Field of View
How much the camera lets you see depends on the field of view. Some come with a narrow view that only allow you to see the person standing right in front of your door, while some offer the entire view of your entryway.
If you want to see more, a camera with at least a 160-degree viewing angle should be enough for you. Of course, the more, the merrier!
Night Vision
Thieves and intruders prefer the cover of darkness to launch their attacks. So, if your video doorbell goes blind at night, it won't be able to do a good job of protecting the house. That's why the camera must be equipped with night vision that lets the camera capture clear images and videos at night.
Audio Quality
You should prioritize getting a device that offers high-quality 2-way communication. The speaker and the microphone must be loud and clear enough. This will make sure you get to verbally interact with the visitors without opening the front door.
FAQs About Wireless Video Doorbell with Camera
1. Do I have to pay a monthly subscription fee?
Not really, no. Video doorbells will operate just fine even if you don't pay the monthly subscription. It will send you alerts whenever someone presses the doorbell or triggers the motion detectors. However, the subscription plan offers many added benefits that you won't get without paying.
2. Do the video doorbells offer 24/7 surveillance?
In most cases, video doorbells offer 24/7 surveillance only if you go for the company's subscription-based protection plan. Otherwise, they will just record short-length videos only when they get triggered by movement.
3. Which field of view should I go for?
In general, the 160-degree field of view should be good enough for you. That's because it allows a decent viewing range, allowing you to see your entire driveway from the front door.
4. What's the best resolution for a video doorbell?
If you want crisp-clear and detailed videos, 1920×1080 resolution is a must. You can go for higher resolution for even better video quality, but 1080p is enough for most people.
5. Can I use a video doorbell without Wi-Fi?
Nope, you can't. Video doorbells require an internet connection, and Wi-Fi gives them access to it. How else are they going to send the alerts, snapshots, and videos to your smartphone?
Conclusion
The best wireless doorbell with camera will instantly alert you about everything that happens at the front door, even if you're away from home. So, none of the suspicious activities will go unnoticed, and you will be able to put an end to them right away!
Any of our reviewed products are highly recommended as they are guaranteed to enhance your home security.
Related Reviews You May Like: