Being smart is not only a neat personality trait nowadays, but it has become a vital element in our society.
In this digital world, our homes can get smart with us. With several new smart technologies on the rise, now we have the option to use smart locks in our houses for increased safety.
Google introduces many such smart devices that can stay synced and connected through platforms. If you want to get the Google services up and running in your house, start by finding the best smart lock for Google Home.
They will make your life much easier. You can check your phone to see whether your house is secure and raise the alarm immediately in case of any suspicious activity.
Editors' Picks: Top Smart Locks for Google Home of 2023
Overview of Top 5 Smart Locks for Google Home in 2023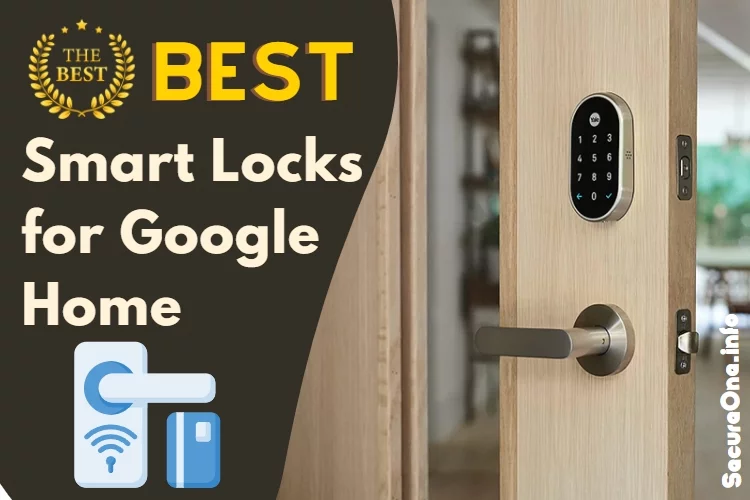 Recommended Top 5 Best Google Home Door Locks

Top 5 Best Smart Lock For Google Home Reviews 2023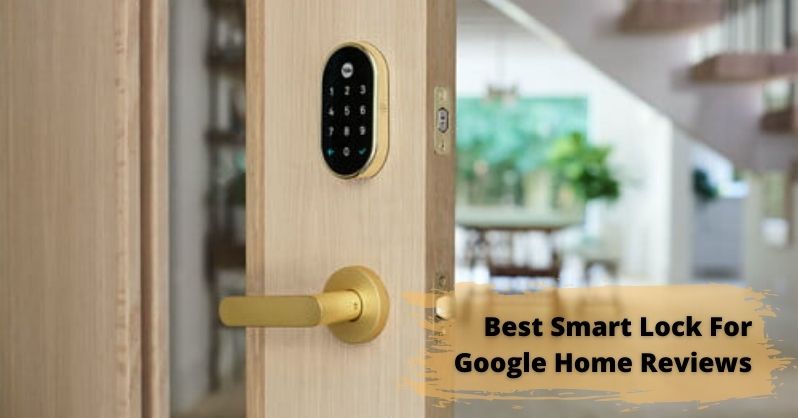 We'll help you choose the perfect smart lock for your house. There are quite a lot of options, but we have boiled the list down to give you the top 5 best smart locks for google home from the most popular ones.
1. Google Nest Yale Lock - Smart Lock Deadbolt System For Google Home
Highlighted Features
Comes in three fun colors to suit the ambiance of your house
Incorporated with the Nest Home Alarm system - the alarm goes off when someone tries to enter without the passcode
Shows you a detailed history of times when the lock was opened
Secure the lock by putting a combination of different passcodes in it
Supports a scheduling system to make it easy for friends and family to enter your house
Get remote access through the Nest app by installing it on any device you own
The deadbolt is completely keyless which makes it inaccessible to lurking burglars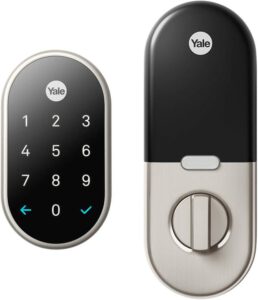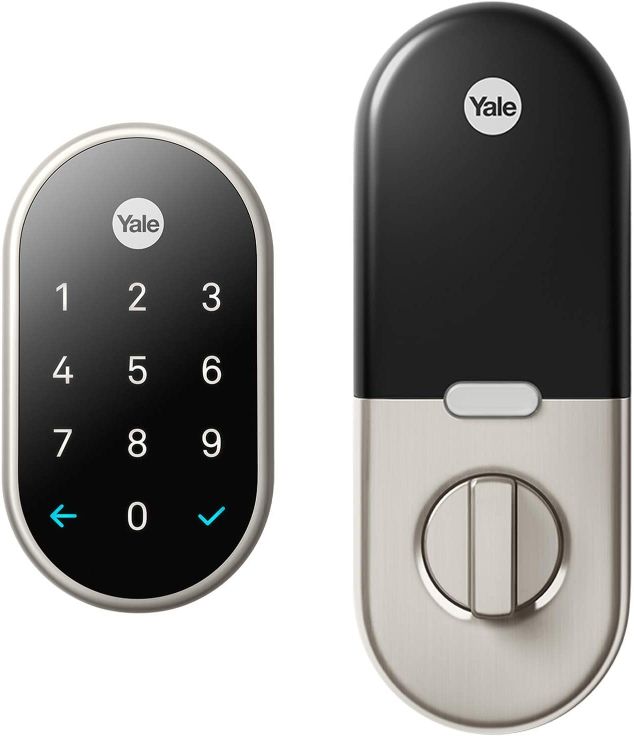 This house lock will communicate with you in such a way that you will always find yourself completely relying on it as years of use go by. This is the best smart lock deadbolt you can find in the current market. It will merely replace the traditional deadbolt you have on your doors.
The device cannot be tampered with. Without the app and the pin code, there is no getting by this system. Burglars may come to your door, but they will never get to fool this smart and secure Google Nest Yale lock.
It has a neat little touchscreen on it, and if your phone goes out of power, you can manually enter the passcode on the digital touchscreen and get access to the house.
You will get Nest Connect in the box with the lock itself, and external purchases won't be necessary. Just download the Next app on your phone, and sync it up. When the connection is established, you will be able to get alerts directly on the phone. Anyone who tries to enter the house will try out pin codes on it, and you will get instant alerts about it.
Okay, lastly, the Yale lock is battery operated. You have to put in 4 AA batteries, and they'll last you for a year. If the batteries run out or are taken out, the door will remain locked. In case you come home to find the battery dead, you can immediately power it back up for a short time by using a 9-volt battery from the outside.
2. Yale Assure Lock Touchscreen with Wi-Fi and Bluetooth Deadbolt - Works with Google Home & Google Assistant
Highlighted Features
Replaces the main traditional house lock and keeps everything safe with the built-in deadbolt
Very convenient to let guests in and out if you are affiliated with an Airbnb, HomeAway or other such hosting platforms
You can let your friends into the house via your phone without giving them the passcode
Sends instant notifications across all connected devices through the August app

A smart lock, and with it a touchpad - this is what Yale Assure offers you. And no, not just that. With that comes a sense of solid security that cannot be shaken - the mental peace of knowing that your house is secure even when you are many miles away from it.
Let go of the fear of losing your keys and enjoy the convenience of locking and unlocking your house with your mobile device. You have to install an app called August - this app will update you about the lock, and with this, you can control the lock as well.
In case your phone dies on you, use the keypad directly to let yourself into the house. As long as you know the pin, you will be able to get in and out without pissing off an alarm.
You can also set a time to the app so that it unlocks the door automatically when you are at the doorstep. When you are inside the house, you can use your voice assistant to send direct commands to the lock.
Yale Assure is compatible with all popular VAs, and by far, it is the best smart lock for Alexa.
As far as functionality goes, this house smart lock is the easiest and the simplest of them all, and yet it provides security like no other.
3. Sesame Smart Lock For Google Home, Amazon Alexa & Google Assistant
Highlighted Features
Works with the pre-existing deadbolt on your door
Supports automatic locking and unlocking commands
Absolutely requires a WiFi or data connection to operate
Doesn't have the keypad on it for manually keyed entrance
Let's you check the detailed history of every entrance and exit
You can share house entry access without sharing your passcode
Has a highly customizable Sesame API that gives you the ability to manage the lock with your own unique settings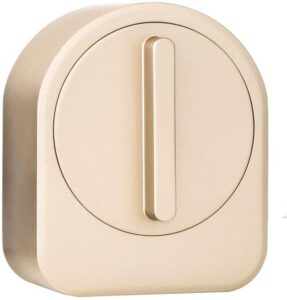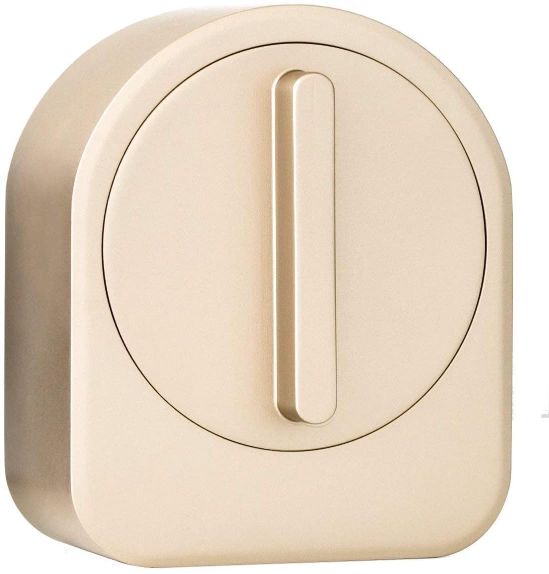 This battery-run unhackable smart lock will simply make your life better. It is very easy to install, and it is more reliable than the smart locks that come with built-in lock pads. It comes alone and pairs up with the deadbolt that you have on your door already.
If you are already comfortable with your existing locks, then the Sesame Smart Lock is perfect for you as it will only add to that level of security without taking anything away from it.
This lock is very easy to operate. Just install the Sesame app on your device, and control the lock by using WiFi or data connectivity. The app will bring a plethora of options to you.
The whole system is highly customizable - you will be able to set up the system to lock and unlock itself automatically according to a preadjusted schedule.
If you are using this for hosting through AirBnB, HomeAway, etc., you will have the option to add regular guests to your Sesame list and put them on a schedule.
You can also use voice assistants to send direct commands to the system - that way; your door will act for you without you walking up to it. This lock is compatible with all popular VAs like Alexa, Google Assistant, Siri, and so on.
This lock is smart in all the ways as the other locks we have discussed. It just doesn't have the keypad on it as a precaution towards a more rigorous keyed system. If you are on the cusp of modern and traditional security, then you will be able to trust this smart lock much more than the ones that come with their own deadbolts.
4. Ultraloq Bluetooth Enabled Keypad Smart Deadbolt Lock Compatible with Google Home & Alexa
Highlighted Features
Standard Installation for all US-based systems
Can be powered up by 4 AA batteries for over a year
Two-layered protection: via encrypted locking mechanisms and then by a dynamic key
5 ways to lock/unlock the system: automatic scheduling, shake-to-open feature, the mechanical key, and via keypad and smartphone
You can open the lock for your friends and family from afar just by using the U-Tec App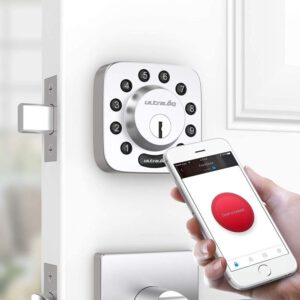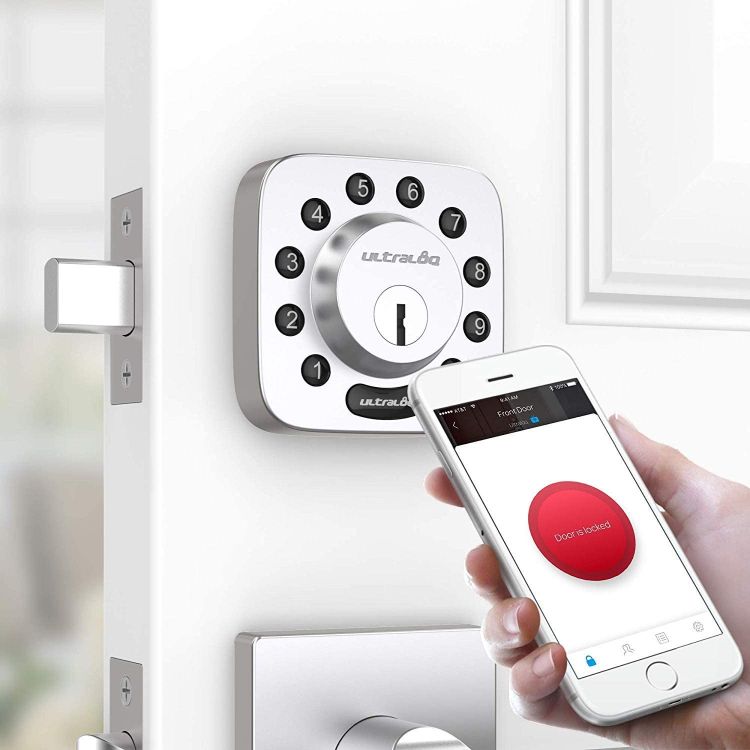 This one works over BlueTooth and WiFi connections. There is also a mechanical keypad that you can turn and turn to unlock or lock the door if you know the passcode. With this on your door, you won't need to look for a key to get in.
Burglars won't be able to break it and enter either. Any attack on the system will let go of an astounding alarm throughout the neighborhood, and this will surely keep lurkers out of the way forever.
This system is not as simple as the installation of a single device. The set Ultraloq comes with 3 different devices that need to be installed separately and used in conjunction. But you're going to love it; whatever hassle the installation may give you will be well made up for by the high-grade security it provides.
You can connect to the voice assistant you have at home. Alexa, Google Assistant, and Siri - they all work with this deadbolt system. Connect to them once, and you can then go on to rely on them to work upon all commands you send their way instantly.
You can also use your phone and the U-Tec app to stay updated on the system, and also to control the system from afar. Let friends and family enter the house by giving them access into the house but not the passcode itself. That way, you can have complete control over the locking mechanism.
5. Yale Assure Lever - Connected by August Works with August App, Amazon Alexa, Google Home, HomeKit
Highlighted Features
Get updates via the app even when you are away on vacations
Comes with a lever and replaces your existing deadbolt system
No extra hub is required - the August app manages every access for you
Manual access is accepted by merit of the touchscreen that accompanies the lock
Syncs up with popular virtual assistants like Alexa, Google Assistant, and Siri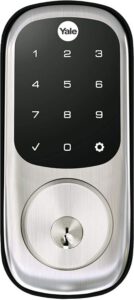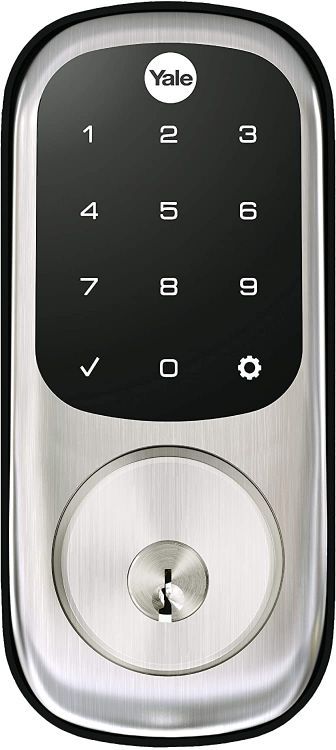 Here we have the second Yale Assure system. This one would have been just as good as the previous mention, but it is a bit better by all means. For starters, it comes with a lever lock. If your door doesn't have a deadbolt, you need to install this right now.
It can be installed on doors of standard thickness with a simple screwdriver and no other tool. Once set in place, the operations are really easy. Set up a Bluetooth connection with your phone and get it synced up.
Alternatively, you can set up a mobile connection by installing the August app and connecting it via a WiFi network.
And will you be locked out of the house if you don't have a mobile phone on you? Nope, not at all. There is another foolproof way to get access through this smart lock, but only if you have the passcode, of course.
It's very obvious - there is a smart touchscreen with a keypad that will allow you to enter the code and lock/unlock the system quickly.
All in all, there are several options to use this system, and none of them involve the hassle of using a key. So that's one less thing to worry about - no fear of losing keys anymore.
When you are inside the house, your virtual assistant can take your commands and run through the system to unlock your doors for your guests. If you aren't home, you can still let them in by sharing access into the house using the app.
Things to Consider Before Buying the Best Google Home Smart Lock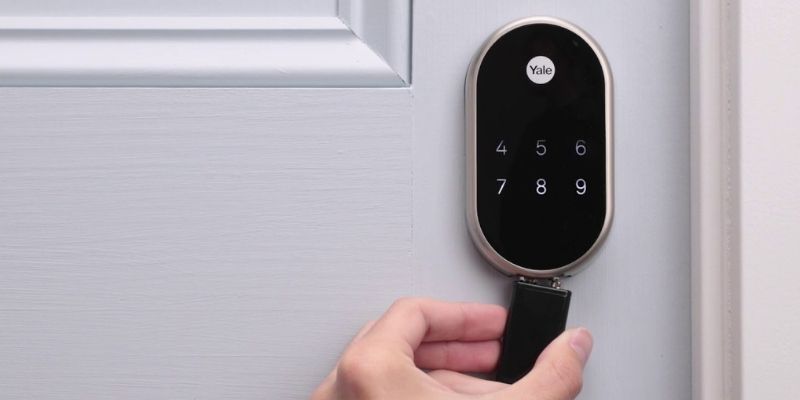 Know in-depth about the smart lock system; then, you can judge for yourself and choose one from the many options in the market.
Replace or Keep the Existing Deadbolt
Many people find it difficult to trust in-house deadbolts that come with smart locking devices. Some smart locks have built-in deadbolts while others make use of the one that you already have on the door. As long as safety goes, it really doesn't matter.
No one will be able to access built-in deadbolts in smart locks without the passcode. So it's a completely safe alternative to traditional deadbolts.
But if you don't want to get rid of the traditional deadbolt, then there are many retrofit smart locks out there that will pair up with the deadbolt and work seamlessly together.
The extra advantage of retrofit smart locks is that you will be able to use physical keys to unlock the door as well as the digital passcode.
Connectivity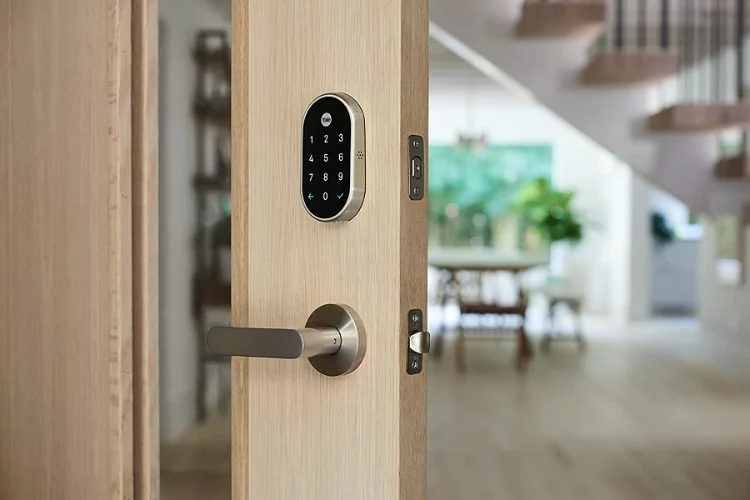 There are three ways to connect with a smart lock.
Bluetooth
his type of connectivity is preferred because it doesn't drain out the batteries as fast as other connections do. However, the problem is that they have a short range.
As a result, you can control the lock fine from home, but when you step outside, you'll face connection problems. You also won't need an extra hub to connect via Bluetooth. Just your phone is enough.
WiFi
With this, you can have access to your security system from all across the globe as long as you're hooked up to a stable internet connection. WiFi makes it easiest for you to sync up to virtual assistants as well.
Z-wave
This sort of connectivity requires an external hub. It won't connect through the built-in systems of your phone or other devices.
Through the hub, you can connect multiple smart devices and control them together. So if your house is full of smart technologies, then this would be recommended.
You May Also Love to Read: Best HomeKit Smart Lock Reviews
FAQs About Google Home Smart Lock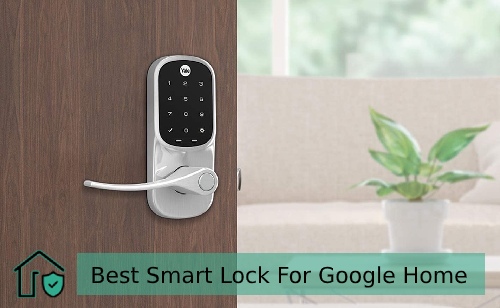 1: How can I reset my smart home lock?
You can reset the settings and passwords by using the app, or by using the digital keypad that came with the lock.
2: How do I know if a smart lock will work with my door?
You have to check how many cylinders the door has. Most modern smart locks work the standard single-cylinder doors.
3: Are smart locks safer than traditional locks?
Yes, they won't require you to have a key. You need your phone to get access to the house, but even if someone steals your phone, they won't be able to get into the house if they don't have the passcode. They're quite safe.
4: Do keypad systems automatically lock the door after entry?
Yes, most keypad systems will automatically lock the door once you close the door on the frame.
5: Which type of connectivity drains batteries the fastest?
WiFi drains batteries within a few months, whereas Z-wave and Bluetooth keep them running for 1-2 years.
Buy them at eBay, Etsy, Walmart (subject to availability)
Google Nest x Yale Lock - Tamper-Proof Smart Lock for Keyless Entry - Keypad Deadbolt - Walmart, Etsy, eBay
August Smart Lock, 3rd Generation – Silver - Walmart, Etsy, Ebay
Lockly PGD728WSN Secure Pro Deadbolt - Smart Door Lock with Wi-Fi, Biometric Fingerprint - Walmart, Etsy, eBay
August Smart Lock Pro + Connect Hub - Wi-Fi Smart Lock for Keyless Entry - Works with - Walmart, Etsy, eBay
Schlage BE479AACEN625 Schlage BE479-CEN Sense Century Touchscreen Smart Deadbolt with - Walmart, Etsy, eBay
Igloohome Deadbolt 2S Digital Smart Lock, Keyless Entry, Electronic Keypad, Airbnb Sync - - Walmart, Etsy, Ebay
Kwikset 99390-002 Halo Wi-Fi Smart Lock Keyless Entry Electronic Touchscreen Deadbolt - Walmart, Etsy, eBay
U-Bolt Pro Bluetooth Enabled Fingerprint and Keypad Smart Deadbolt + Bridge WiFi Adaptor - Walmart, Etsy, eBay
Narpult Smart Lock Deadbolt, Electronic Door Lock, No Fingerprint Keyless Entry Door - Walmart, Etsy, eBay
Google Nest Yale Smart Deadbolt Door Lock - Walmart, Etsy, eBay
Yale Assure Lock Touchscreen - Walmart, Etsy, eBay
Ultraloq Smart Deadbolt Lock - Walmart, Etsy, eBay
Yale Assure Lever - Connected by August - Walmart, Etsy, eBay
perfect smart lock for your house - Walmart, Etsy, eBay
Conclusion
If you want to upgrade your smart home system, you need to find the best smart lock for google home.
We outlined all the key factors involved in the process of selecting a reliable smart lock. This is nothing to dally with.
Without the right security system in place, you'll be at risk of getting an unexpected visit from nearby burglars any day. So, stay cautious and choose wisely.