Doors locking anxiety is a common problem among city people. But like many problems that technology has solved in the world, it has solved this one too.
Get a smart lock and make your life secure and easy with the best smart lock.
If you have these locks on your door, you can whip out your smartphone and check whether you did actually lock that door before you left the house or if you really forgot.
Get the best smart deadbolt lock, and you won't have to waste time being worried about burglars getting free entry into the house.
Another stress-relieving benefit of this is that you won't need keys anymore. Use pin codes to activate and deactivate the lock, and forget about those jangling keys.
Recommended Top 5 Smart Deadbolt Door Locks in 2023
Top 5 Best Smart Deadbolt Lock Reviews 2023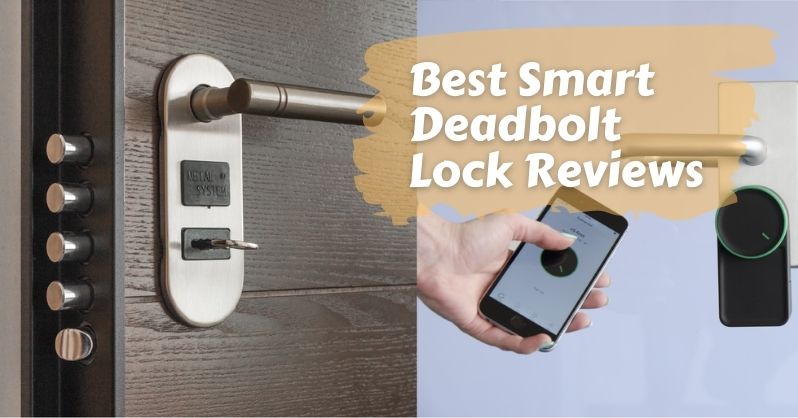 This is a matter of security, so you can't choose just a random smart lock that looks nice. So, here are your best options according to functionality and safety measures. Check them out!
1. Schlage Connect Camelot Touchscreen Deadbolt Lock Works With Amazon Alexa
Highlighted Features
Connects with Alexa to take voice commands
Requires a central hub and uses Z-wave technology
Compatible with all standard doors and latches in the US
Matte touchscreen that doesn't let your fingerprints sit on them
Has 3 different alarm tones for indications 3 types of emergencies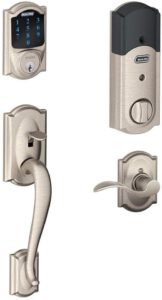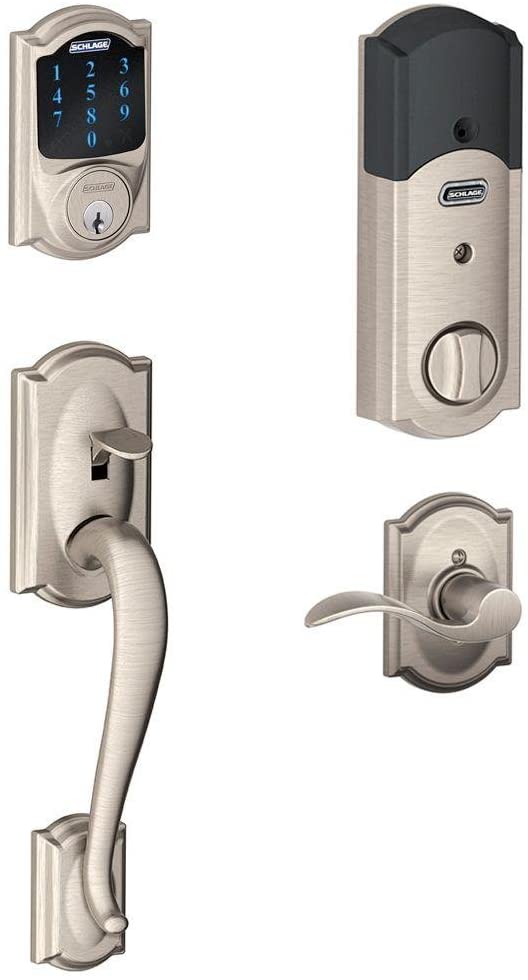 If you are not quite settled with the jump to an all-encompassing smart lock and would like to have manual control on your door as well, then you'll be glad to see this deadbolt from Schlage that comes with a handleset that comes with an accent lever for easy handling.
There is a small touchscreen pad that accompanies the handleset, and this is where you dial in your pin code for the system to let you into the house.
This touchscreen is made with glass that is resistant to fingerprints. It's a crucial design aspect of the lock because this means you'll be safe from clever burglars who search for lingering smudge marks to get the code to the house.
The Schlage Connect Camelot Touchscreen Deadbolt is incorporated with a Z-wave technology that lets you connect to your phone or any other smart electronic device and get access to the locking and unlocking mechanism even when you are far away.
It also lets you check whether everything is safe and secure in your house when you are out on vacation.
You will need to get a central hub for making the connection between Z-wave and your smartphone.
The hub is sold separately, and once you get that, you'll be able to add Alexa for sending voice commands to the lock system.
Once everything is set up and running, you will get to pick three different alarm tones for getting alerted on three types of situations – one for when there's some activity on your lock, another for when someone's trying out different codes to get in, and the third one is for when there has been severe damage to the lock.
With instant notifications on these matters, you will have full control over the security of your house.
And this fits every standard US door and latch, so you won't have a problem getting it installed.
2. ULTRALOQ U-Bolt Pro Fingerprint Deadbolt Front Door Smart Lock Works with Bluetooth
Highlighted Features
Works with a 6-in-1 keyless entry system
Has an anti-peep keypad to outsmart clever burglars
Uses a dual data encryption method to ensure tight security
Can be controlled from far away by using your smartphone
Lets you share an eKey with your loved ones to give them access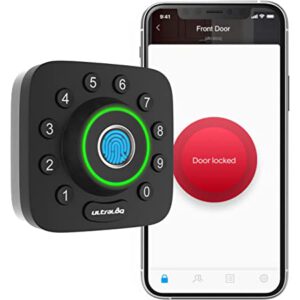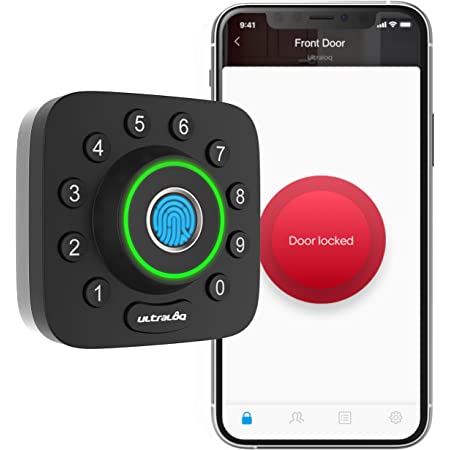 If you have seen spy movies, you'll see that burglars often outsmart these smart locks by reading the smudge prints left by the fingers. Now, this smart lock has outsmarted those smart burglars with their anti-peep keypad systems.
Due to this system, you can type in random digits around the main code, and get the best fingerprint door lock entry to the house and leave the burglars baffled over the fingerprint smudge patterns you've left behind.
On top of that, you can forget all about those house keys that keep getting lost all the time. This is a 6-in-1 keyless system that will have you experience the freedom of incorporating modern technology into your house.
You can type in the passcode and unlock the system by using your smartphone, or by using the mechanical system directly.
If you want, you can make the operations more seamless by activating the automatic lock and unlock system.
All you have to do to activate this is hook up the GPS of your phone with the Geofence of the smart lock. Then it will be able to detect you to unlock when you enter the signal range of the smart lock and then lock it again once you have entered the house.
This will be completely exclusive to you, so no one else will have the luxury to do this at your house – you can make your home more welcoming towards you with this clever system.
The system uses dual data encryption to keep the doors locked with the highest level of security. No one without the access key will be able to get into your house without raising a tremendous alarm throughout the neighborhood.
3. Schlage Sense Smart Deadbolt Lock with Camelot Trim
Highlighted Features
Has a keypad for manual locking and unlocking
Uses secure encryption to keep your house burglar-free
Requires you to buy the adapter and the Alexa device separately
Free apps to connect with the smart lock on both iOS and android
Gorgeous lock – the aged bronze color goes really well with the camelot trim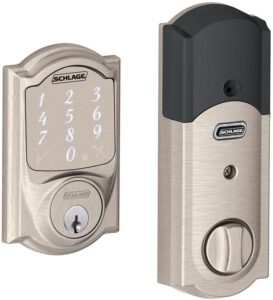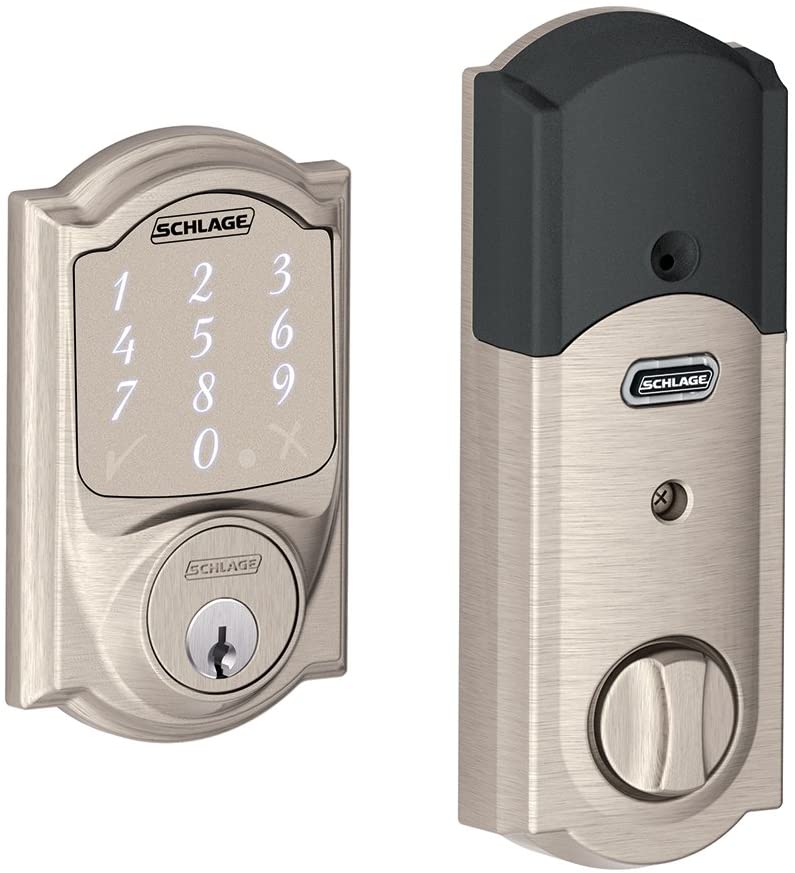 This is a deadbolt lock with a gorgeous rustic look to it. From the day you get this installed in your house, you'll get compliments from everybody. It's a perfect cross between the modern and the antique that is quite uncommon to see nowadays.
It comes in the color of aged bronze, and it does age well as well. You won't see the color fading, neither will you see dents or scratches on its surface take away from its original glory.
However, rustic is the appearance of this lock; it is not ancient by operation – in fact, it supports a hands-free voice command system when paired with Alexa. To avail the command function, you will need to buy a Schlage Sense adapter for the WiFi connection, and an Alexa device to pair it up with.
Once you do so, you can also get your smartphone connected to the adapter so that you can control the lock/unlock mechanism from afar as well.
This lock uses secure encryption to make sure that no one can enter the house without the access key.
You can share the access key with your friends and family and keep an eye on the place for any unusual odd-timed activity with the help of free apps that are compatible with both iOS and Android devices.
If you don't want to buy the adapter and Alexa, you can also lock and unlock the door manually by using the touchpad on the system. It will also allow you to check previous entry history and set up schedules for activating and deactivating the system.
This Schlage Sense Smart Deadbolt Lock With Camelot Trim is made to fit any standard US door of regular thickness, so setting it up won't be a problem at all.
4. Reagle Smart Deadbolt Lock Apple HomeKit certified Works with Siri, iOS & Android
Highlighted Features
Convenient keyless system
Certified to be used with the Apple Homekit
Lets you set up temporary passwords for guests
Easy to keep an eye on the lock using the free Reagle app
Suitable for replacing the existing lock system on standard US doors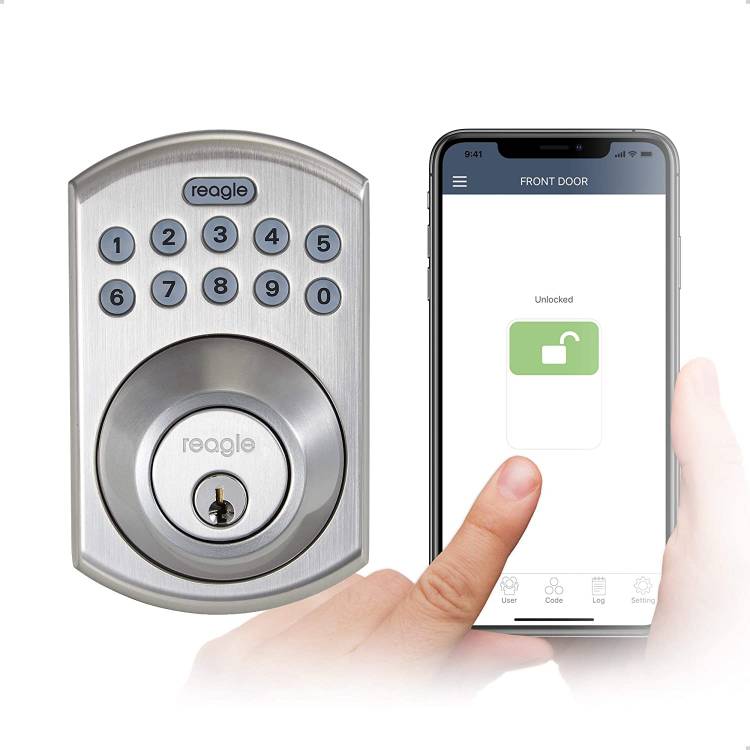 This is a smart lock that requires the most minimum hassle. You can even install it all by yourself with only a screwdriver as your help. It will only take 15 minutes if you follow the clear instructions provided in the manual guide. However, this easy installation is in stark contrast with the difficulty that burglars will face if they try to take it out of the door and break into your house.
This is a standard smart lock that can fit with the latch and deadbolt system of any standard US door for homes. It's modern, and it's completely loyal to you as it will remain firmly shut against anyone who doesn't enter the password correctly. And it will inform you as soon as anyone tries!
You don't need to buy any other device to set it up with your phone. Just by using Bluetooth, you can start keeping an eye on this bluetooth smart door lock system – it's as simple as that.
This is also a great system for hosting AirBnB guests. In case you are planning to do so, you can set up temporary passwords and let in guests according to their assigned schedules.
Download the Reagle app for free, and you will have all these smart options at your disposal without spending a single penny towards extra purchases. You will even get instantly notified when the batteries start running low and need charging.
Even though you have these free app conveniences, it will be better to get a central home hub so that you have more stable connections and can keep an eye on the status of the locking mechanism anytime from anywhere.
5. Kwikset 99130-002 SmartCode 913 Non-Connected Keyless Entry Electronic Deadbolt Door Lock
Highlighted Features
Will require 4 AA batteries to operate
Allows about 16 customizable access codes
Fits all standard doors of 1⅜ to 2 inches of thickness
Has a traditional lock and key along with the keyless touchpad
Unyielding solid build as proven by the fire rating, bump guard and the grade 2 certification

If you are someone who has not yet put all of their trust in the keyless smart lock system, then you'll be glad to know that this the best keyless smart lock comes with a deadbolt and a traditional keyed system along with that keyless touchpad system.
The keypad is super convenient – it's a backlit system that has all the 10 numerical keys, and it allows you to enter 16 different access codes to ensure that you get the best foolproof security.
It also features single-touch locking and has an automatic system that locks up the door within 30 seconds after you have unlocked it.
If you are wondering about the efficiency of the lock, then let us tell you that it has been tested on that, and it has gotten the BHMA Grade 2 certificate, which means that it's a solid lock that's totally safe for residential buildings.
The certificate means that this lock can sturdily take a weight of up to 250 pounds, and handle 400,000 cycles without faltering in performance.
Also, this handleset can also control fire and smoke, as it has a 20-minute fire rating by UL. This means that it will hold up for about that many minutes without needing to be replaced in case an accidental fire breaks out in the building.
With so many fitness checks and a double locking system, you can rest assured this will be the best electronic deadbolt door lock you can find in the market right now.
Oh, and we almost forgot to tell you that this smart lock is battery-operated and will require four AA batteries that you'll need to purchase separately.
Ultimate Guide to Buying the Best Smart Deadbolt Lock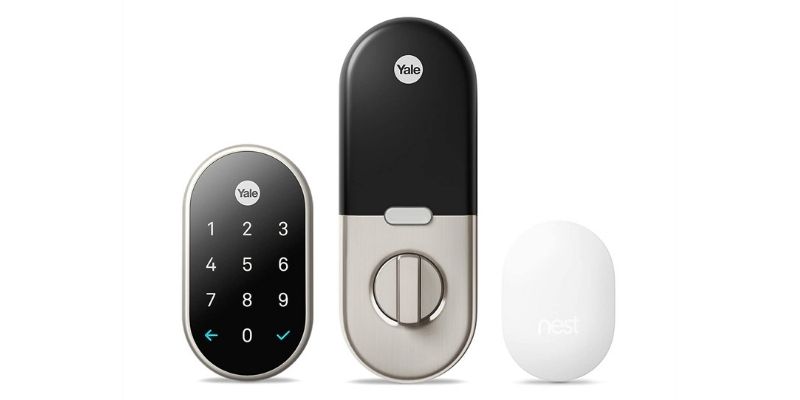 Smart locks are all about control. If you want to have full control over these, then you must learn about them in detail. Let's talk about that right here then.
Types of Lock: Replacement or Retrofit
There are two types of smart locks. Choose which one you want for your door. The retrofit is for those of you who already have a traditional deadbolt on your door. So retrofit smart locks just sit on top of your original lock system, and gives you the advantage of smart connectivity.
It will let you add a layer of extra security on top of your existing one. When you are leaving the house, you can use the manual key to lock the traditional deadbolt, and then punch in a security code on the touchpad.
By using the retrofit lock, you can ensure double security, and also keep an eye on the lock of the house by checking the app that incorporates the smart lock system to your smartphone.
And with the other kind of smart lock, you have to get rid of the traditional lock entirely, and then install the smart lock in its place. This is most suitable for people who do not have a lock on their house yet.
Connectivity Systems: Bluetooth, Z-Wave, and WiFi
The smart lock will need to connect with smart electronic devices. It takes the help of one among three available connectivity options. So you need to decide what type of connectivity will be the most suitable for your house before you choose the smart lock.
This is the most common one, and it requires the least hassle. It also will keep the batteries of your smart lock healthiest, meaning that your AA batteries won't need to be replaced that often.
Another advantage is that it will connect with your phone free of cost. You won't need to buy a separate hub for it. So you can save money and effort.
But the problem with Bluetooth is that it has a limited range – so you can control the lock with Bluetooth when you are inside the house, but not when you are far away outside.
This type of connectivity requires a particularly Z-wave compatible hub. The locks that work with Z-wave will produce these waves as a means to connect with the router in the house.
Multiple smart devices can connect at once with the router through a hub system like this. It has a larger range than Bluetooth – about 600 feet, and so it's a more reliable system.
One problem with the Z-wave devices is that some of them don't support an app with the smartphone. Instead, you'd have to use the hub to connect to the smart lock.
This is mostly an addition to the two types of connectivity systems we have discussed above.
To use this, you can plug in your smart lock with the main internet network and then be able to access it from any place that has an internet connection. This type of WiFi connectivity will drain out your batteries most quickly, but the advantage is that you'll have full access to the smart lock from long-range distances.
You May Also Love to Read:
FAQs About Smart Deadbolt Lock
1. How to reset the smart lock?
Go to the app on your phone that controls the smart lock. Click on "settings," then on "manage" and then click "factory reset."
2. Can smart locks be trusted completely?
There have been quite some smart locking hacking incidents to say that they are not completely reliable.
3. How do I ensure complete security with a smart lock set up?
We'd recommend you to get a smart lock that has both a keyed and a keyless system. That way, you'll have double security on your door; even if one fails, the other will hold up until the police can be notified of a break-in.
4. How often would I need to change the batteries of my smart lock?
Depends on the connectivity system. If you are using Z-wave or Bluetooth, then the batteries will last for about 2 years at max.
However, with WiFi-enabled systems, the batteries will only last for about 3 months.
5. Will the battery die out of nowhere and leave my house vulnerable?
No, you will be notified about the battery status for a number of weeks before the battery dies out finally. And if the battery dies, the door will stay locked shut, but you can still enter your house if you have the manual key with you.
Conclusion
In such an age of forward-moving technology, we can keep our humble abodes safer by the help of smart lock systems.
So, get the best smart deadbolt lock, and you'll be spared the constant worry of having a burglar in your house while you're out grinding down hard hours at work.
Take safety in your own hands by installing a quality smart lock in your house. Stay safe, don't stress. Good luck!