Sometimes placing a security camera at home or other places come to the obligatory or necessary level because of many reasons. And you can not belittle this matter since you don't want to leave your family and property at risk.
When you decide to set up a security camera at home or another place, you should consider which location is right to set up your security camera. And, you need proper guidelines to hide your camera in plain sight.
In this article, I will share with you- how to hide a security camera in plain sight? As well I will mention some recommendations and warnings. Be sure to read all the way to the end.
Core Discussion About Hiding Places Hide A Security Camera in Plain Sight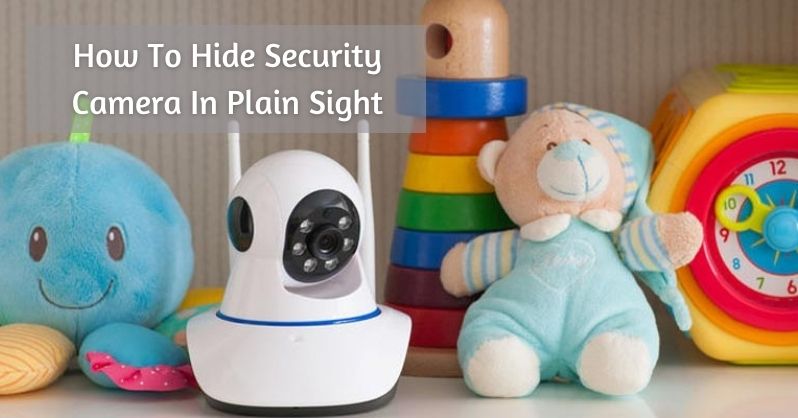 Hiding a security camera is a very important task for you. You can hide your security camera outside and inside of your house. It is recommended to mount your security camera at the high corner points in your room so as to your camera might get the utmost room's visibility.
You can place your camera above the garages in driveways view, besides paints or decor, in entrances view. Another benefit of placing the security camera at the high corner points is that it might rarely be caught by people's eyes.
At the beginning of my article, I want to be aware you that don't violate others' privacy. And don't film or record people in bathrooms, bedrooms, or anywhere people rightfully hope to be confidential or private. We don't want to expose anyone rather we want to secure our property from vandalism and theft.
Some Mind-Boggling Hacks on Best Way To Hide A Camera In Plain Sight
If you're looking for a way to deter thieves or vandals from targeting your home or business, a security camera may be the answer. But if you don't want everyone to know that you're recording them, there are ways to hide a security camera in plain sight. Here are some tips on how to do it.
On Kitchen Cabinets And Bookshelves
Placing a GoPro or security camera on a bookshelf top is an excellent idea. It might be on the bookcase top or over a shelf. You will see it as a great placement idea because it fulfills the previously mentioned conditions. Which is placed in the top position therefore your camera can attain the utmost room visibility from there.
It will function best in bedrooms, home offices, family rooms, and living rooms. By these, you may cover the maximum common rooms as well as the home's exits and entrances.
Strategically bookshelves are best. Because they offer you to hide your security camera among the decors, books, and behind other objects so that your security cameras will not be too apparent or noticeable.
The video feed can be used to ensure that, your camera is in the right position. It is often possible to set up your security camera in a perfect spot without mounting or wiring it since every room has a bookshelf. The bookshelf also helps you to hide or disguise your camera and wire.
Perhaps you're thinking about setting up your security camera in your kitchen but there's no bookshelf! Don't worry, you can place your camera in the kitchen cabinet also.
If possible, locate a place where your camera can see every movement of your kitchen with absolute clarity. It might be between the ceiling and the cabinet's top. Sometimes this camera can cover all important places of your house such as family rooms, dining room, and other places that your kitchen overlooks.
You can hide your camera among the decorations above the cabinet. There are many types of cameras in the market hence pick the best mini spycam which is suitable for your kitchen cabinets.
Facing Outside Of Your House Window
"Offensive is the best defense" often it is true "Offensive" doesn't refer to attacking or anything like that, but rather caution. In the event that you monitor the outside of your house with a security camera, then you can keep an eye on thieves or bandits before they enter your house.
However, you can easily place a security camera facing outside of your house window. This could give you a view of the front door, back door, front porch, and more. It is ingenious because you may get footage outside without setting up a security camera outside.
When you will place a security camera outside of your house there might be chances to be affected by weather or when you are not in the house it may be risky to leave your camera outside. So, you can avoid these problems by placing your camera in your house window. Besides these, you can easily hide your camera from an apparent place. So, it is an excellent idea.
Since it is a very crucial place in your house you should choose the best spy camera with the longest battery life.
Mounted Above The Garage Or Entrances
The entrance and driveway of the house need to be under surveillance. That's right. The basic strategy to secure your house is to place security cameras in the exits and entrances of your house.
Therefore, you can place a security camera or spying camera above the back and front doors. And, this security camera can instantly record if anyone enters or exist in the house.
Install your security camera above your garage so that it is protected by the roof. It is a good place since generally, this place is unapproachable. If you park your vehicle in front of your garage and face any trouble or damage then this surveillance camera will provide you evidence.
Stationary Birdhouse
If you want to conceal your security camera entirely, then you should consider hiding a ProGo or security camera inside a stationary birdhouse. This is a unique and good idea.
The birdhouse should be stationary as you don't like to move your camera by the wind. And also you may connect a waterproof wire from the stationary birdhouse towards the closest outlet. You can also choose a security camera which connects through WiFi.
Place your security camera in a more suitable location, from where your camera can view the front door, back door, your yard and can cover all areas you like to surveillance.
In A Mirror Or Picture
A mirror or picture can be used for surveillance. All you have to do is hang a small or big picture on your house wall or anywhere you want. Now, place the security camera behind the picture. By this, you can get the best visibility of your room though nobody can perceive it at all.
You can similarly apply this method with a mirror. Place a security camera behind a mirror then it will work as a great surveillance camera. Remember that don't violate the privacy of anyone.
Sometimes people search to know that- how to hide spy camera? The guidelines that are outlined above might help one to hide his spy camera.
Conclusion
In this article, I have explained how to hide a camera in plain sight and other related keys.
In the last lines, I want to suggest that use this excellent surveillance system in the right place to get the utmost advantages. Follow my instructions as well as be cautious about reasonable expectations of privacy.