It could be the security front doors slamming again and again making you go insane over that loud sound. Or simply any door at your office, home, or anywhere having that slamming issue. Having a door closer with stopper or at least just the closer can solve this problem and so, you need to look into it.
And if you have made right decision already getting yourself proper closers, next come the part of installation. Well, let me help you with that. I'll be discussing how to install door closer in this specific piece of writing. Are you ready?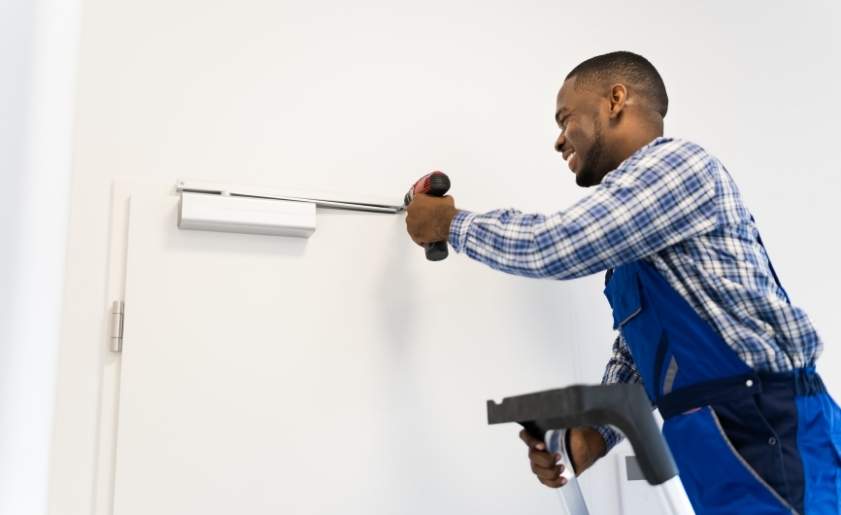 Let's Find Out How to Install Door Closer
We will be following the general and most common installation process. The important parts for installation should be provided inside door closer kit. Aside from those parts, there can be a few more tools necessary.
Door Closer Installation Tools & Supplies You'll Need
Door Swing & Side to Attach
To get the automatic door closer installed, you can choose from more than one method. Just making sure the installation is done correctly is a priority here. The first thing to do is identifying door swing. And this isn't hard at all. You simply need to stand in jamb of the door. The door should be in an open position. And your back must be facing towards hinges.
Now if the door is on your right side, then it is right-hand swing type. And similarly, a left-hand wing door would have the door on your left side.
Now that you are done figuring out the door swing, start deciding which side will hold closer assembly. The best formula is by keeping the assembly hidden from living space. That's why some people choose to go for installing it on the room side of a door.
Decide Where the Holes Will Go on The Door
Most commonly, the kit will come with a door closer installation manual. However, you might also receive a door closer installation template in the box. There's also a great probability that you'll receive options for right-hand and left-hand doors.
You first need to find out the suitable template for your door. Then use a utility knife to cut it and get ready for use. Bring the tape and basically attach template to door. Make sure you are doing this according to provided directions.
Now suppose you have not received any template inside the kit. In such a case, you need to rely on instructions given by manufacturer. And then you'll decide basically where the drilling needs to be done. When you are measuring, make sure it starts from door's hinge side always. Then grab your marker or pencil, whatever you have on hand. And use it for making the distance between each hole set. You want to mark from hinge by the way.
Then you need to set the speed square right against door top. And bring your pencil to basically create a vertical line on the marks that you made earlier. In these vertical lines, you need to mark hole heights. And to do so, you need to use the tape measure. Using the square rule will also help. Again, refer to the instructions. And then figure out where on door jamb the drilling needs to be done for attaching swingarm.
Time To Make Those Holes
Now you are all set to do some drilling. But before that, wear your safety gloves as well as the glasses. Especially when you are working with a metal door, gloves are unavoidable. So basically, you start by using a smaller drill bit and put it onto the designated location.
Then bring the power drill and make pilot holes right on those marked spots. Then you want to use the right bit, which is typically a 3/16 one. However, make sure to check the instructions and then decide on this bit size. Also, maintain a ¾ inch depth while making the holes. You don't want to drill all the way through your door.
Attaching The Body of Door Closer & Swingarm Bracket
At this point, you will be needing the #3 Philips bit as that's a common type for most door hardware. So simply tighten it onto the drill. Then find the provided screws inside kit. You want to maintain all directions while attaching the door closer with this screw. Also, to determine which way is up, you must refer to the instruction or template.
Next, you need to fix the bracket of swingarm. You'll use the same #3 Philips bit in drill for this. And basically, get the provided hardware and attach bracket with your door jamb. In a few cases, separating closer and arm helps. Because one hole could end up becoming a bit hard and tricky to reach with the closer tension.
You want to attach the closer and swingarm together. Make sure to maintain proper adjustment so that it closes properly. This is also something the kit will provide clear notes on. However, in a typical scene, you just focus on the arm and loosen up set screw. Then adjusting it will do. Make sure the swingarm's jamb side is staying perpendicular with jamb.
Make Necessary Adjustments to Finish It Off
You need to dial the pressure and speed for your door to close. And to make that happen you must work with given adjustment screws. The local code will refer to the right speed for this. However, the usual speed for closing and latching is 7 seconds. You need to work with hex keys for these screws also. Some may work with a regular screwdriver.
After making adjustments, you can put the cover. And that's basically how to fix door closer on your door. Now keep in mind, kits don't come with exact same manner of installation requirements. But it's almost entirely similar.
If you're someone who deals with such DIY projects on a regular basis, it won't be hard for you to figure out. The only parts that should need attention are marking, measuring, and drilling. And then you're good to go.
Related Post You May Check:
Thats All for Today!
Congrats on learning how to install door closer finally! You can now get up and try things for yourself. Make sure to not only trust your instincts and follow the steps given in your instruction manual of kit generously.
Especially when measuring and marking. Those are the steps that people tend to not pay attention to. And as a result, things mess up here and there. Make sure you don't go there! Good Luck!