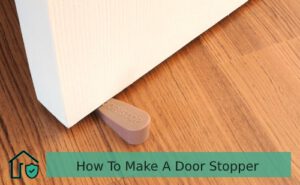 Having small kids and pets in your house is truly a blessing since they would always keep the surroundings cheerful. One common mischief that these little sweeties do often is playing with the door. You want to keep it open but they'll push and pull to close. Or sometimes the case is the opposite. In both conditions, one thing that will help a lot is a door stopper.
Buying one will be an easy and simple solution. However, why not learn some amazing DIY ideas on how to make a door stopper for yourself. I mean, it's not a bad idea to spend a fun hour making stuff that will very well get used in your home and at the same time, save some penny.
Amazing DIYs on How To Make A Door Stopper
When making door stoppers, you want these to be comfy as well as heavy enough to keep the door sorted. Fortunately, I got my hands on some budget-savvy ideas to try for making pretty modern and stylish-looking door stoppers. Let's Go!
The Rope Concrete Code for Stopper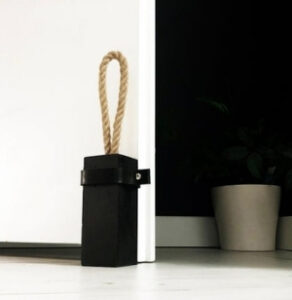 For this project, you will need to cut a one-meter rope into two similar pieces. Use a sharp knife for that and wrap both ends using tape. This will avoid any split happening. Next, simply put these together in a coupler for securing tightly.
Now simply prepare some concrete mix following the box instructions. Stir this mixture evenly and pour right into molds. You want to shake it and also tap at the bottom. This will help to get rid of any bubbles inside.
As soon as concrete starts settling, gradually dip the coupler. The rope should be on the middle top of mold. You want to wait for a bit till the concrete thickens slightly. It should not take more than a minute usually but depending on the type of concrete, the required time can be a bit more.
Keep it this way for at least two days. Then you can bring the door stopper out from molds. The concrete could be still wet inside and that will make it damage easily. So, you should be careful here. The best bet is to leave it to dry for a few more days until it's color seems lightened than before.
The uneven texture of concrete is very normal once it dries. However, if this bothers you, simply sand the surface a bit. Also, you can keep your floor free from any scratch fear by adding little felt protectors to the bottom of these concrete door stoppers.
Make Lightweight Pillows that Work As Heavy-duty Stoppers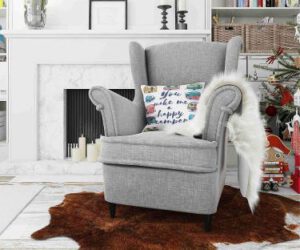 Your door stopper needs to be heavy enough for holding the door well. However, it does not need to look heavy. You can utilize some fun print fabrics to turn them into a lightweight pillow-like stopper.
Inside these, you need to insert something to make it heavy such as rice. You need basic materials here that are usually available at home. Muslin fabric, a rice bag, some beautiful ribbons, thread, a needle, and a few pins will be enough.
Another fun way is using some cross-stitch patterns, threads of various colors, needles, and canvas to make a long and thin pillow-like door stopper. Using that pattern, you can have any beautiful phrase resting at your door. Some ideas can be, "Please keep your shoes outside", "Hey buddy, welcome", "Come Inside Amigo" and so on…
Bring that Forgotten Toy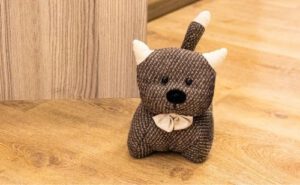 Do you have some animal toys at home? If it is a plastic dinosaur then even better. The dinosaur or any toy that your kid stopped playing with will make a cool door stopper. You simply need to fix the toy to any random wooden doorstop.
Of course, the glue you'll use here needs to be very powerful. You can also use any wood piece to create a triangle-shaped stopper first and then attach the toy to it. To make the looks be more appealing, add a few coats of metallic spray paint. It'll Look Beautiful!
The Woodie Piece With a Chic Leather Handle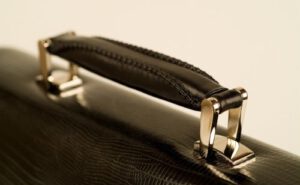 If a dinosaur toy sounds funny to you and that's not something, you'd want to add to your home décor, a vintage idea is right here.
How about customizing just the simple wooden doorstop? You can add a handle of a leather strip to it. And that should be just enough for providing the chicness. Some white paint can make the wood stopper look pretty and you can use a sealer as well.
Other things you may need are a saw, drill, brass washer, some screws, sandpaper, and a leather strip.
A Sculptural Tree Stump Stopper
Another great door stopper idea is using the beauty of simple wood material. A tree stump that looks sculptural will do best here. It should have enough weight for making the door stopper heavy as well as stable to do the job just fine. The nautical vibe from such a wooden door stopper is surely very unique and would stand out to your visitors.
Cut a Cute Oak Cube Piece
A cube-shaped oak wood piece will work excellently as a heavy-duty door stopper. It has the right amount of compactness for serving as a stable stop for doors. You can even try adding a handle for making it more practical.
Use some rope to make the handle. You can also try a screw-in metal handle for this. Depending on your preferable style, you can customize the handle accordingly.
You May Also Love to Read:
Wrap Up
The matter of how to make a doorstop will definitely require your creativity and imagination skills. The possibility is unlimited when you know how to play with your own creativeness and make beautiful things out of it. And that's the best part about DIYing.
Also, these DIYs are not just going to help with covering your free moments but also get you a very common, essential home accessory. And that's a door stopper. So, try fascinating designs with a combination of materials to make something beautiful and practical for your lovely home.