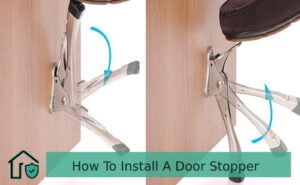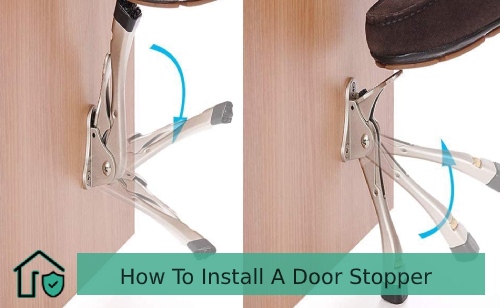 The wall getting dent by the door handle is nothing new in households. Your handle will face vulnerable damage eventually. And also, the wall will get to the certainty of filling needs. In some cases, you may also have to consider re-plastering as well as painting.
It's ought to happen if you don't take proper measurements to avoid causing such chaos. And usually, the only way to practically solve this is by getting a proper doorstop. Installing a door stopper is neither difficult nor time-consuming.
So, let's talk about the whole process of how to install a door stopper.
How to Install a Door Stopper – Know About Two Types of Major Door Stopper & How to Install them
When you think about the doorstop, there are basically two common types to use from. These are called hinge mounted and fixed post stopper. The latter one is also known as a wall-mounted door stopper. I'm going to break down the installation for both types. Also, I'll be talking about stuff that will focus on door stopper for home security. Keep on Reading!
Installing a Hinge-Mounted Doorstopper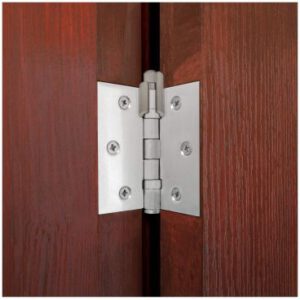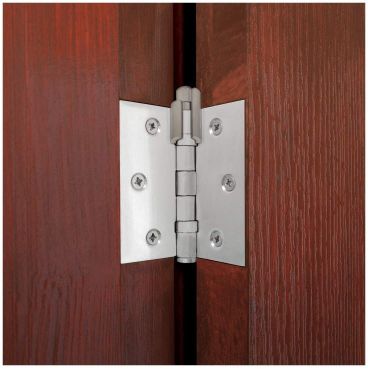 Basically, a hinge-mounted doorstop would come with a tiny metal body. There are two rubber pads as well and one of these will support adjustability. Usually, these are quite available in hardware stores. Also, very rarely this door stopper type not fits a certain door. So, your bet on this should be safe. Let's see how to install it like a pro.
The door you'll be installing stopper on needs to be close first of all. Then use a flat head screwdriver. The top hinge's pin needs some prying here with the screwdriver. Now beneath the top hinge pin, you need to place the screwdriver's tip. Next, use it as a lever and gradually force it out. And with that, you should have the pin of the hinge out.
Next, you will align the doorstop. Do this in a manner so that the adjustable rubber pad is facing wall. At the same time, a fixed pad should be flushing against the door. Now you should hammer the hinge pin. And it should be back onto its place.
Finally, you will adjust the doorstop so that a preferable opening distance is allowed. The adjustable pad should have a threaded rod. You need to twist this rod and decide how far the door should open. Here just use your fingers to grab the pad and twist it. If this feels tough, you can also utilize the flat head screwdriver.
Installing a Fixed Post Door Stopper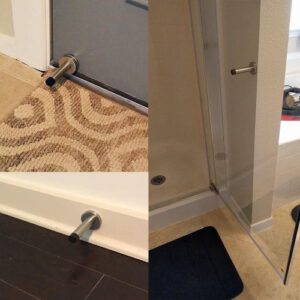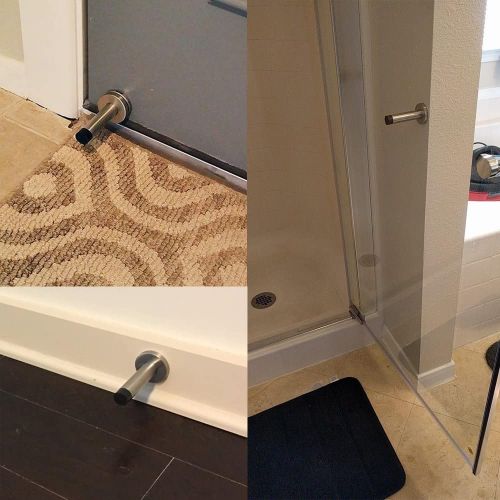 A short and strong post with a rubber pad on an end is what makes the fixed-post door stoppers. The other end is basically fixed with a baseboard or wall. And here you need to drill a hole and thread the stopper into it. Let's see how the thing gets installed.
You want to make the door parallel with wall by opening. There should be a point where the edge of door is lining up with baseboard. Simply mark the point down with a pencil. Next, you will make another mark on a point which is around 38mm far from the earlier one.
This should be towards the door's hinges. Also, make sure you are not marking the door too much far from the door's edge. Otherwise, there's a chance of punching hole through a hollow-core door with the installed door stopper.
Next, you need to create a hole for mounting the door stopper into the baseboard. Here you should grab a 3mm drill bit for the hole making. The hole needs to be exactly where you drew your second pencil mark.
Finally, it's time to screw the door stopper into hole you just made. There should be one side that protrudes a threaded screw. You need to screw this end with the drilled hole through the clockwise rotation. Once it is flush with the wall, you are done.
Some thoughts on Security Door Stopper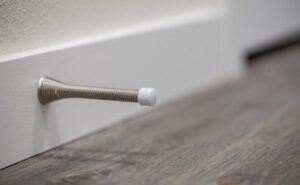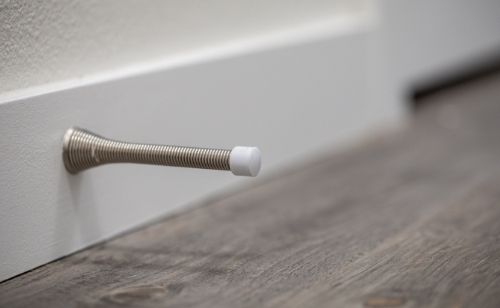 There are folks living in a bad neighborhood where security issues are vulnerably compromised. And so, you being safety conscious is absolutely valid. For such problems, one smart solution can be a special type of stopper that comes with a simple yet roust concept in mind. These are basically known as security door stopper and works amazingly against those aggressive intruders entering your home.
Usually, these stoppers come with a mechanism of wedging door closed from inside. There is also an alarm feature to notify you of every unwanted entrance attempt. The fantastic part about these is the portable tiny design that allows you to carry them even in a travel bag.
So, if you are bothered about the security issue of your home and want a stopper that will eliminate those bothers, this is it! Go for a stopper that looks just like any standard doorstop but comes with a built-in alarm, less wiring, battery power, and many more desirable functions.
Related Guide You May Also Love to Read:
Wrap Up
And that was all about how to install a door stopper. Keeping your wall safe and clean while preventing handle damage, there are so many functions that an ordinary door stopper can provide.
So, it's one much-needed element that should be a part of your household if not by now. Make sure you are giving some thoughts on buying a door stopper that is sturdy and durable. It should be able to provide sufficient tension to handle power and sudden openings. Good Luck with Getting an Appropriate One!