Picking the best door stopper is a tough decision that most people do not pay much attention to. Whereas choosing the appropriate one for the door is essential because if you select the wrong door stopper, it could damage your favorite wall of your home.
Therefore, to help you find out How to choose the right door stopper, we suggest you should look at the following information while picking a door stopper. Let's start.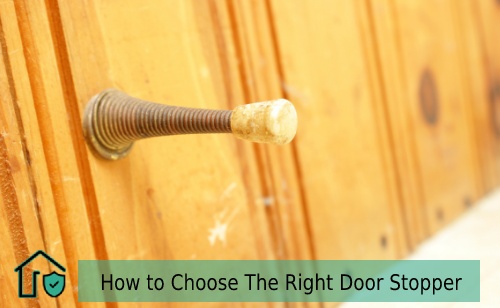 How to Choose the Right Door Stopper: Things You Need to Know
A door stopper is also known as a wedge, door block, and many other names as well. Most people use a doorstop to save their wall. Installing this super kit is indeed a smart idea.
However, there are various types of door blockers available for you to choose from. The skirting-board door stops for placing into the room's skirting, wall bumper stops for setting into the wall to connect with the doorknob, floor mount attached doorstop for the floor, and pin door stops to connect with the door hinge.
Now, let's see what to look for while buying a perfect door stopper.
1. Functionality and Installing Comfort
The first and foremost aspect you should consider while choosing the door stopper is its usefulness to you in its intended fields. Pick the one whom you can set wherever you want it on the door area. Moreover, some smart door stoppers do not require any kind of other tools to install. Remember that placing the door stopper high on the door prevents it from damaging through various household tasks.
2. Safety First
Children love to explore and wander towards the doors back and when it is open. They generally are very curious about this nice small kit. As a result, they can suddenly put their finger on the door jam and shut snap on them. It could be a very nasty and painful accident and can cause serious injury as well.
That's why you always need to install one that is friendly for pets and children, making the useful kit more safe and trustworthy on the go. It is essential to use a doorstop that is safe enough to avoid choking accidents.
3. Ultra-Modern Features
There are developed magnetic wedges that are tied inside of the cabinet door. As a result, the door can't open swinging back. Concealed hinges and built-in categories are very famous designs nowadays. Rail and sliding stoppers are also good for screen doors. You will definitely find the exact one for any kind of door. In the meantime, they are very versatile and affordable.
4. Remember The Floor Type to Use the Stoppers
Door stoppers are useful for any purpose, whether it's temporary or permanent, but you have to keep in mind which flooring you are going to use in installation. For the tiles or slippery floor, your wedges will need sufficient traction to remain in place. Carpeting will need a few different types of door stoppers certainly!
5. Consider Magnetic and Rubber Wedges
Magnetic stoppers with great function are good options. They are best for front door use as you may need to keep them open for a long period. Rubber door wedges are also nice as you can attach them to the floor.
6. Wedges for Busy Locations
Keepers are another nice type of door stoppers. They are generally intended to be used in a public area. Usually, you will find them as a hook and latch system, but it also has the simple option for kicking the stopper downwards. People use these types of wedges in order to improve accessibility in busy areas.
7. Straight and Curve Option for Exact Mounting
You will definitely hear about roller door stoppers. They are designed to use between two doors to protect them from one another. Rubber rollers help to move and operate the door freely without the trouble of pushing the knob to the other door. For suitable mounting, both straight and curved options are present in these wedges.
8. Avoid Cheap Door Stoppers
Many people like to get cheap stoppers, but honestly, they are of no value when using different types of floor. Say, on the carpeted floor, if it gets in deep, it is complicated to remove. So you must be careful while choosing the one that suits you best.
9. Having an Easy Set up that Matches the Shape of Your Door
Usually, the installation process of any stopper is straightforward, but the wrong stopper for the wrong door can make the process tricky. For instance – the pantry door will need different kinds of wedges than the front door. You have to keep these options in your mind and brainstorm which one is perfect for your home.
10. Aesthetics of the Door Stopper
The exciting thing is these stoppers are adorable as decorative pieces. Matching with your interior, you can buy one. It will enhance the beauty of the room. There is a lot of variety in the product to select the exact one that matches your fittings.
11. Frequency of Usage
After getting different kinds of door locks offered by well-known companies, you need to choose the best stopper depending on how often you use this specific door. If your door is placed in a place where it needs frequent closing and opening, you should buy stoppers that are built to apply in such circumstances.
Final words
Stoppers are obviously an essential element to keep the doors as safe and tidy every day as you want. It also saves our walls and skirting boards from getting harmed. Even in business areas, people also use this super kit.
No matter which kind of door you got, it is always important to know how to choose the right door stopper so that you never get cheated, and at the same time, become less frustrated after the purchase. Take care!