The front door will look like a bare entrance gate to a few. But it's actually more than that. The first impression on your visitors! The main card of whole security game. And many other things. A guest entering your home will probably look at the front door and get a quick idea of what type of preference you have. Your interior architectural style will surely reflect through the front door too.
And so, it's in no way an unimportant business to be careless of. So, when you decide to get the old boring and less secure front door out of the chat and install a new one, there's a few things you'll want to know. For example, how to replace a front door. This isn't something you actually need to pay for by calling another person to handle the chore. Because the process is simple if you pay a bit of attention and work with carefulness.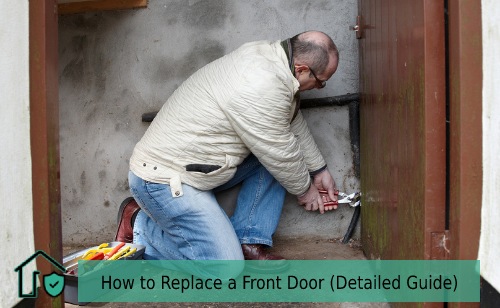 Detailed Guide How to Replace a Front Door All by Yourself
Replacing a front door by hiring someone will cost you around 400 dollars. And if you make the effort to find out how to replace entry door and do it yourself, that amount can go right back into your savings account. Below there will be a simple discussion on how you can do that…
Things You'll Need
Screws
Finishing nails
Level
Insulation
Drill
Drill bits
Hammer
Caulking gun
Pry bar or flat bar.
Wood shims
Get the Old Door & Frame Out
You need to get the outside trim and molding of your old door out. Let it come out from the rough frame but be very careful during removal. The existing trim can stay but this will depend on your new door specifically. If there's a trim attached with the new one, then you need to discard old trim.
You also need to get the metal hinge pins out from the old door. Use a drill to get the metal hinges out next. The sill should be attached to your home's rough frame with screws or nails. Use a screwdriver or hammer to remove those.
You also want to get rid of nails and wood shims. These should be between existing frames and rough. Then you can use a pry bar to get the existing frame out from the rough one. Try to give it a check as well. There can be signs of damage and rotting that you want to bring to your attention. Any questionable thing you notice needs professional handling for necessary repairs.
Installing New Frame of Door
The new door and frame need to fit properly. So, make sure to check by measuring. Into the existing space, simply slide molding and room. This space is right between the home's rough frame. Once the door sits, you want to level it. This is to make sure things are squaring well. And that will make the new door flush properly.
Then start measuring from the bottom of new door sill to bottom of door itself. You also want to measure the existing interior flooring height. This will ensure the opening door won't hit the floor. If door seems to not clear, raise whole doorframe. Secure a treated wood piece to the subfloor. You need to use screws and caulks for this.
Before you try to secure the new door and frame to the home's rough one, weatherproofing the sill is necessary. There is some pressure-treated wood-made boards available that work best. As the door sill will face elements. Use some caulk on the sill's underside and give it a press firmly. Use some nail-down sill for even better securing. And that should be great for weatherproofing.
Get some wood shims for adjusting the new door frame. This will make it square and flush properly at the opening. Insert wood shims right between rough frame and door at each hinge. You also want to work on the lock side which is probably on opposite. Insert shims at the bottom and top of the new frame. Use screws and drive them through the frame. They should go into shims.
"The Other Types of beds and bed frames You May Check"
Finishing Touch
Once you are done working with shims, double-check bottom, middle and top area of door frame. You also want to open and close the door a few times. This is to check if the door is working properly it should not be scratching anything. Also, there should be no skimming event.
If there are any shims sticking out of the frame, make sure to clean or cut those off. Use insulation for filling the gaps surrounding door frame. Go for padded insulation. You can also try fiberglass insulation spray. Let the thing dry properly. Make sure to get rid of any excess sticking out.
Time for you to attach the trim of door back. Go ahead and use the existing one or simply work with the new provided trim. You can even bring some stains or paints for your new door and trim. Working on a sawhorse will give better results in such a case.
Related Guide You May Also Love to Read
Wrap Up
The security front door gives is surely something nobody can deny off. If you are not careful to pick a solid and well-made door option for your main entrance, there can be a lot of trouble in near future. And you probably don't want that to happen.
Also learning the right way of how to replace a front door and working strategically is something you want to give importance to. Maybe the whole project will seem a bit daunting to you. But it's worth the after results. Not to mention the peace of mind you'll have that your home's front door now is not a clumsy, old and poor quality one.