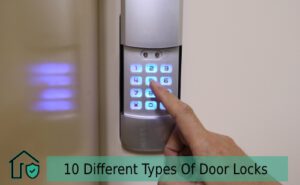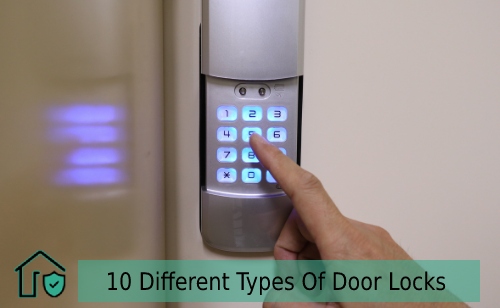 Keeping stuff locked is nothing new whether it's the cabinet or simply your entire home. People have been using different types of door locks as well as the ones meant for locking things inside the home. You cannot imagine the variety that exists in the lock universe. It's a very wide range that is pretty wholesome. So, no matter what lock concern you have, there's a high chance at least one option is readily available for that worry at this moment.
Figuring out a perfect lock involves having enough ideas about the existing range. And for that reason, I have designed today's writing…
Let's Talk About Different Types of Locks And How To Pick Them
Because that's the only way you can figure out for yourself whether a certain lock will match your priority needs or not.
10 Different Types of Door Locks And Their Usage
From most advanced types to common everyday variants, I'll be talking shortly about some of the popular lock systems available. Also, there will be enough hints about what you can use the particular type for. That way, picking the suitable lock for your requirement would sound easier. So here we go…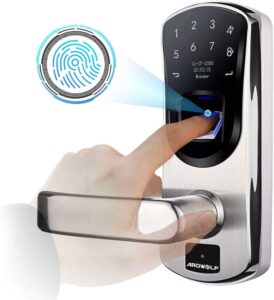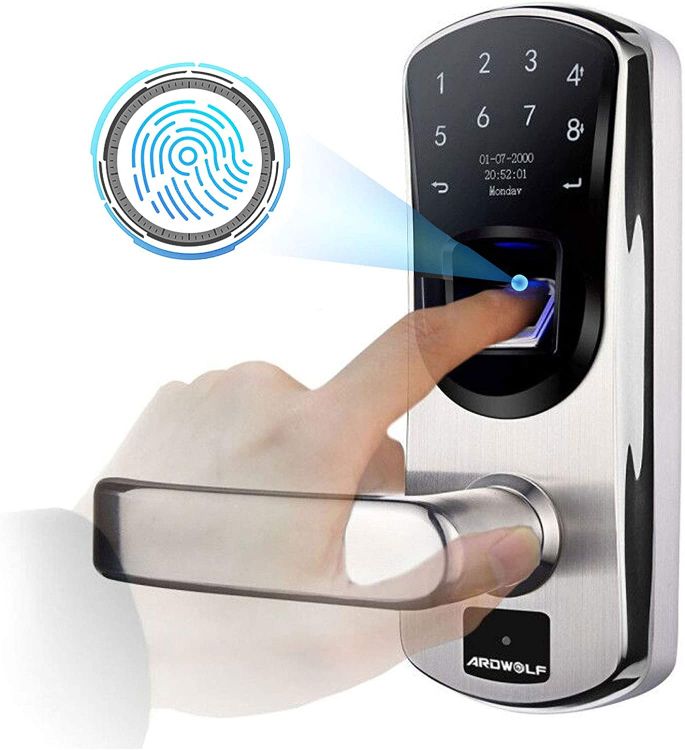 The most innovative and newest door lock type that has made people gone head over heels through its superior security benefits is this one. It can work along with your smartphone to access the safety features virtually. There are even varieties that support google home, homeKit as well as Alexa.
Smart lock system for google home can provide you complete access to the entire video and audio monitoring plus other smart features for an ultimate house control facility. You can see 4 common types of smart locks these days. The first type is Bluetooth enabled smart lock system.
It's so far, the most common connection used through your smartphone. With, Bluetooth door locks there's no need for a hub in between. When you are within range, the lock automatically unlocks. However, the only problem here is that it works when you are within range.
And that problem is solved by the next type using a Wi-Fi connection. You can control it from anywhere since it stays connected to the internet. However, the battery gets drained quite faster here compared to Bluetooth. So, you may have to change the batteries every once a month.
And finally, the type that lets you enjoy a cross between Wi-Fi and Bluetooth locks is Z-wave variants. Most well-known homekit smart lock systems usually support this system that requires a hub. It lets you connect through internet-enabled mobile devices.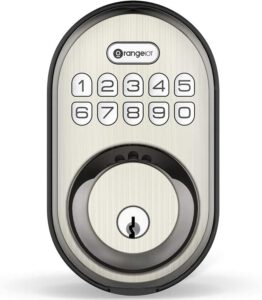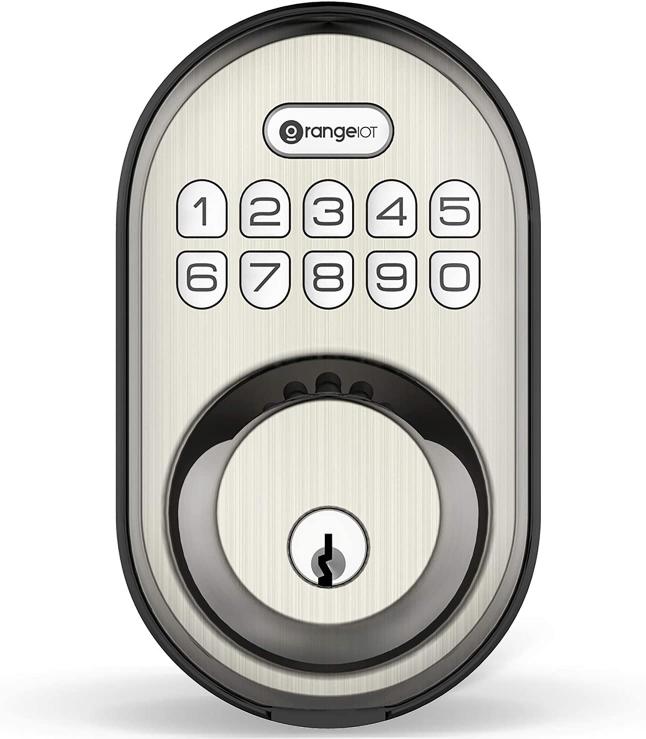 If you wish for an external door locking system that will work amazingly and still cost you pretty inexpensive, then deadlocks are the way to go. The direct cylinder locking through the door working along a keyhole is basically its major mechanism. With the turned key, the internal cylinder moves sideways and protrudes through door frame. And this makes the door lock.
These days smart deadbolt lock is also becoming common in households. The best reliability for external doors is what the smart deadbolt lock system provides. If you have a window side to your home door, then also this type of lock will work best.
Since even if a bugler tries to break the window to access lock, he or she won't be able to gain any sort of access with a deadbolt variant. However, in an emergency situation or fire hazards, this can be a problem. Since you'll need some time to access through the key for exiting your front door.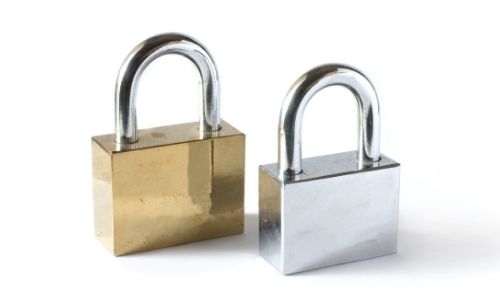 The freestanding lock squad has an amazing portable option called padlock that works best for lockers, trash units, drawers, and even sheds. Padlock for storage unit is very versatile to use since they come with looped-handle shackles.
It also uses a shouldered shackle. And this part makes the shoulders raise on the sides. So that bolt cutters never have a chance of cutting it. You can find two major types to buy from. One uses a keyed mechanism. While the other one is a combination lock. These are super mobile as well as easy to recognize.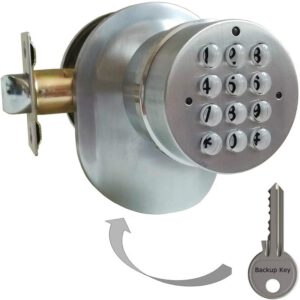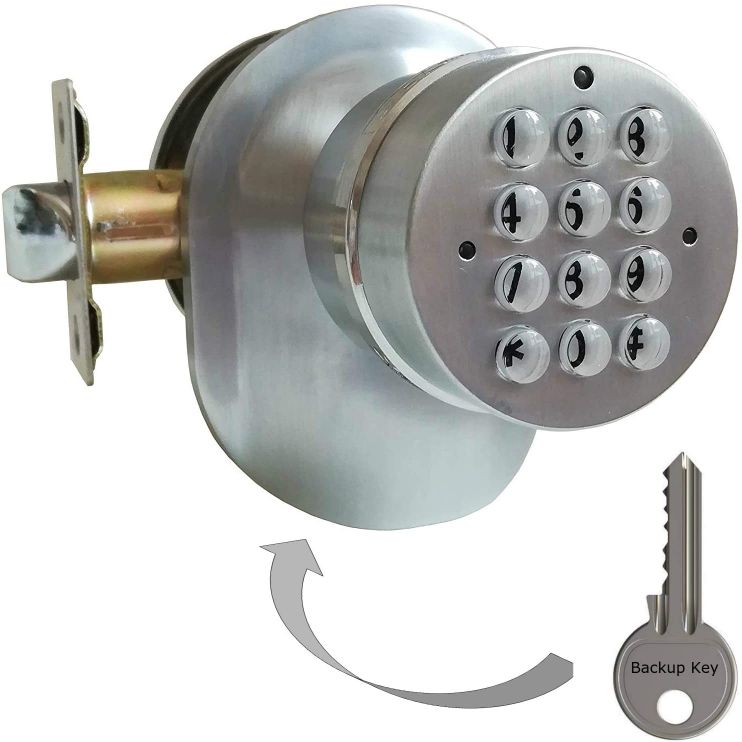 The most common and chief method for maximum home doors is knob locks. It comes with a lock cylinder inside the knob of a door. And this is why it must be used for interior doors. You should always avoid placing knob locks in the external doors of your house. Because these are pretty easy to break using common tools. Such as a regular wrench or even a hammer.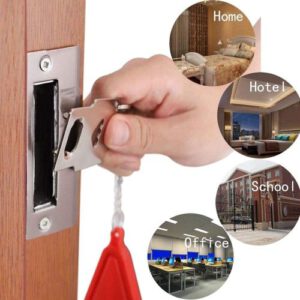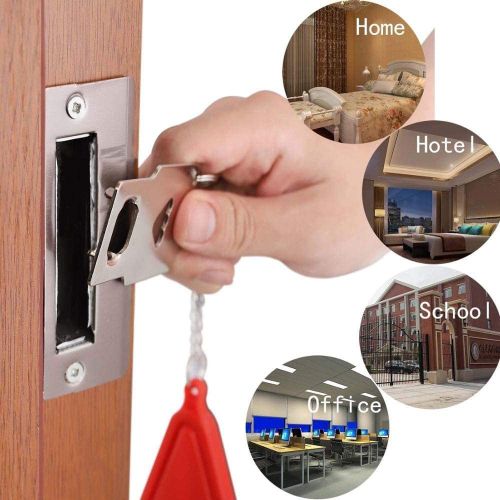 Portable door locks are being heavily used by families on vacation or overnight stays. It usually comes with an alarm. So that you and your family can enjoy a peaceful night of sleep. Some dorm living students also find the portable door lock convenient to use.
Even the ones who are planning to stay in a cabin or rental for a vacation will surely find this type of lock super versatile. Usually, in such places, there are many people who may have a copy of the door accessible key.
And so, using a portable door lock of your own during such events will bring better safety outcomes. Another good thing about portable door locks is that these are pretty less damaging to most types of doors or frames. So, you can use this on a stay at somebody else's property without fearing any damage.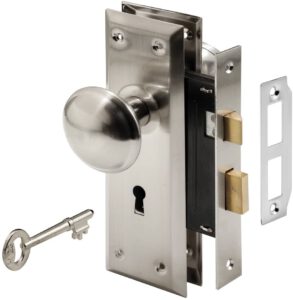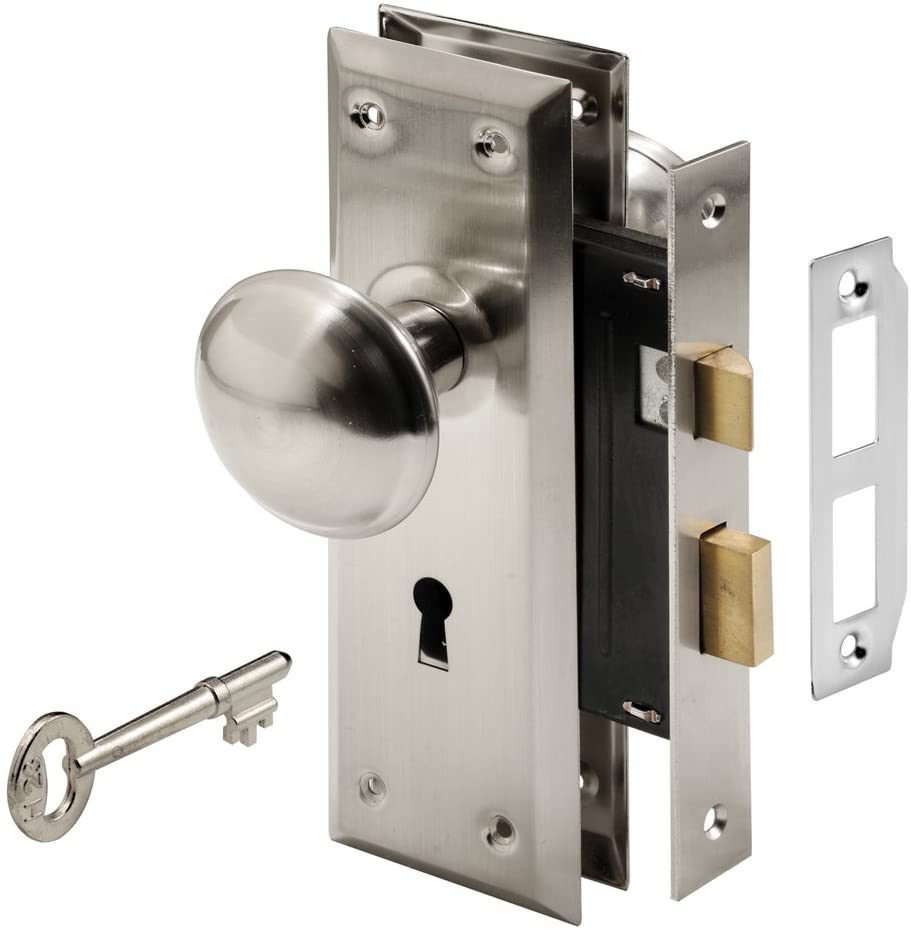 This is another suitable for external door lock type. You can get both heavy-duty or light working variety with these. Usually, locksets are used with mortise locks. It usually includes a cylindrical body and holds levers or knobs.
Mortise components along with threading are used for doors with these. You will find the mortise lock super suitable for commercial doors. It also works well for an apartment or any entry glass door with fewer damage risks.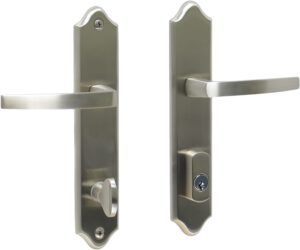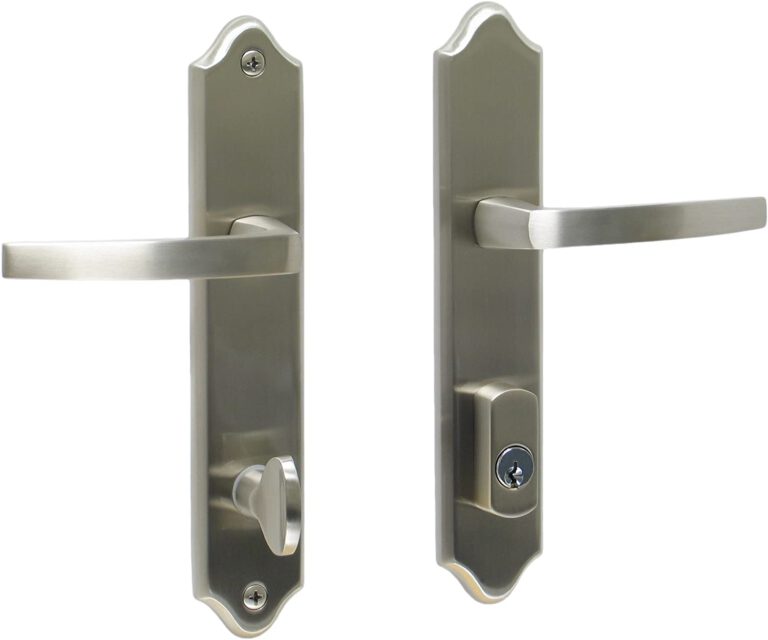 Multi-point locks work with being fitted inside the door's body. Once you lock the door, multiple points start engaging with your door's frame. Usually, it varies from 3 to 5 points. In most cases, the euro-cylinder lock is included in this mechanism.
You can use this type of lock for UPVC and composite entrances. Also, this type works well with a patio or French doors. You can even try using this with Aluminum and timber doors. Both the external front and back doors can use a multi-point lock.
With more locking points, it's hard to force the door. You also can easily upgrade this type of lock. However, the user must be aware of the right locking mechanism. Or else there can be a risk of not locking it correctly. And that can bring a huge security loss.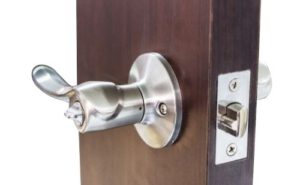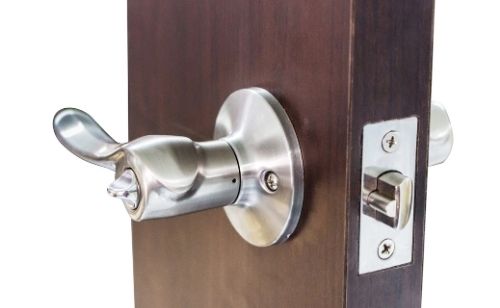 Usually, Lever Handle Lock works great for inside doors at one's home. You can use it for a basement or even closet doors. A simple handle lever operates here on one side. And a regular twist knob stays on the other side.
It's not a very safe providing lock type. And so, this isn't the typical type meant for external doors. However, if quickly opening the door is a case, this lock works best. And that's usually useful with situations such as carrying groceries home and so, wanting to open the lock quickly.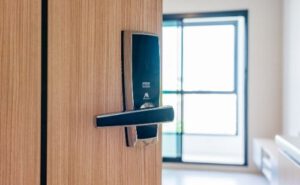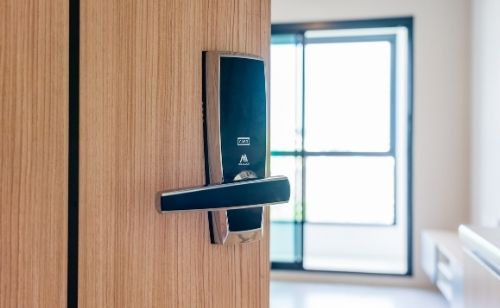 A low-cost and simple-to-install lock that lets you enjoy easy building security solutions is what digital locks are good at. This works best in situations where you need a reliable answer for access. But due to a huge volume of people meant to enter or exit the place, it's quite unpractical to think about key or card engaged systems.
Digital locks can solve such issues since it usually needs either entering codes, smart cards, or simple fingerprint recognition to gain access. These suit homes, flats, schools, offices, and most restricted areas with both internal and external doors.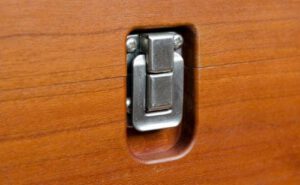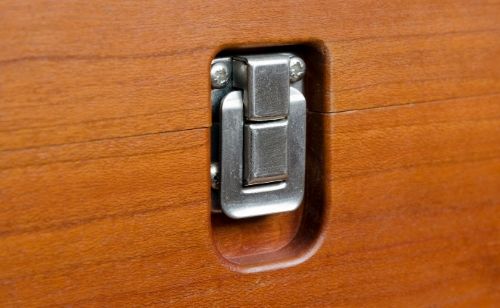 There is a wide range of furniture locks available for cabinet, desk, and similar stuff locking needs. You can get either push-button style or the one that uses bolt for operation. The bolt type uses a flat metal for extending out to secure a device. These are suitable for drawers, cabinets, and also desks.
The push-button style furniture lock comes with a rod. This usually peaks out of the lock's back part. This type best fits filing cabinets and sliding doors. Also, installing furniture locks in existing hardware is pretty simple.

Related Guide You May Check:
Wrap Up
And that makes us enter the final part of today's writing. Hopefully, you'll find at least one out of these different types of door locks and stuff locking mechanism useful. It's very important to have proper locks going with your doors and other areas at your home. So do pay attention to the proper selection related to this concern. Good Luck!