Spring door stoppers prevent the door from knocking against the wall, causing it to bounce back if someone tries to shut the door too hard. They will help you prevent the door handles from punching the drywall, board, or adjacent cabinets and. Since the springs are made of rolled steel and are mounted on planks that reduces the risks of injury to children and pets from the door.
Choosing the best door stopper for your home or business may not be an easy task, there are a variety of options that can make this task a bit complex. Here I am with the list of the Best Spring Door Stoppers that can also give any room an aesthetic look alongside keeping your doors and walls safe.
Quick Summary for Top 5 Products
Best Heavy-Duty Door Stopper: Jack N' Drill Door Stopper
3.1 inches, Sturdy and Super Flexible, Shield Doors and Walls, Excellent for both Home and Office, Comes with Satin Nickel Finish, Easy to Install, and 100% kids Friendly.
Best Spring Door Stopper: HOMOTEK Spring Door Stops (12 pack)
3-1/4", Durable structure, Brushed Satin Nickel, Low Mounted White Rubber Bumper Tips.
Best Baby Proof Door Stopper: HouseHold Impressions Door Stoppers (12 Pack)
3.125 inches, Flexible, Robust, Rust-free, Baby-proof solid rubber caps. Satin Nickel materials, easy to mount, long-lasting
Best Satin Nickel Spring Door Stop: Design House 181701 Spring Door Stop
Satin Nickel, Oil-Rubbed Bronze, Polished Brass, Easy Installation, Coordinating Rubber Stoppers, Sleek Satin Nickel Finish, 100% Steel Durable.
Best Flexible Spring Door Stopper: KOVOSCH 2 Pack Spring Door Stops
3-1/4″, Brushed Satin Nickel, Very Flexible with Sturdy Rubber Bumper caps. Prevents wall marks, Durable design, Noise-canceling mechanism, Easy to install.
The Top 5 Best Spring Door Stopper Reviews 2023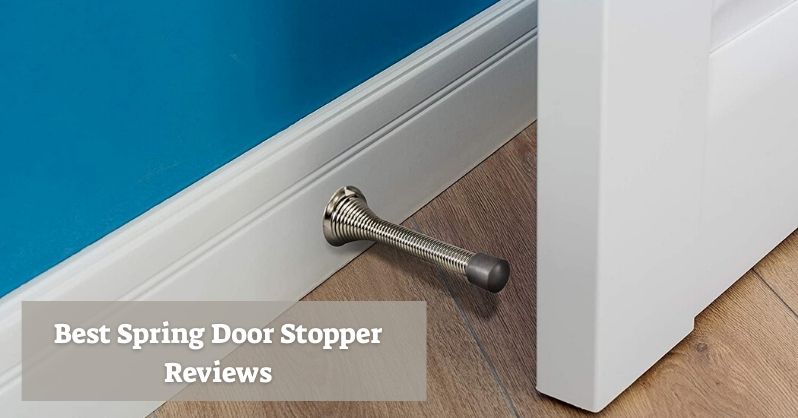 Without further ado, let's see the in-depth reviews of the spring door stoppers.
1. Jack N' Drill 15-Pack Door Stopper 3.1-inch Heavy Duty and Flexible Door Stop
Highlighted Features
Easy to install
Sturdy Construction with protection cap
Highly flexible
Kids and pet friendly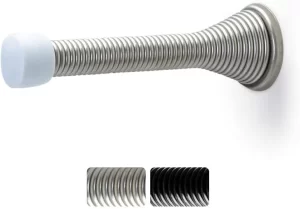 If you are using fast swinging doors and tired of making frequent repair bills because of the damages of drywall, adjacent cabinet, and the door itself from fast swinging doors, Jack N' Drill spring door stop is the perfect solution for you. It protects your wall from wild swinging doors and saves your money on unwanted bills. So, install it and forget door repairing bills.
Moreover, this doorstop delivers a stylish, sleek spring design from bronze(oil-rubbed) to chrome or satin nickel. There is also a downloadable sticker of animals for making the spring door make more attractive. Not only in design, but it is also sleek in installation too. Mark where to set the stopper; drill a hole; place your door stopper base; put the spring on the wall and base.
Jack N' Drill spring door stop is one of the pet and children friendly products. It has no sharp ends and is safe with all its curves. However, you should keep an eye if the curious babies and animals start playing with the spring door stopper.
Moreover, this door stopper comes with a complete package that includes 12-pieces door stoppers and three flexible door stops as a bonus. You can attach it to any of your home and office room doors. So, you can pick this best heavy-duty door stopper without any hesitation.
2. HOMOTEK 12 Pack Brushed Satin Nickle Spring Door Stops
Highlighted Features
Hassle-free installation and changing
Heavy-duty build quality
Very flexible door stopper with dual mounting feature
Easy to handle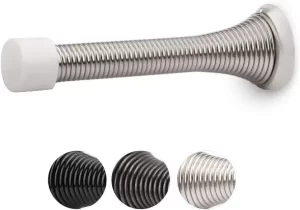 If you require an Easy to Use and Simple to Handle spring door stop, HOMOTEK Spring Door stops will suit you most. It has a dual-mounting facility that may charm you. You can install it into the boards or straight on doors with screws provided with the pack.
Yes, this 2-way installing feature makes it one of the best spring door stoppers for people who have kids or pets in their house.
Moreover, HOMOTEK Spring Door Stops protect your walls, exterior, and interior doors from harm with their firm rubber bumper tips and wide base. Also, it works brilliantly against swinging doors that slam into your room's walls and make doorknob holes. It also protects your fiberglass and wooden doors from dents.
Above all, the HOMOTEK team hears you. If you have any objections about their products, they will replace good ones, even refund if it incurs.
3. HouseHold Impressions Spring Door Stoppers
Highlighted Features
Not easy for kids to remove the rubber tips or caps
Good quality product
Non-complicated mounting
Spring quality is thick and sturdy

If you have kids and pets who love to play with everything in their reach that keeps you worried all the time, HouseHold Impressions Spring Door Stoppers could be your ultimate choice. It is the best baby-proof door stopper in the market. Moreover, HouseHold Impressions offers you a safe and flawless user experience with their high quality and guaranteed products.
In addition to that, this Spring Door Stoppers have a simple installation process. Besides, it protects your bedroom, bathroom, office, kitchen, living room, and garage doors made of wood, steel, and fiberglass and adjacent walls and other close household articles from unnecessary marks and scratches.
Plus, the HouseHold impressions door stoppers are the most kid-safe products of their kind in the market. The manufacturer GUARANTEEs that its Door Stoppers will be impossible for your youngsters to take off the rubber caps from their exclusively fashioned low-mounted stops.
Thus, it lessens the danger of the stopper cap as low-quality stopper tips can be a choking hazard. It's even hard for adults to remove the tips–as they claim. These door stoppers are also noise-canceling that will help you to keep calm.
The manufacturer also promises that its products are unbreakable and rust-free. HouseHold Impressions' guarantee includes a money-back if any pre-claimed criteria aren't found.
4. Design House 181701 Spring Door Stop – 10 Pack
Highlighted Features
Durable structure
Really easy to mount as it comes with all mounting hardware
Affordable price tag
Aesthetically pleasing design

Most of the Spring Door Stoppers in the market are made of stainless steel and Satin Nickel. But this one is exclusively worthy of mentioning as Design House's Spring Door Stops are products of 100% Stainless Steel and Satin Nickel Finish. Thus, it ensures its durability and heavy-duty. If you are an enthusiast of once-in-a-lifetime buying, I suggest you choose this one.
Unlike others, they don't offer you the money-back guarantee, but Design House cares about the best usage of your money, along with their company goodwill. The sleek satin nickel finish has an aesthetic value along with practical use. As time passes by, the Design House Spring Door Stops remain brilliant and glazy like new ones.
Their mounting hardware is included for easy installation. The installation process meets many types of doors. Rubber tips at the head of the door stoppers will help you prevent door knobs from punching through the drywall. It also prevents damage to a trim board, door, or the neighboring cabinetry and eliminates any damage to the adjoining wall next to your door.
Overall, in my opinion, it's the best satin nickel spring door stop for home and office.
5. KOVOSCH 2 Pack Spring Door Stops Brushed Satin Nickel
Highlighted Features
Superb flexibility
You can install it quickly
Unique noise-canceling design
Cost-effective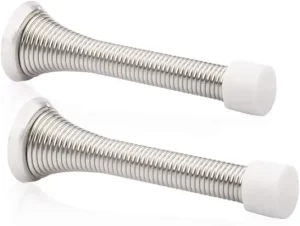 Check latest price
If you are fond of flexibility and smoothness while using an aftermarket product, KOVOSCH Spring Door Stops is a good match for you. In fact, it's considered the best flexible spring door stopper as they offer a tough and durable design for a flawless experience for the consumers. That's right! the heavy-duty and reliable quality of the door stoppers makes KOVOSCH a trustworthy name in the market.
It flows a quick and easy installation process that saves you from extra hassles. The noise-canceling design guards you against the annoying clack that most door stoppers do, especially those that are not of spring. So, these spring door stops keep your house, office, or shop peaceful, bringing you more comfort.
Also, the KOVOSCH's heavy-duty satin nickel spring door stops are made of steel and individually wrapped to protect the door stoppers against any scratches. Their durable design and uncompromised quality are the main strongholds of KOVOSCH spring door stops. However, if there is any quality problem, the manufacturer is ready to Refund or Replacement.
Things To Consider Before Buying The Best Spring Door Stoppers
These 5 are among the top Spring Door Stoppers in the market. Despite that, you might still be worried about what would suit you best. However, some key factors can help you make up your mind and choose the right Spring Door Stoppers. Here are the things you need to consider:
Manufacturing Materials
The materials used in making the Spring Door Stoppers play a vital role in terms of quality, longevity, and smooth usage. Steel is a good material for the production of Spring Door Stoppers.
If the spring of the door stoppers is made of stainless steel its performance will be good and services for a good long term. The plastic or rubber tips on the head of the stoppers also play an important role in whether it will be durable or not. Hence, at the time of buying a spring door stopper, consider if the spring is made of stainless steel and observe well how tightly the tips are fixed with the head.
Design
The design could be one of the crucial objectives of consideration while buying spring door stoppers. The durability, flawlessness, and smooth usage experience depend on the design of the door stopper.
Take notice and try to buy spring door stoppers that fit your door style and home (or office) decoration most. Besides, take a look at the color and finish of the products as well. Especially, look for a design that does not make the door stopper so vulnerable for the sake of design.
Safety and Kids & Pets Friendly
Safety is one of the main features of the spring door stoppers. The purpose of the door stoppers is to protect the door, adjacent wall, and other things from unwanted dents and scratches. So, you should look for the best spring door stoppers to ensure your safety requirements.
Especially, if you have restless kids, especially toddlers and curious pets, you need to be extensively careful about the safety measures of the door stoppers. Under such conditions, try to buy some stoppers with no sharp edge; and with rubber tips that are fixed tightly or permanently if found.
Easy Installation
Easy installation is the fact to keep in your head during the buy of the spring door stoppers. The complex installation process could be an extra hassle for the user. A product with a complex installation process may charge extra money for the professionals. Every time you fix or install a new one you have to call a professional. Therefore, the spring door stoppers with an easy and do-it-yourself installation process is a grave fact to consider while buying a door stopper.
Final Words
As per your expectations, there are many types of door stoppers available in the market. The problem is that not all door stoppers are the best choice for you. They also do not have the same level of comfort, capacity, and ease of installation.
However, I believe, these reviews and the buying guide will help you find the best spring door stoppers from the available options. If you have not yet purchased your doors, choose the one that best suits your needs from the list above, taking into account the criteria mentioned in the article.