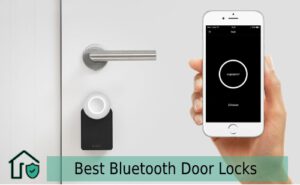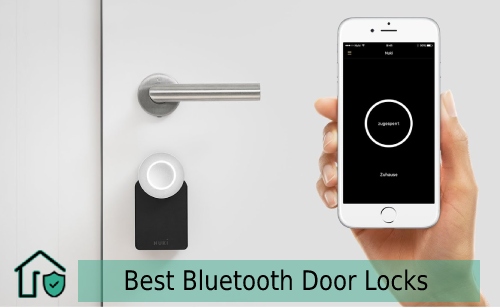 As the years go by, we are making constant improvements in our daily lives with the aid of technology. One of the most recent introductions was the smart locks, which are essentially door locks with a robotic twist!
These smart locks allow you to wirelessly lock your door without the need for a key; you simply need to connect it via Bluetooth or even Wi-Fi. Mass production of these smart door locks will have regular ones become obsolete.
With so many options in the market, it can be quite difficult to choose the best Bluetooth door locks for yourself. Below, we have laid down some of our top picks to further clarify your decision-making process.
Let's check it out!
In a hurry? Here's a quick list of Top 7 Bluetooth Door Locks in 2023
Top 7 Best Bluetooth Door Locks Reviews 2023
We have put in considerable hours of time into our research to bring forward our top 7 Bluetooth door locks. These locks have been selected based on their features, pricing, and unique functionalities.
1. Kwikset 99420-003 Aura Bluetooth Programmable Keypad Door Lock Deadbolt Featuring SmartKey Security
Highlighted Features
The Kwikset app lets you manage all the functionalities of the door lock when you're in Bluetooth range
Multiple entry options, ranging from a physical key to just a tap on your phone
Create up to 250 unique user codes while also set schedules during specific times or days
The app enables you to check the history of the lock to see which users have entered and left the house while you were gone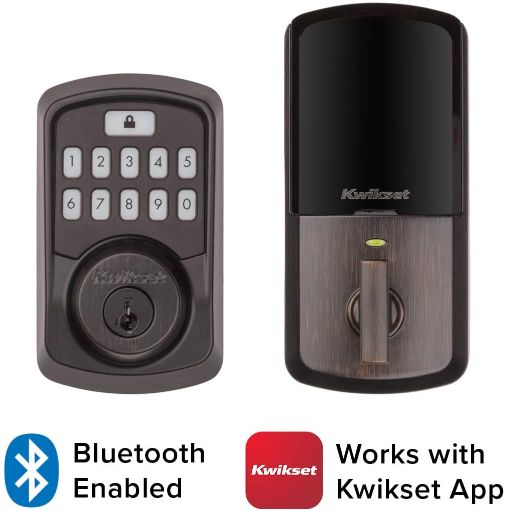 The first pick on our list is the Aura Bluetooth door lock by Kwikset. If you've shopped for locks and hardware before, you should be no stranger to Kwikset's brand reputation. With years of experience, they are surely one of the heavyweights in the game.
Right out of the box, you will notice the sleek design of the Aura door lock. With its rounded edges and minimalistic design, it will definitely turn some heads. The buttons on the lock mechanism have a rubber feel to them, aiding comfort when you type in your passcode. Also, the knob has a smooth rectangular shape which compliments the overall aesthetic of the door lock.
The Aura Bluetooth door lock features a keyless entry mechanism, enabling you to enter your house without carrying a key.
If you are, however, a fan of the traditional key style door lock, you'll be please to know that the Aura Bluetooth keypad door lock provides this functionality as well! You can unlock the door with your set passcode, physical key, or even with a tap on your phone.
What's more, installing the Kwikset app opens you up to a world of myriad possibilities. The user-friendly UI of the app allows you to set almost 250 unique codes for each user profile; also, you can even schedule each profile's access! This is particularly handy when you have people coming over in your absence.
2. Hornbill Bluetooth Enabled Digital Smart Deadbolt Door Lock With Keypad
Highlighted Features
Access Control allows you to restrict access for different users or allow access within scheduled periods of time
Auto-lock functionality will lock the door after you every time you leave the house
Very easy installation process
The built-in notification system will remind you to replace your batteries on the app or the lock itself, so you don't get into troublesome situations.
Zinc-Alloy construction aids durability
The waterproof and anti-impact body makes it withstand all sorts of weather conditions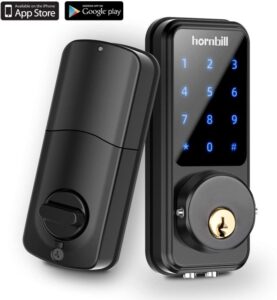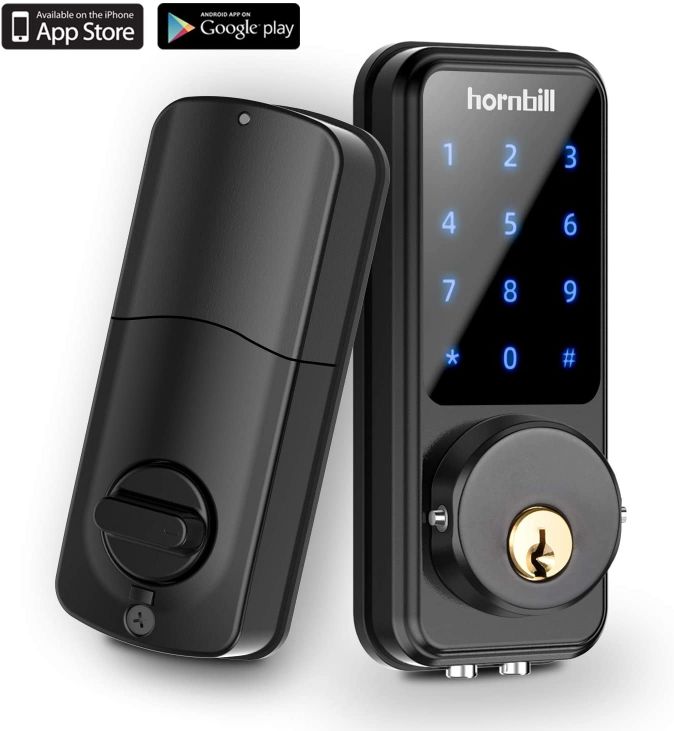 Up next, we present to you, the smart door lock from hornbill. Loaded with tons of features and functionalities, this truly is the door lock of the next generation.
Let's talk about the heavy build of this smart door lock. Once you get a feel of its weight and construction quality, it is almost evident that this door lock will last you for ages.
Door locks need to be durable and reliable too, especially the outdoor components as they are exposed to weather conditions. With this smart door lock, you don't have to worry one bit! The zinc-alloy construction makes this sturdier than most of its competitors in the market.
Equipped with multiple unlocking options, walking into your house will be as convenient as ever. If you have heavy bags and can't seem to type in your passcode or put in the mechanical key, you can easily use the app on your phone to unlock it before you get out of the car. Or, better yet, you can configure the auto-lock functionality from the app, which will automatically unlock the door when you arrive or lock when you leave.
Being a smart door lock with a keypad, an easy installation process is probably one of the best qualities this door lock has. Packed with an instruction manual, all you need is a pair of screwdrivers and a drill to set it up.
3. Hornbill Keyless Entry Bluetooth Smart Door Locks For Homes Bedroom
Highlighted Features
Can be integrated with Alexa, enabling voice control functionality
Zinc-Alloy body aids durability and promotes service life
Uses battery power efficiently, resulting in a higher number of door openings
Enables you to store multiple unique passcodes for different users, which lets you track the time each user walked in
Using the app, it can be configured to close once you leave the house, saving time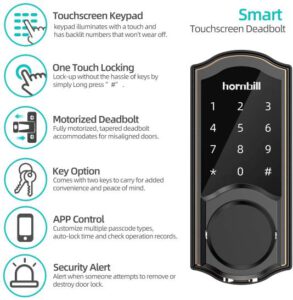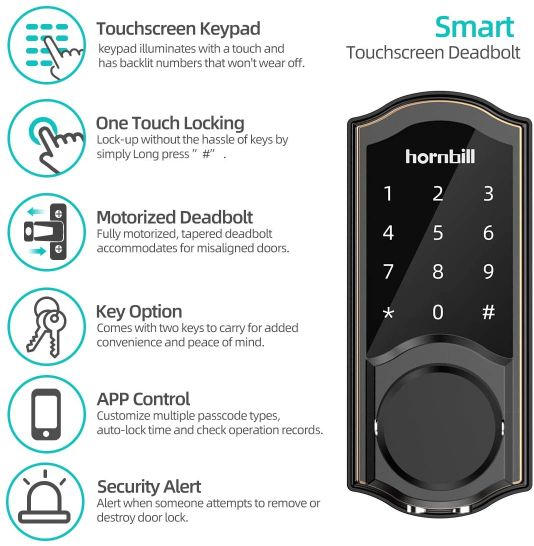 We have yet another entry from Hornbill on our list. This door lock is ideal if you're looking to replace the locks on your front door. Known for its durability, this lock from hornbill will last you for many years.
We aren't exaggerating when we say that this might be one of the best smart lock front door mechanisms out there. Considering the heavy-duty body construction of the lock, it is going to be standing strong no matter what weather conditions are.
If you're frequently hosting your home to guests or looking for locks at your rental property, then this is the ideal solution. You can schedule your guests with temporary passcodes during their stay and revoke their access when it's time to leave.
It also allows you to set up different passcodes for each user; this is a useful feature when you try to identify who went in and out of the house. This lock seamlessly connects with your app to give full control. The app is essentially the control center, which lets you set unique passcodes, gives you daily records of walk-ins through your door. Also, the app acts as a notification center to alert you when your battery is running low.
4. SMONET Smart Deadbolt Bluetooth Door Lock For Home, Hotel & Apartment
Highlighted Features
Supports both Bluetooth and Wi-Fi connection, giving you more flexibility
Ensures longer battery life by using power efficiently
Using the e-key function, you can send individual passcodes to different users
A built-in security system will lock the door for 5 minutes when the incorrect passcode has been entered multiple times
Zinc Alloy body withstands harsh weather conditions, adding to its long service time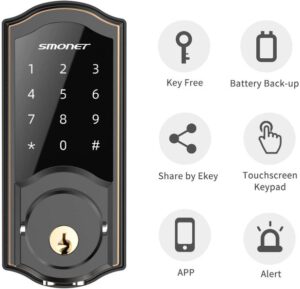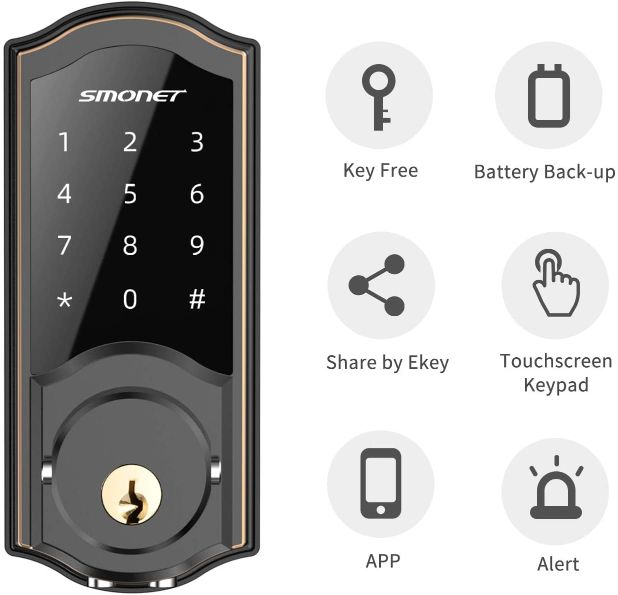 This next door lock isn't just a Bluetooth door lock; it specifically differentiates itself with the added functionality of Wi-Fi integration. People at SMONET put a lot of care into the details of this product.
In terms of aesthetics, this door lock stands out mainly because of its slim border accents. The touchscreen on the outer panel of the lock body has a glossy texture that pleasantly offsets the matte body. Overall, this is a nice aesthetic addition to your door.
Powered with four AA-size batteries, this lock uses energy efficiently to give you almost 5000 openings!
The passcode functionality makes it convenient for your guests or relatives to enter your house without your presence. All you have to do is set up the app on your own phone and set unique passcodes for each person. The app also has an e-key function that sends the passcode to a recipient, giving them a virtual key to your home.
Packing all of these features in such a stylish compact body puts this door lock on the list of the best smart deadbolt lock.
5. NexTrend Keyless Entry Electronic Front Door Lock Works With Bluetooth
Highlighted Features
The lock features efficient use of battery life, which is tested to give almost 6 months of service.
Offers you the option of using a mechanical key, passcode, or the phone app to unlock the door, giving you more flexibility in different situations
You can set up temporary codes for your friends and family so that they don't have to wait for you to let them in
Customer service is amazing, and you are provided with lifetime free technical assistance if anything ever goes wrong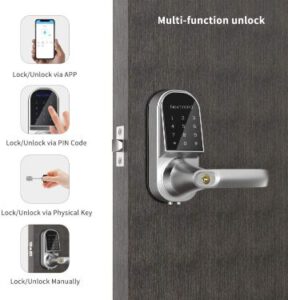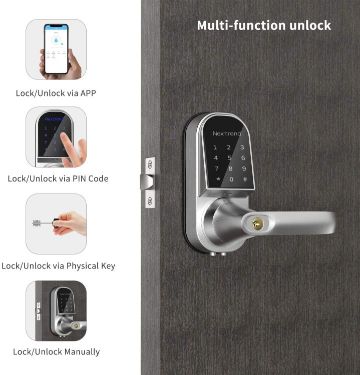 Whether it be a hotel, your apartment, or even your very own house, you cannot go wrong with the smart lock from NexTrend. Being fitted with all the basic functionalities of a smart lock, its standout feature at first glance would be the traditional door style handle.
While it's true that it comes packed with a set of mechanical keys, you will hardly find yourself using it. There are tons of daily situations where you might forget or find it inconvenient to carry a key, sometimes even your phone.
One of our go-to scenarios is when you go out for a morning jog, carrying a phone or key might be a hassle. No problem! Simply walk up to your door lock when finished and type in your passcode to enter, it's that simple.
If you're someone who truly believes in the phrase "mi casa es su casa," then you probably have a lot of friends coming over. Some might even show up earlier than planned, and now they have to wait for you to get home to let them in. Using the smart lock, you can cut off the wait time by assigning each of your friends and family member unique passcodes they can use to enter.
6. Wandwoo Bluetooth Smart Lock For Office Hotel Home Garage Apartment
Highlighted Features
With the app installed, you will not forget to put in new batteries as it comes with a reminder notification system
Using the app lets you assign numerous temporary PINs to your guests or friends
Manufacturers provide instruction video which makes it easy to install
Gives you three options to unlock your door; with the key, your phone or just the passcode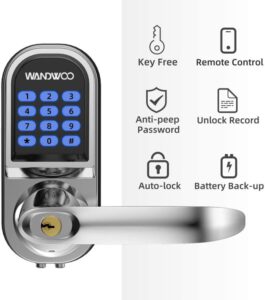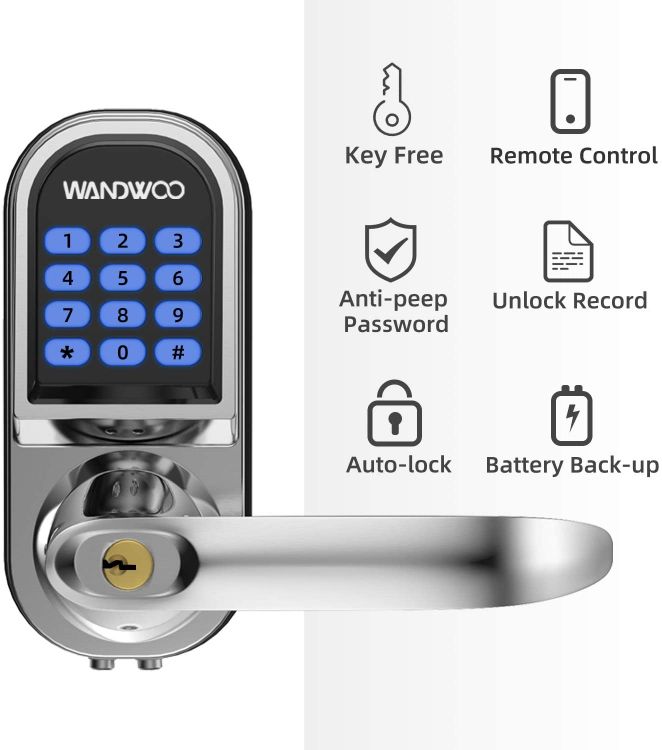 This next lock probably lines itself up with some of the best electronic door locks in the market. Similar to the NexTrend smart lock, this door lock also features a handle-style design. The handle is made with a rounded design, which gives it an ordinary door lock feel.
No matter your skill in terms of hardware installation, setting up this door lock should be a breeze for anyone. Wandwoo has its own set of instruction videos online, walking you through the whole process thoroughly. One quick look and you should be good to go.
Everyone loves flexibility when it comes to door locks, and this product does just that! With its multiple unlock options, you could find yourself not carrying a key or even a phone without any worries. If you prefer mechanical keys, carry the set of keys that come with the lock. Otherwise, you can just leave the keys at home and resort to using the passcode or even your phone app.
The convenience of having an app is underrated. It almost acts like a remote control to your security system. The app does all sorts of things like reminding you of low battery, assigning temporary passcodes to others, and even check the history of people that have entered your house.
7. Ultraloq U-Bolt Bluetooth Enabled Keypad Smart Deadbolt Door Lock
Highlighted Features
Multiple unlocking features (key, phone, auto-unlock and passcode) give you a wider range of options in different scenarios of your daily life
The door has proximity settings that lock your door after you leave and unlocks when you arrive, saving you the headache
Security of the e-key is ensured online as the keys are encrypted on both ends, making it harder for hackers to intercept and decode the PIN
The app lets you set unique PIN codes, and it can also be made temporary based on a schedule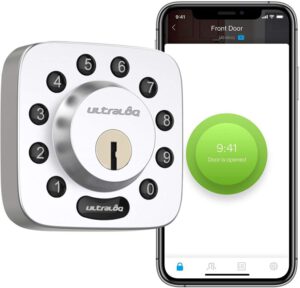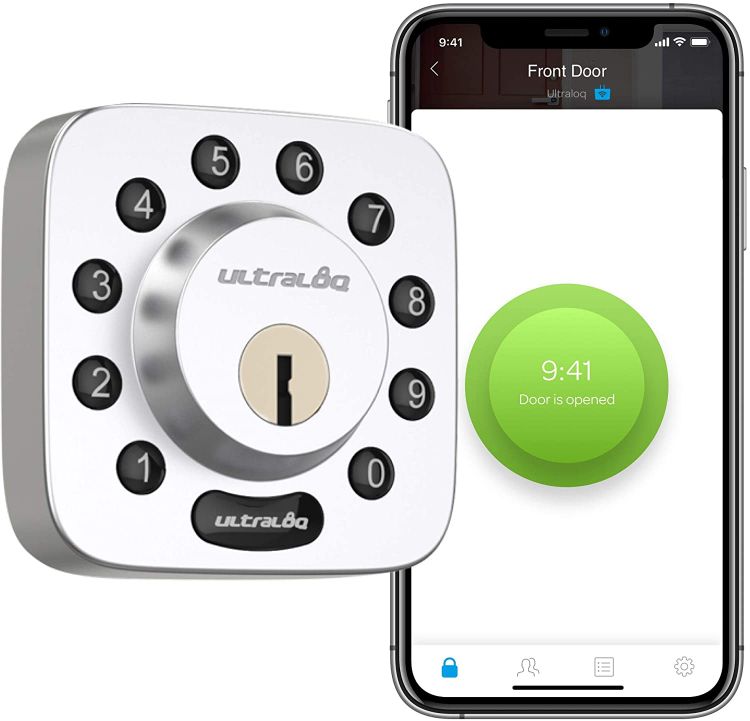 The final lock on our list is the Ultraloq U-bolt Bluetooth Keypad, which is rather shaped like the lock you might find on a vault door. However, don't let its compact shape and size fool you; this small door lock comes packed with features.
This lock takes unlocking to a whole new level. Much like other door locks, it will enable you to use a mechanical key, use your smartphone app, or even use a passcode. Additionally, this lock features an auto-unlock mechanism that unlocks the door if you're in close proximity. This particular function can be very useful when you have your hands full of grocery bags and can't reach into your pocket for the keys.
The vault door-looking keypad has a circular-looking body, unlike most rectangular door locks. This facilitates its anti-peep functionality, which was initially built to avoid prying eyes from discovering your passcode. Essentially, the anti-peep system will catch your passcode even if you sneak it between a long chain of random numbers.
The app has been built to give you proper control of the lock from your smartphone. You can configure the smart lock to unlock upon your arrival or lock after you leave, it also enables you to send e-keys to your friends or guests to give them temporary access to your house.
Ultimate Guide to Buying the Best Bluetooth Door Locks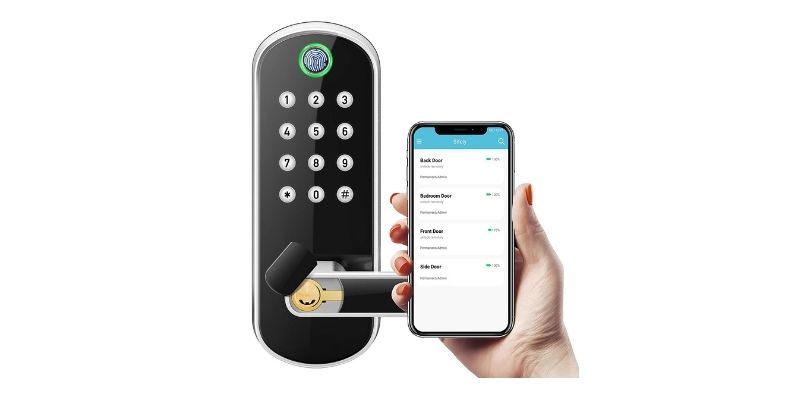 Locking your decision on a specific Bluetooth door lock can be tough, especially with the numerous features and prices each comes with. So, we decided to list down some vital points which will help make a more confident decision.
Door Fitting and Lock Type
So the first thing you should be looking at when you rush into the store to buy your Bluetooth lock is the existing lock configuration on your door. Bluetooth door locks come in multiple configurations, so it's best to know which type of lock you prefer beforehand.
If you're looking for a door lock that would seem like an ordinary lock on the outside, you probably want the interior deadbolt replacement kinds. Essentially, these locks will not change the outer appearance of your door lock; rather, a smart interior deadbolt piece will control the locking mechanism.
On the other hand, you can opt for other locks that look exactly like regular locks, but with a more high tech feel. These locks come in handle or doorknob designs and are appropriate when you have one large hole running through your door.
Some people prefer to add extra protection over their currently installed door lock, in which case you can always choose an integrated lock system. These locks are usually set up on top of the existing door lock and have the handle and deadbolt in one body.
Lastly, if you don't have any issues going the extra mile, then a mortise style Bluetooth door lock should be perfect for you! It is a fully integrated system that comes with a door handle and everything. All you have to do is make a cutout for the lock to be screwed in, and you're good to go.
PIN Code Functionality
Like the movies, a lot of the Bluetooth locks now come with a PIN Code functionality, which is essentially like unlocking your phone with a passcode. This can be very useful when you want to keep children or guests out of specific rooms.
When browsing for locks with this kind of functionality, you will notice three kinds of input mechanisms for your passcode.
The first one is a built-in keypad that comes with the lock's body; sometimes, the keypad is a touchscreen while other models may offer push buttons.
If you don't want your door lock to have big buttons or a touchscreen, you can opt for models that enable you to add keypads beside your door. These keypads communicate with the lock but aren't attached to the body of the locking mechanism.
The most common passcode input feature is with a smartphone app. These locks require you to download an app to communicate with your lock via Bluetooth. You can then configure your lock using just your phone!
Smart Home Integration
If you already have a smart home device operating in your house, you can check out locks that are compatible with smart home devices. Integrating your door lock with your smart home device will open you up to a lot of other extra features such as locking your door using voice control and many more!
Additional Features
With the advance in technology rising as the days go by, some of the newest features will have you shook.
While it's true that Bluetooth locks are mainly battery-powered, some locks feature an alternative power backup functionality. This will come in handy, particularly in situations when the batteries inside the lock have died.
Imagine if you didn't have to look into your phone to lock the door after you left, or unlock it right before you walk in. Pretty cool, right? Some door locks actually have proximity locking mechanisms, automatically sensing and unlocking your door when you're nearby or even locking the door automatically as soon as you walk out.
You May Also Love to Read:
FAQs About Bluetooth Door Locks
1. Can I remotely lock and unlock my door?
With Bluetooth door locks, you are required to be present around a short distance of the lock as the Bluetooth signal does not have a high range. If you are within your house premises, you should be able to lock/unlock your door with your phone. Otherwise, you might want to get smart locks that connect to Wi-Fi.
2. Is it possible to hack my Bluetooth door lock?
Yes, it is possible to hack a Bluetooth door lock. However, you must also take into consideration; the traditional door lock is even easier to break into with a lock pick set.
3. Should all door locks be ANSI/BHMA approved?
ANSI (American National Standards Institute) or BHMA (Builders Hardware Manufacturers Association) are both rating systems to provide assurance of quality to the customers.
These organizations are responsible for putting each lock through strategic tests to determine whether they are safe and of good quality. Failing the tests or not being approved usually means the product has not been tested thoroughly, and there are no guarantees to its longevity.
You should always check the ratings in order to get a good quality door lock to serve you for the long haul.
Conclusion
At the end of the day, choosing the best Bluetooth door locks for your door will depend entirely upon the features that catch your eye the most. You must always pay close attention to the user interface of the app and how it communicates with the lock.
Whether you want multiple unlocking options or power efficiency, it all boils down to what you want in a lock.