Security systems and cameras play an essential role in keeping your home secure. Sometimes these security systems are not enough to provide the maximum protection. Hackers can easily access your security systems and cameras and steal your valuable information. It mainly happens with those security systems that come with lower protection.
You will also find some home securities and cameras that are hard to hack. Besides, if you follow some techniques, hacking your home security systems will be impossible even for any professional hackers. However, through this context, we will let you know more in-depth information in this regard.
Can Home Security Systems & Cameras Be Hacked?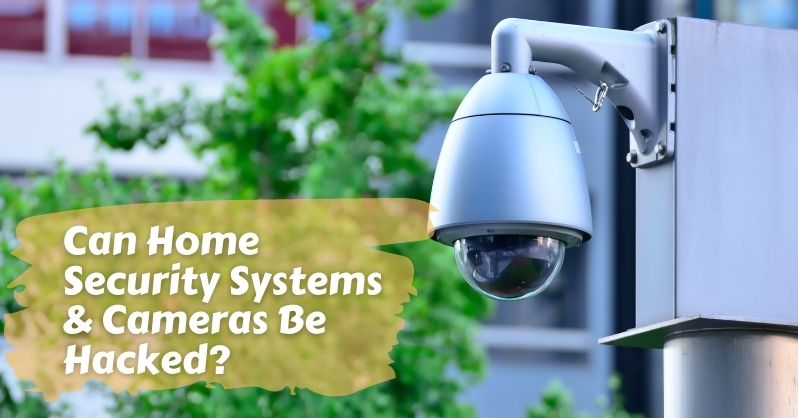 It is possible to hack any device that is connected to the internet, and the possibility will be increased if your device offers less security. In the case of home security systems and cameras are not exceptional. But using the right digital device can reduce the chances of your home security system being hacked.
You will find different outdoor home security cameras that offer robust protection algorithms. These devices provide strong enough security that they are hard to hack. The good thing is you will find the best security camera system under 300 dollars that provides the strongest protection guarantee. Besides, you can make your security cameras stronger to resist hacking following some simple techniques.
Different Type Of Security Camera Hacking Attacks
Different ways can be used to hack your security cameras. Here we have explained some common hacking attacks you may fall into.
Phishing
It is known as one of the most common methods of hacking any security system. In this method, hackers will ask for your system's usernames and passwords in a fancy way. It can also happen through phishing text messages and emails. Hackers can steal your credentials unknowingly when anyone clicks on phishing links.
Programming Attacks
Unlike phishing, programming attacks are much harder. Hackers need to collect your system's vulnerabilities to achieve full administrative control in this method. Once the hackers gain access to your administrative control, they can control your security systems and hack your essential credentials.
Brute-Force Attacks
Brute-Force Attacks happen when hackers guess your security system administrative password. If hackers successfully guess your system's password, they can log in to your system. This method is quite old because the current login system will lock automatically after several attacks.
Physical Access
Hackers need to physically access a device to get the system login information in this method. Once they get the information, hackers can easily access the system administration as well as your sensitive information.
What Things Make Security Systems And Cameras Prone To Hacking?
Several security systems and camera factors make them prone to hacking. Some common reasons for hacking your security system are discussed below.
Weak Password
There is a high chance of hacking a security system when it doesn't have a strong, unique, and complicated password. Studies found that most people use passwords no longer than eight characters. This makes the hackers access the system easier. On the other hand, hacking will be challenging with a strong password.
Insufficient Authentication
If you do not set up advanced authentication, your system can be hacked even though you have a strong password. In that case, you can use two-factor authentication for added extra security. Besides, it is also possible to use biometric, fingerprint, or facial authentication to prevent unauthorized login.
Data Breaches
Hackers can gain unauthorized access to any organization's system resulting in stealing users' credentials. As a result, hackers can access other people's accounts and view surveillance cameras' live footage. A privacy violation will be created this way.
Lack Of Encryption
Security systems and cameras without strong encryption are vulnerable to hacking. With weak encryption, the data transmitted to the receiver will be visible to others. As encryption can't integrate with the system later, you should go for security systems with end-to-end encryption.
How To Protect Your Security Systems And Cameras From Hacking?
Hacking your security systems and cameras is not a difficult task. But if you follow some simple tricks, you can easily protect your system from hacking. For your help, here we have demonstrated some simple techniques to prevent your security system from hacking.
Keep Updated Firmware
Security systems manufacturers update their firmware continuously to fix software bugs and make stronger patch security vulnerabilities. Although some cameras will automatically update the new firmware automatically, others need to check manually. If your camera's software doesn't update automatically, update the firmware manually from the settings menu.
Replace Password With Strong One
A complex password plays a crucial role in hacking your security cameras. Hackers can easily hack your password if you use a weak password to access your account. So, always create a strong password for your account. In that case, you can make your password strong using random phrases or strings of characters with symbols and numbers.
Set Up A Password Manager
You will find some programs that are used to generate a random and strong password for your accounts. These passwords are so complex that remembering them will be difficult for you. In that case, you can utilize a password manager to secure and use them anytime. The password manager will be very helpful if you have multiple accounts. You will find this feature in almost all devices and web browsers.
Enable Two-Factor Authentication
Two-factor authentication enables you to add an extra layer of protection. It helps you verify your login to the account by text message, email, phone call, or authentication apps. This way, hackers can't access your surveillance system account even if they guess the password. Remember, not all companies will offer the two-factor authentication feature. So you should choose home security systems that have this feature.
How To Create Strong Passwords On Your Security Systems And Cameras?
There are numerous ways to generate a strong password for your security systems and cameras. Below we have explored some effective techniques to make strong passwords.
Avoid Common Word Combinations
While creating a password, you will have to avoid characters or symbols that people commonly use. Besides, you should avoid using anything related to you, your children, pets, or your hometown. This is because anyone who knows you will be able to guess the password easily.
Create Longer Password
Short passwords are usually not so strong. Most websites need a minimum of eight characters for a password. But keeping the password above eight characters will reduce the chance of being hacked. If you are worried about forgetting the long password, you can add a couple of words that are easy to guess.
Avoid Reusing Old Password
Using your previous password will be dangerous for your account, whether related to your security systems or others. Some websites or programs need to alter the password after a certain time. This is because old passwords are prone to be hacked. So if you use your old passwords, there is a high chance of your account being hacked.
Use A Password Generator
A password generator is the most useful for creating strong passwords. It generates random passwords combining numbers, letters, and symbols. The created password is so strong that it is impossible to guess. However, remembering this password can be challenging for you. In that case, you can use a trustworthy password manager.
How To Identify Whether Your Security Systems And Cameras Are Hacked?
Sometimes understanding whether your security systems and cameras are hacked will be difficult. For that, here we have pointed out some signs of identifying your security systems.
You can hear an unidentifiable sound coming from your camera's speakers.
LED lights on the camera have turned on unexpectedly.
You will notice the camera's pan and tilt unexpectedly.
Despite changing the password, your login no longer works.
You will notice unknown devices access your account.
Conclusion
The easiest way to secure your home belongings or monitor activities is through security and cameras. Unfortunately, not all security systems are ideal for the home, as some poor systems can be easily hacked. In that case, you will have to choose the best outdoor security cameras for your home surveillance. Through this context, we have adequate information about home security systems.
If you read the entire context, you may explore which ways can be hacked to your security systems and how you can prevent hacking. Besides, if you're confused about whether your security systems hack or not, check out the section above. The pointed signs will help you to know if your system is hacked.
Related Article You May Like: