Often people get really confused with the installation of door handle set. It may sound like something simply because there should be instructions with clear notes coming along. But even in such a situation, those who have never done it before can find things a bit intimidating at first.
And so, the best way to get rid of this pain point is by simply taking notes on how to install a door handle set. It's not rocket science or doesn't include something too complex. Just some general guidelines and advice noted serially that makes sense with the whole process.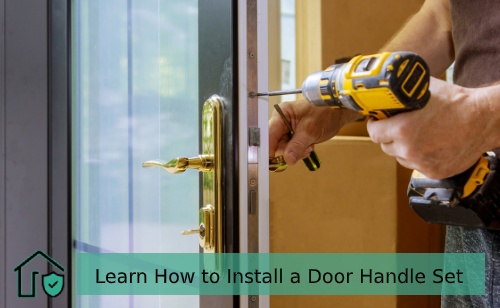 The Ultimate Guide on How to Install a Door Handle Set from Beginning to Ending
The complete project won't take much time and also, it's straightforward once you get an idea of it. Just make sure you pick the handle set model with some concerns. Also, here I'll talk about a general way of installing the best front door handle. Usually, the other designs are not very different from this type. From measuring and tools required to the complete process, let's get into it…
Taking Measurements for a Good Start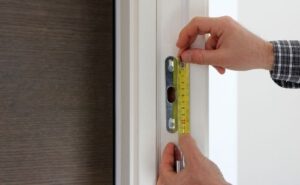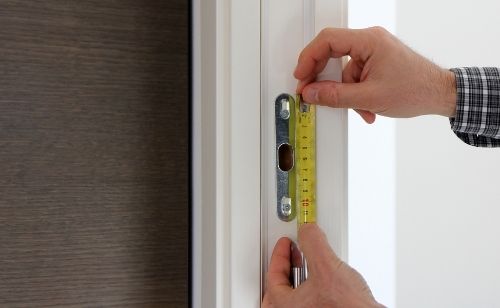 Drilling new holes are not necessary when there's already a handle and lock existing in your door. However, in such cases, taking measurements of the door handle set is compulsory. Getting a new set that does not go with your existing hole is going to stop the whole process for sure. There are basically not more than a few things to calculate for this concern.
First of all, you need to find out your door's thickness. Then the gap between holes for lock and handle, this measurement is also necessary. The hole where spindle resides to handle's bottom area screw hole, this distance is required. Of course, it needs calculation from center to center.
If there's any dissimilarity of length, then a good chance of your old hole getting exposed is still present. And you will need to fill the hole in such a case. Also, the thing would be quite visible. After that, focus on the measurements for hole diameter.
Supplies to get
Your Preferred Handleset
Pencil or Marker
Power Drill with Countersink Bit or Long Shaft Included Philips Screwdriver
Deadbolt kit
A Block of Wood
Utility Knife
Flathead Screwdriver
1-inch Chisel
attach latch plate to the door edge
Latch Installing
First of all, you need to make a choice. Which one between the round drive-in and flat rectangular faceplate you'd like to use? There are a few kits available that provide both options.
Let's assume you want to go with the flat faceplate. But then again, you don't have an indent on the door edge. And so, there's no way of fitting it over cross bore. If that's the case, then simply make an outline with a pencil on faceplate. Then you want to use a utility knife for scoring the outline. Make sure the wood doesn't splinter.
Next, grab a one-inch chisel. Use it for chiseling to a rectangular shape that is 1/8 inch in deep, 2.25 inches in height as well as 1 inch in width. The positioning should be on center of cross bore. And there you have an indent on the door edge.
Gradually slide the latch inside cross bore. You need to keep the bevel facing door jamb while doing so. Use two tiny screws for securing it with indent.
In case of a tinier round drive-in faceplate, go with a flathead screwdriver. Use it for getting the flat faceplate as well as support plate screws out. Fix faceplate right over the latch. Push it down for secure installation. Now insert latch as well as faceplate into the cross bore. Here also you need to ensure the bevel is facing the door jam.
You should push until everything seems tight and secure. Get a wooden block to place between and hammer to make the latch come in right place. You need to gently pound, don't overdo it. Or else there's a chance of harming the hardware.
Installing Internal & External Handle
In some cases, you'll find that the door handle is fixed to the door beneath lower borehole. If that is so, then you need to make a hole for accommodating it. Here make sure the spindle is lining up on the back of handle. This needs to be along with the slot in latch. You can slide the mechanism as needed up or down. Just make sure it's fitting the handle onto door properly.
Now for the outside handle. Here you need to align the internal handle. Do this in a way that the holes for screw directly align vertically with threaded posts. These should be seen on the outside handle's back part. In the case of a lever-type inside handle, you need to ensure that this lever is facing away from door jamb.
Use screws to secure things correctly. The outside handle could be fixed to a door with a lower spindle. In that case make sure to use a washer, screw, and cover. So that you can securely fix things.
Fixing the Lock
There are chances of your door not having an indent for a lock. In that case, you need to go with the same previous process for making an indent. Some prefer entry door knob lock. While deadbolts are also quite popular to use here.
For installing the deadbolt type lock, you need to focus on upper cross bore. Get the latch bolt into it. The top should be facing up. There must be an arrow indicator on the latch for you to work easily.
Use screws and secure down the faceplate. Both on the inside and outside, take your time to fit the deadbolt mechanism next. Usually, the keyed cylinder part stays on the outside. When the mechanism is unlocked, you'll notice a thumb turn pointing up. If it points toward the door jamb, then this means the mechanism is locked.
Work on The Strike Plates Next
Against the door jamb, you need to align strike plate next. Use two tiny screws to attach it securely. Bent lips need to follow the direction which makes door open. For the deadbolt, carefully align strike plate. Do some predrilling for creating holes. And then use two longer screws for fixing it with the door jamb.
This will help with additional reinforcement. Altering between these two huger screws can help when you drill in. This way there's no fear of strike plate losing the accurate alignment.
Now it's important that both deadbolt and latch can easily slide in and out. Test them and make sure there's no looseness felt. If you think bolt is not turning all way, use a drill to make the hole deeper. Do this until the bolt turns easily. Adjusting the strike plate position can also help.
Related Guide:
Wrap Up
And that was all about how to install a door handle set. Hopefully, the DIYing will feel easier now. You can try such simple home improvement chores all by yourself. Saving bucks from not hiring another person is not a bad idea you see. But if you're not sure about the proper implementation, it's best to get an expert to do things for you. That way you step aside from all the chances of harming your door, its frame, or any hardware on it.