If you are looking into getting an Apple HomeKit compatible door lock then there's a chance, you'll end up knowing up about two really popular models. Not to forget these are also fabulous Google Home compatible door lock picks.
I'm talking about the August smart lock pro and Yale Assure. The pro is amazing at hand free access, fab in bridging with your existing system, and also includes automatic unlocking. While the Yale assure August version is a fantastic once-exclusive tech variant that comes with a bunch of goodness.
The problem begins when you have to pick one between august smart lock pro vs yale assure. And that basically led me to write a whole comparison on it today. Thanks for joining!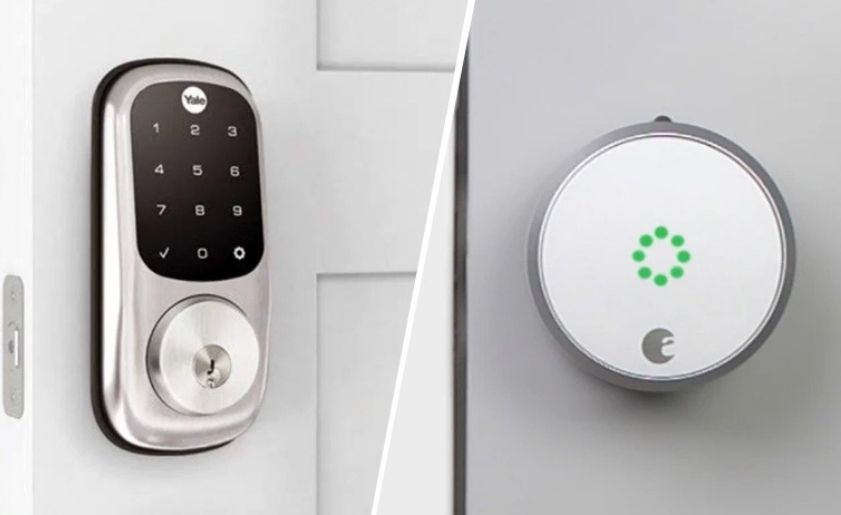 August Smart Lock Pro Vs Yale Assure Smart Locks – Planning the Comparison
Have an in-depth look at the yale assure smart lock and know about what it has to offer.
Then dive into the offerings of August smart lock pro.
Finally, conclude which one seems to be best for whom on the basis of whole comparison.
Now if that seems to you like a pretty solid strategy to determine which one is the best, then shall we proceed?
The Yale Assure Smart Lock Connected by August WIFI

Assure locks are great for those who have a deadbolt already. Because it easily fits over it. However, the problem can be visible when it isn't a single cylinder lock. Also, there's hardly any need for an extra hub. Because it comes bundled already.
Using the voice commands as well as helm-in app would be possible without any problem. However, to make the digital assistance work, you will still need to manage an enabled device for it.
Then there's the Door Sense feature coming from August. This is a fabulous addition that helps with locking and unlocking automatically. It also can sense whether the door is completely closed and ready for lock or not.
The smartphone that is GPS-based will help lock to automictically figure out whether you're close to home. The Bluetooth connectivity will help as well. And so, the lock will sense your arrival and unlock it automatically.
Other wide-ranging choices are also there. Using a touchscreen keypad or maybe going with a code, all are valid options for you with Yale Assure. The codes are usually 4 to 8 digits long, by the way. You can have temporary virtual keys if the situation demands. And those keys can also be permanent if you need them to be.
Now talking about the app, it uses August featured one, which is very highly rated for a reason. And so, someone looking into getting the Yale Assure should consider connected by August module one that serves better.
Overall, the smart lock is incredible enough with expertise of Yale and also smart features of August. So overall you should find it as a pretty great investment.
You May Also Check: Best Bluetooth Door Locks Reviews
The August Smart Lock Pro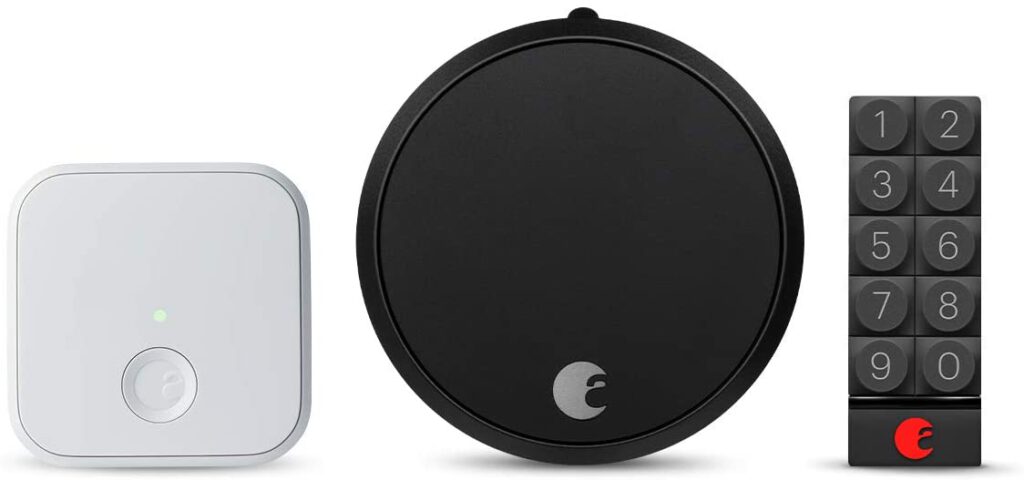 Starting off with its installation, you are getting every necessary part inside the box. Just need to buy the Philips screwdriver and that's all. The installation process is pretty straightforward. So basically, anyone would be able to do that. You'll need to unmount the deadbolt inside half and get mounting plate screwed next. Then simply adding the aluminum knob is what it takes to finish installation. It's that simple!
After the installation, let's come to app setting part. This is also pretty simple because the app has a guide on how you can finish installation process settings.
Coming to the fabulous feature set of the pro, it provides lock engaging automation that basically unlocks as soon as you get into 200 feet range from your door. There's also the facility of you getting notified each time lock is locked or even unclosed. That really helps in situations where someone mistakenly leaves the door ajar.
The smart lock pro also comes with virtual key features. You can decide who can enter your house with these keys. All that the visitor needs to do is have their phones with themselves. As the lock detects phone and then allows access.
There are four AA batteries necessary for the lock to run without problem. In case the batteries become dead, there is still an option for you to use a key. And that's another great emergency savior point technically.
One thing that might be a bit concerning is the cylinder. It's hardly probable for a burglar to lockpick the system, but possibility is still there. And that makes it a bit dooming. However, keep in mind there's still the fail-safe part working with smart lock mechanism. So, it's not entirely a downside.
Check latest Price
Related Post You May Check:
Final Thoughts Overall
And we are by the end of this august smart lock pro vs yale assure saga? What does it look like to you? Well, it's very obvious that both of the options are quite identical to each other in terms of features. But even with the slightest margin, which one can be called best smart lock 2021 overall?
Well, practically saying, both are excellent choices with their respective features. With the August smart lock pro, you get a secure home and user-friendly mechanism that also allows an easily integrated upgrade if necessary. Getting access easily with a trusty set of keys along with hand-free usage makes it a perfect home security option to go for.
Then again, the Yale assure is also a legit smart lock option that comes with proximity and remote locking or unlocking capabilities. With the Door Sense technology and easy home device integration, it's a great price-worthy pick to go for.
To be honest, no matter which one you chose, the features are quite close to each other and so, whichever sounds to be more appropriate for your household, go for it without hesitation.