Owning an electronic door lock where you get the freedom to change code according to your convenience is for sure a great thing. However, things can still be a bit confusing as you don't know how to change code on electronic door lock. But you don't have to spend much time nor effort on finding the answer to this particular question.
Because it's relatively simple and something surely short enough to cover in one easy guide. Basically, what I plan to do for today…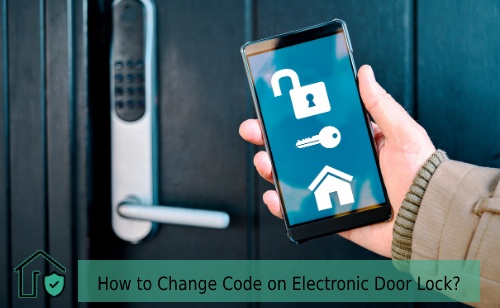 Detailed Guide on How to Change Code on Electronic Door Lock in Depth
Let's get right into the actual process. But if you don't have much clue about what particular types of electronic door lock you own, then maybe first check next segment and then continue with the process of changing code. It should help.
Basic Things to Know Before
There are more than just a few types of electronic door lock options available this day. If you are not having any clue about the type you already own, then it could be 1 out of these very popular 4 varieties. Check out the short pointers right below to gasp some idea.
Get the Lock Out from Door
The first step to this process involving detaching the lock from the door and taking it out. To do so you need to go with some unscrewing. The whole stuff should be attached to door through screws. Get a suitable screwdriver for the screw heads.
You can grab the information from your door lock's manual. Or simply guess by having a look at the screw head. Then once you are done with removing the lock, focus on both faces. In a typical scenario, a lock should come with two faces. One will hold the keypad. While the face should be fixed with door.
Turn the lock over. And this will make the back face towards you. This means the keypad face is placed downwards. There should be some screws on the lock apparatus's back part. Get a suitable screwdriver and unscrew it. One on top and another on the bottom, you need to unscrew a total of two screws.
Some lock comes with one screw, however. By moving the screwdriver anti-clockwise you will loosen screw. And then use your hands to detach them.
As soon as the unscrewing is done, get backplate out from lock. There should be different color holes noticeable after the backplate is gone. Usually, these are red and blue in color. You should keep in your mind that the conduction-code combination is what red holes coincides with.
Working with the Chips
Bring a tweezer at this point. You need to use those for getting inside each red hole. The metal chip inside the holes is what you need to get rid of with it. Simply place them somewhere aside.
There should be blue chips that are numbered. Get those out from holes. And at this point, you should decide on the new code. The blue chips are ones that actually conform to code. And so, you want to work with that point in mind.
Replace the blue chips with red chips. Do one at a time. The square shape of the small chips should face toward door lock's outer part. Then start placing red chips on your specified code combination. And the remaining holes will hold blue chips.
The red chips should match precisely with your desired code for it to work properly. Once you are done with the placement of both chips, put the cover back on lock. Use the screwdriver to tightly attach each and every screw.
Check Your New Code
Now before you actually put the lock back to your door, make sure to check if the new code works. To do so, you need to start by pressing the clear button. It should be in front of your lock. Then tap the new code on it. The thing should instantly unlock. If it does then there's nothing to worry about.
However, if there's no unlocking noticeable, an issue might be still underneath. You need to get the baseplate out once again and check on red chips. If those are not in the right position to confirm your code combination then this problem is understandable. However, if that isn't the case, then take it to a locksmith or probably you'll have to buy a new one.
Related Guide:
Wrap Up
And that ends this guide on how to change code on electronic door lock. Through simple step-by-step process mentioned above, you should be able to change the code without any difficulty. However, there are many mechanisms available these days. And so, the process can fail to work for a few types.
The best solution in such cases is to check the manual included. There should be instructions from the manufacturer describing the whole code changing process.