Yes, whenever you are in a secret meeting, you want things to be secret! But what if they record your actions? When it comes to hampering your secrecy or privacy, it is better to be safe than sorry! And to be safe means to be careful about the hidden cameras!
But how can you know if somebody has plotted such devices against you? There are many ways to find a hidden camera but the handiest thing you can do is get a smartphone to save your privacy! Today, we will tell you how to detect hidden camera with mobile phone!
We have come up with some apps and the right method of detecting cameras or devices. Check it out and know it before they trick you!
How do Smartphones Detect Hidden Cameras?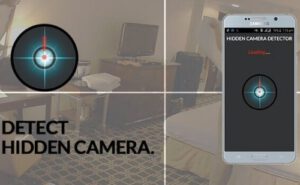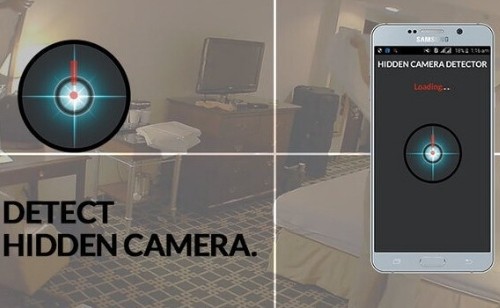 The hidden camera use in homes these days is increasing day by day. But how will you know that there is a mini hidden camera? Two different methods are used to find the hidden camera in a room with the help of a smartphone.
These methods are included in the smartphone and help you detect where the mini hidden camera is inside the space!
Electromagnetic Fields
The first method of understanding if there is a hidden camera in an area or not is detecting the electromagnetic fields. Yes, you can get some apps that can detect magnetic fields. With these, you will learn about the area where the camera is placed.
All you have to do is search where a strong field is detected. And then you can understand where the camera is kept. In some cases, it stays within the wall. And in other cases, it stays in any objects.
Light Reflecting from Lens
How to detect hidden cameras with mobile phone if you do not find electromagnetic fields? Yes, another way to detect where the spy camera can be is to detect light that reflects from the lens.
However, if you go through this method, you must be careful because this method is not highly reliable. But if you are going through too much confusion, you can get this app. This app can find tiny objects that are dropped on the floor or the carpet.
Smartphone Apps for Detecting Spy Camera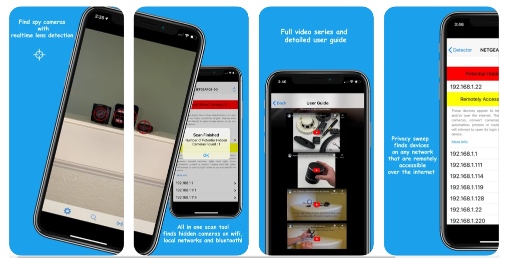 So, how to detect hidden camera in hotel room with a smartphone? There are apps to save you! Here are some Apps that can help you out when you are in search of a hidden camera in a room. In some cases, we are not sure but we doubt a hidden camera in a place. To ensure that, you must get your hands in an app that is reliable for telling you if there is any camera in that place or not.
| | | |
| --- | --- | --- |
| App | Compatible OS | Fee |
| Hidden Camera Detector | iOS/Android | Free (in-app purchase) |
| Hidden IR Camera Detector | Android | Free |
| Glint Finder | Android | Free |
| Hidden Spy Camera Detector | iOS | Paid |
| DontSpy2 – detector | iOS | Paid |
How to Find Hidden Camera with Mobile Phone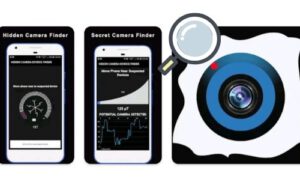 As we have explained, there are apps for finding hidden cameras. Along with this, there are other apps available in the market that works for the same purpose. No matter which application you select, the working procedure of almost all of them is similar. With these apps, you will not only find the hidden cameras but will also detect the hidden speakers and the hidden computers!
If you have used any of these apps, you know how they work. If you are new, you might require learning some specifics. The work of the apps is to display the proximity to such surveillance devices like cameras and speakers.
In the apps, you will see the necessary information related to the device. As you are searching for spy cameras, you will see all the vital information about the camera on the app. There will be notes on the place it is hidden so that you are capable of finding it!
There is an app called Hidden Camera Detector app. This works on Android phones and is not designed for iOS devices. All you need to do is install this app on your Android mobile and then start the app. When you start it, a red glow will be there on the display. However, the red glow will be there only if there is a spy camera near you.
When the smartphone is in the proximity of the device or the camera, the red glow will pop up. And then, the app will show you where the camera is located! It will use the red glow to provide you a specific direction. If you follow the direction, you can easily find the camera!
If you are worried about the scanner, then let us tell you, it will glow if it comes in the proximity of specific types of hardware. But in that case, you will see different results. In that situation, you will see a number will pop up in the center of the screen. If there is a camera near you or the smartphone, the number on the screen that is displayed will exceed 100.
The applications we have explained above also include an IR mode. If any camera has eluded you, you can easily learn about the location of the camera with the help of this model! For this, you have to take the smartphone and point it towards the area where you think the camera is concealed.
You must keep checking the phone's screen. If there is any camera close to you, the phone will display a bright white disc on the screen! That's how you know it!
Before you use the App
So, you have already learned how to detect hidden cameras in house. But before you use this method, there are things that you must study. Yes, you can always use the apps for detecting the hidden cameras in a room. However, other technologies interfere with the process. In some cases, smart assistances can be an intervention when it comes to finding the spy camera.
If any TV or PC inside the room is connected to smart assistants like Amazon Echo or Google Home or Google Nest, things can be different than usual. To make it work, you have to hold the phone appropriately. Most people hold the phone flat.
Yes, they hold it just like they hold an AC remote! Holding it that way, they think that it will provide a better outcome. But that's not the case every time. You have to hold the phone in different postures so that you can learn what the best angle is. Move it slowly to know the appropriate angle of holding. Yes, you need a tad bit of practice.
Wrap Up
The apps we have mentioned work amazingly if you are worried about how to detect hidden camera with mobile phone. All you need to do is download the apps and follow the procedure!
The method is quite easy! However, there are better ways to find the cameras too. And you cannot always expect 100% reliability when you are using a phone. But chances are, you will!
Related Guide: